https://killexams.com/pass4sure/exam-detail/PSAT-RW Search results
No result found, try new keyword!Although the essay portion of the SAT became optional in 2016, many students still chose to write it to demonstrate strong or improved writing skills ... who struggle with reading comprehension.
Sat, 15 Aug 2020 10:20:00 -0500
text/html
https://www.usnews.com/education/blogs/college-admissions-playbook/articles/what-to-know-about-the-optional-sat-essay
No result found, try new keyword!Whether you choose the ACT or SAT as ... entirely to reading comprehension. Second, both test other language-based skills that are closely related to reading, such as grammar and writing.
Sat, 01 Aug 2020 16:03:00 -0500
text/html
https://www.usnews.com/education/blogs/college-admissions-playbook/articles/add-these-books-to-your-act-sat-summer-reading-list
No result found, try new keyword!New College of Florida also adds test to acceptance options. Florida has become the first state in the nation to officially accept the Classic Learning Test as an alternative to S ...
Sun, 21 May 2023 16:14:00 -0500
text/html
https://www.thecollegefix.com/florida-first-state-to-accept-classic-learning-test-as-alternative-to-sat-act/
There is something about summer that just begs for a good reading list. Summer is all about adventure, about breaking your routine, about growing up and challenging the world around you. So much change happens in the summer for kids, and it's the perfect time to embrace that energy with the ultimate summer reading list for big kids.
I love a picture book as much as the next person, but there is something so wonderful about picking up a chapter book and diving in, losing yourself in the story. For middle grades (thinking kids ages 8 to 13), it really starts their reading journey, and finding the right book or series for your kid can feel like picking out the right activity or sport for them on a Saturday. You want them to fall in love, you want them to be invested, you want them to feel encouraged to keep reading and find more stories.
And summer is just the season for it. With so much time unencumbered by actual school work, longer days, and more relaxing nights, you can curate the perfect summer reading list for your kids. These books on the list (some really old, some newer) are full of adventure, of wonder, of intrigue — and they are also full of coming-of-age moments and the loss of innocence (and sometimes even the regaining of it). Summer can feel a bit bittersweet, a little melancholy, with all the aches and pains of growing and changing. But this summer reading list for big kids take that bruise and remind you of just how lovely things can be, even if they ache a little at first.
Bonus: You can probably find most of these at your local library.
Because of Winn-Dixie by Kate DiCamillo
'Because of Winn-Dixie' by Kate DiCamillo
Pyramid Books
I read this one with my 8-year-old daughter last summer and it was one of the highlights of the season for me. Kate DiCamillo is pretty great at coming-of-age stories, but this one about a young girl named Opal trying to cope with the loss of her mother and living in a new town (where she befriends her new best buddy, a dog she names Winn-Dixie) will have you feeling all the feels. Because of Winn-Dixie is poignant, lovely, and laugh-out-loud funny. Bonus points: it's set in the summer.
Recommended for readers ages 9 - 12.
Ella Enchanted by Gail Carson Levine
'Ella Enchanted' by Gail Carson levine
Pyramid Books
Ella Enchanted is an absolute classic and chances are you read it as a young '90s kid, too. (Maybe you got a personal pan pizza from Pizza Hut for this one.) The story of Ella, who is "gifted" with the ability to obey every. single. thing. someone tells her, is a story of perseverance and determination set alongside a whole bunch of magic and adventure. It's such a fun fairytale, and a great one for summer.
Recommended for readers ages 8 to 12.
The Animorphs Series by Katherine Applegate and Michael Grant
The Animorphs Retro Tin Set
Amazon
It's time. The book covers of Animorphs have lived rent-free in your head since your own Scholastic Book Fair days, and it's time to introduce your children to this incredible series about five humans and an alien who posess the power to turn into any animal they touch. Themes of leadership, friendship, and growing up are all present here, which make it great for summer, but it's also just an epic sci-fi/fantasy series that will keep your kids interested all season long. (Bonus: there are like a billion of these, so they'll always have a new one to read.)
Recommended for readers ages 8 to 12.
Esperanza Rising by Pam Muñoz Ryan
'Esperanza Rising' by Pam Muñoz Ryan
Little Shop of Stories
Set during The Great Depression, Esperanza Rising is a historical-fiction novel about 13-year-old Esperanza and her family fleeing to California from Mexico after her father is murdered on their ranch and her uncle burns it down. If it sounds scary and sad, that's because it partially is, but it's also a story about a young girl determined to protect her family and live her best life, despite all of the setbacks and obstacles in her way.
Recommended for readers ages 8 to 12.
My Dog Skip by Willie Morris
'My Dog Skip' by Willie Morris
Little Shop of Stories
OK, so technically this isn't a children's book at all, but I read it when I was about 10 and it really sat with me for a long time. The movie is darling, but My Dog Skip is such a sweet story of a boy and his dog, and it just really gives you those summer coming-of-age feels. Lots of friendship, trust, and courage go into this book.
Recommended for readers of all ages.
Harriet the Spy by Louise Fitzhugh
'Harriet the Spy' by Louise Fitzhugh
Pyramid Books
Your children might read Harriet the Spy and immediately become kids carrying notebooks around, writing down everything they see, but that's OK. I love Harriet the Spy for its themes on friendship and finding beauty and interest in everything around you, but it's also just a really good, fun story to read. Harriet's habit of documenting everything she sees and experiences is incredibly encouraging, and summer is the perfect time to start journaling.
Recommended for readers ages 8 to 12.
Hatchet by Gary Paulsen
'Hatchet' by Gary Paulsen
Barnes & Noble
This was one of those books that every middle school boy I knew gobbled up, and the idea of Hatchet has stayed with me for a long time. Set in the summer, a 13-year-old named Brian is on a small plane going to visit his father when it crashes and he must try to survive in the wilderness using only a small hatchet. It is an incredible story about perseverance and love, and is just full of adventure.
Recommended for readers ages 10 to 14.
Charlotte's Web by E.B. White
'Charlotte's Web' written by E.B. White, illustrated by Garth Williams
Little Shop of Stories
An absolute classic. If you haven't read Charlotte's Web with or to your kids yet, it's time. Adventure, wonder, a big dose of friendship, and the relentless theme of growing up make this a popular summer reading list choice. This was another one my 8-year-old and I read together last summer, and I was not prepared for just how choked up she was going to get at the end. If you're panic about it being an old book, don't worry — the language holds up well and kids will still fall in love with Charlotte, Wilbur, and all their barn friends.
Recommended for readers ages 8 to 12.
My Friend Flicka by Mary O'Hara
'My Friend Flicka' by Mary O'Hara
Barnes & Noble
Recommended by Romper lifestyle writer Katie McPherson, Katie shares, "As a bonafide horse girl, I gobbled up every book I could about them. My Friend Flicka was one of many that helped me feel closer to this thing I felt so passionate about but couldn't live out myself, and doesn't every kid who loves horses dream of taming the most beautiful wild mustang on the ranch?" For your kid with their big summer dreams and hopes, provide them this one to read.
Recommended for readers ages 8 to 12.
Stargirl by Jerry Spinelli
'Stargirl' by Jerry Spinelli
Little Shop of Stories
Summer is often a reflection of the past school year and what lies ahead for kids, both academically and socially, which is what makes Stargirl such a great choice for the summer. A story about individuality, staying true to yourself, and what makes a real friend, Stargirl could even bring up some new discussions for your family at the dinner table. This is one I'd recommend reading right alongside your kid.
Recommended for readers ages 12 and up.
Are You There God? It's Me, Margaret by Judy Blume
'Are You There God? It's Me, Margaret' by Judy Blume
Pyramid Books
It's been everywhere thanks to the exact movie, but Are You There God? It's Me, Margaret should be on your child's summer reading list regardless. Set in the 1970s, the story is still completely relatable as Margaret tries to figure out religion, adolescence, and more. It's definitely a book about growing up and change, and is a light, easy read for the summer.
Recommended for readers ages 8 to 12.
The One and Only Ivan by Katherine Applegate
'The One and Only Ivan' written by Katherine Applegate, illustrations by Patricia Castelao
Barnes & Noble
If you're ready to cry and potentially see your children cry, then The One and Only Ivan definitely needs to go on your summer reading list. Told from the perspective of a gorilla named Ivan who hasn't been outside of his mall habitat in years, The One and Only Ivan is a story of hope, of friendship, and of love. It's inspired by the true story of Ivan the Gorilla, who lived his life in a shopping mall until he was sent to Zoo Atlanta and could be outside, with his own kind, for his remaining years. It's a great way to start a summer project of exploring zoos, looking up stories of similar animals, and encouraging your kids to ask big questions about things.
Recommended for readers ages 8 to 12.
The Phantom Tollbooth by Norton Juster
'The Phantom Tollbooth' written by Norton Juster, illustrated by Jules Feiffer
Barnes & Noble
Summer always feels like a season where anything could happen, and that's exactly how Milo's story goes in the classic children's fantasy novel The Phantom Tollbooth. When young Milo receives a magic tollbooth that transports him to a world beyond, he definitely gets to live a life of adventure. But if you want a story that also encourages your kids to keep learning, this is the one — Milo must use what he's learned in school to navigate these adventures, and the book is a big reminder on how important education is.
Recommended for readers ages 8 to 11.
Bridge to Terabithia by Katherine Paterson
'Bridge to Terabithia' by Katherine Paterson
Pyramid Books
OK, there are a few books on here that will bring the tears, but none of them will get the sobs quite like Bridge to Terabithia. The undeniable bond of Jesse and Leslie makes you remember just how magical a childhood friend is, and your kids will love exploring the world that the two have created together.
Recommended for readers ages 8 to 12.
Tuck Everlasting by Natalie Babbitt
'Tuck Everlasting' by Natalie Babbitt
Little Shop of Stories
I feel like summer is when your brain really unwinds. You start imagining magical things, wondering about things, and are just generally left to daydream about all of the things. And that's what makes Tuck Everlasting such a great summer read. A story about a family who have been given a (blessing? curse?) life of immortality meet up with 10-year-old Winnie, and more intrigue and wonder happens after. It's the perfect fantasy novel to read as your kids explore their own surroundings. (And maybe even go on a quest for an everlasting spring.)
Recommended for readers ages 10 to 14.
The Outsiders by S.E. Hinton
'The Outsiders' by S.E. Hinton
Barnes & Noble
I read The Outsiders the summer I turned 12 and it stayed with me for a really, really long time. Who knows when this book will be banned the next time you try to find it (it's considered one of the most challenged books of all time), but the story of two rival gangs will teach your kids what it means to be loyal, to love someone, and to protect those they love and be protected by those they love — even if they don't like how they go about it.
Recommended for readers ages 12 to 17.
The Harry Potter Series by J.K. Rowling
Harry Potter Paperback Box Set
Amazon
While the Harry Potter books are set during the actual school year, every millennial remembers waiting for Barnes & Noble to release the new books each summer. I can remember ignoring my actual summer reading assignments from school in favor of gobbling up the latest edition of Harry and his friends against The Dark Lord, and it just feels like a summer thing to me now.
Recommended for readers ages 9 and up.
Anne of Green Gables by Lucy Maud Montgomery
'Anne of Green Gables' written by L.M. Montgomery, illustrations by M.A. Claus and W.A.J. Claus
Barnes & Noble
That's Anne with an E, you know. Anne of Green Gables is such a classic, and for good reason. The story of sweet Anne, sent to live in Avonlea with the Cuthberts, will ignite in your kids their own idealism and sweet imagination. Anne finds so much joy in the world, and summer is nothing if not a time of joy — soak it in with this read.
Recommended for readers ages 10 to 13.
The Little House Series by Laura Ingalls Wilder
'The Little House' 9-Book Boxed Set
Barnes & Noble
It doesn't get much more adventurous than the pioneer days, so maybe it's time to get your kids reading The Little House series. Each book chronicles Laura Ingalls Wilder's childhood and life on the prairie with her family, and is just the sort of light series summer begs for. There are some parts that might need some discussion with your family, but overall, this is an important series in children's literature and might even encourage your kids to get out and explore this summer with simple games and fun.
Recommended for readers ages 8 to 12.
Black Beauty by Anna Sewell
'Black Beauty' by Anna Sewell
Little Shop of Stories
Another horse book because obviously. It's an oldie, but Black Beauty still holds up extremely well. Told from the perspective of the horse Black Beauty himself, kids will get to hear about his life as a carefree foal all the way up to his retirement from being a mode of transportation for Londoners in the 1800s. Animal welfare is a big theme, but so is kindness and empathy, and it's a great way to get discussions going in your household.
Recommended for readers ages 8 to 12.
The Secret Garden by Frances Hodgson Burnett
'The Secret Garden' written by Frances Hodgson Burnett, illustrations by Charles Robinson
Barnes & Noble
There are few books that I've been as excited to share with my three daughters as The Secret Garden. A story of friendship, of adventure, and of compassion, this is the perfect summer story. Mary, Colin, and Dickon's days spent in the garden definitely provide off summer adventure vibes, and the perseverance of the human spirit will really get your kids thinking.
Recommended for readers ages 9 to 12.
The Baby-Sitters Club Series by Ann M. Martin
The Baby-Sitters Club Retro Book Set
Amazon
Do you remember your first introduction to Kristy, Claudia, Stacey, Mary Anne, and all their friends? Probably not. But you can remember your own child's first introduction to The Baby-Sitters Club by making it part of their summer reading list. This is a great option for summer reading because there are so many of them, and it's nice to really get into a rhythm of characters and storylines that carry over while reading for a few weeks.
Recommended for readers ages 8 to 11.
Old Yeller by Fred Gipson
'Old Yeller' by Fred Gipson
Pyramid Books
Will your child cry reading about Travis and his best friend Old Yeller? Probably, and so will you, so I'm sorry about that. But Old Yeller is an absolute classic and should be read while lounging out in the hot sun, thinking about what it means to love and be loved by those around you.
Recommended for readers ages 8 to 12.
Whether your kid wants to read these on their own or you want to start a new nightly ritual and read them out loud as a family, the books on this list are perfect for your big kid. Take all of the best parts of summer — the wonder, the adventure, the growing up — and enjoy them for a bit in book form.
Wed, 31 May 2023 03:21:00 -0500
en-US
text/html
https://www.msn.com/en-us/lifestyle/other/the-best-summer-reading-list-for-big-kids/ar-AA1bWMUJ
To the Victorians, tuberculosis was a deeply romantic ailment to be consumed by. To be rosy-cheeked, sweaty, pale and deteriorated to the point of extreme slenderness from tuberculosis was to be tragically beautiful — especially to artists, writers and other creative intellectuals. There was no greater sign of aestheticism and talent than to cough up blood during a poetry reading — a public health professor told me this — and no greater poetic honor than to be bedridden in the beauty of the illness. Despite this antiquated perception, tuberculosis was never dainty droplets of blood and decaying beautifully; it is complete and utter bodily destruction, starting in the lungs. This sat at odds with this aestheticization of their decay, setting a prime standard for writers of all sorts to turn their utter misery into complex works of art.
While tuberculosis is a distinctly physical ailment, the deep romanticization of it bears almost no difference from the deep romanticization of anguish. Literature, especially autofiction, poetry and contemporary literature, is addicted to spilling its guts. The world thrives on indulging in foreign pain or mirrored pain, and authors have always been ready to romanticize themselves and put their wounds on display. 
Maybe surprisingly, this is not genre-bound to drama, poetry or any other sector of literature. Horror is often psychological, playing on nightmares and misery; comedy can be cathartic, only because our lives are better than the plot-driven mess; even memoirs are dominated by lives of tragedy that ultimately lead to triumph. We are addicted to portrayals of pain and the aftermath. Even further from expectation, my first encounter with exploiting trauma for entertainment was the children's novel "Bridge to Terabithia" by Katherine Paterson. The chapter book chronicled the beautiful friendship growing between two middle schoolers — Jesse and Leslie — who both have tragic backstories, angst and alienation from others their age. The two driving characters are artistic storytellers in their right and build a world free of the trials and tribulations of reality. The novel ends in tragedy when the whimsical Leslie falls victim to a tragic death while crossing into their land of make believe, Terabithia. Quirky and alienated, I saw myself as Leslie, and I saw my youthful pain in her own. My entire class read the novel, but my childish narcissism knew I understood it differently. I reread it, this time taking character notes. Leslie was my own romantic projection, and the way she seemed to have died for her imaginary, self-created worlds struck me far more than any other literary work did at that age. 
Maybe it was because I was never a perfectly conventional child either — moody or withdrawn would have described me far better, and still might — and I was always creative, for better and for worse. Always a reader, in particular. This combination led me quickly to pretentious and precocious books, and by middle school, I had already found myself drowning in tales of misery and artistry. Even worse, I was already writing thinly-veiled autofiction that would put anyone's depressive Notes app poems to shame. In retrospect, it's hard to imagine what particular misery led to each story, but the pain is undeniable. I still have remnants of these grade-school stories, and each one is far more raw and unrefined than I would ever be able to produce today. 
More intriguing than my pre-pubescent trauma dumping, however, is the clear delineation that has run through my life ever since these youthful musings. Behind the generalization of pain throughout my blood-red crayon scribbles on ink-filled notebook pages, there is confession, dreams and attempts to sort through what little understanding of my brain that I had. I knew that I felt bad, and I knew that writing fiction related to it felt distant enough to allow for understanding without actually confronting myself. My writing was deeply doomed — like the world was ending, as my life felt over like tragedy was lurking around the corner. Often, there was horror, gore and death or the narrow missing of it. As a writer, the happy ending, sometimes, felt more threatening than the bad one. 
I wrote for understanding and I wrote compulsively, even if I was the sole reader of these scribbled apocalypses. In many ways, I wrote for salvation as well — if I could turn the intrusive, tragedy-filled plotlines into fiction, then they were no longer my responsibility. I spilled my recurring nightmares onto the page in order to free myself from them, poor grammar and plot holes aside. The key, however, was my attempt at beauty and glamor within my pieces. The grime of the writing was never purely grime; instead, each self-destructive line of thinking was ribbon-wrapped in beauty and romanticization. 
When I was eventually diagnosed with obsessive-compulsive disorder as an adult, having a title for my brain meant almost nothing — there was no change in my understanding of the shame of my thoughts. Instead, it was reading the works of authors with similar neuroses that finally soothed the noise. Learning that my delusions of maggots in every corner and my ritualized compulsions could exist in art created a sense of normalcy bordering value that no other source had. But even art  has its limits: There is a very fine line between creating honest work and indulging in self-destruction. When I write about my maggots, I am ignoring the dirtier and more unpalatable aspects of the disorder. There is no mention of sobbing to the point of puking over a spilled mug or the amount of mold that builds up in an untouchable, self-decidedly contaminated cup. Instead, I'm only adding another sad girl, tragic author caricature to the realm of writing. The authors I admire have their own, similar ghosts, and even after sifting through their own experiences for themes within their writing, they are left with their illnesses. 
Even now, each word I write is like pressing into a bruise, hoping to spread the purple hues across skin. Writing is never clean, nor is any other part of OCD. To many, journaling is regarded as clearing out the mind. We write our daily activities, feelings and desires into notebook pages to understand them, or to immortalize them. But writing has never been this straightforward as a process for me. Trying to find salvation and clarity within my writing is equally detrimental to myself — a compulsion is still compulsion regardless of its outcome. The majority of my notebooks and Google Docs are full of plots, confessions and borderline prayers that are reminiscent only of my younger hysteria. Much of my non-published writing is a compulsion, not a form of self care or a creative outlet. Even in the published and academic work, my process is defined by my rumination and obsession. I spend as much time as possible in pure obsession over an idea, thinking of nothing else but the essay and the crumbs of quotes and ideas that arrive. Whether it be forcing myself to write personal horrors or days spent stewing over the same lines, my writing is disarrayed to its core.  
In the cultural zeitgeist, obsessive-compulsive disorder is misleadingly defined by cleanliness and order. These virtues are the opposite of what myself and others face. My OCD is a pure, simple mess. It is inappropriate fear responses to being alone in my bedroom due to the clutter I leave myself; it is notebooks full of delusions and paranoia and fixations of the supernatural, not color-coded plans and a perfect schedule. It is going days eating only granola bars because everything else feels contaminated, and then leaving the crumbs in my bed because I don't think I deserve better. My OCD may be obsessed with contamination, but it has never once been clean.
Often, the pinnacle of OCD recovery advice can be simplified into not fueling the fire. This means no indulgence, no compulsions and no reassurance seeking. This is something I have never had the strength to do. With this advice, I would have to abandon writing and most other major components of my life. Even in writing this, I am adding gasoline to the fire, and I am letting it burn up my hands in the process. I'm wondering how many more times I'll be sitting in the back of a classroom, ignoring expensive lectures to sit on my laptop and write and cry and write and cry and write and cry until the wound feels deep enough. My OCD thrives on writing, so it's a natural conclusion that I've spent the better part of my life writing as a confession, writing as if it'll purify the dirtiness, and writing as if my OCD is a beautiful flaw rather than an oftentimes debilitating disorder. 
Like the great Victorian authors I've admired as both a reader and a writer, I tried to dismiss my misery as something artful rather than miserable. I tried to provide it purpose while ridding myself of mental pollution. I genuinely believed this could work, and for a while maybe it did. But the remains have ultimately never left. Each word I wrote could chop branches and shake leaves, but the roots were never going to be ridden of that easily. 
I can try to wash the blood off of my hands through writing, but I am still left with my hands.
Statement Columnist Ava Burzycki can be reached at burzycki@umich.edu
Tue, 30 May 2023 13:30:00 -0500
en-US
text/html
https://www.michigandaily.com/statement/the-author-is-still-left-with-their-hands/
Deep Reads features The Washington Post's best immersive reporting and narrative writing.
ROUND HILL, Va. — They said goodbye to Aimee outside her elementary school, watching nervously as she joined the other children streaming into a low brick building framed by the foothills of the Blue Ridge Mountains. Christina and Aaron Beall stood among many families resuming an emotional but familiar routine: the first day of full-time, in-person classes since public schools closed at the beginning of the pandemic.
But for the Bealls, that morning in late August 2021 carried a weight incomprehensible to the parents around them. Their 6-year-old daughter, wearing a sequined blue dress and a pink backpack that almost obscured her small body, hesitated as she reached the doors. Although Aaron had told her again and again how brave she was, he knew it would be years before she understood how much he meant it — understood that for her mother and father, the decision to send her to school was nothing less than a revolt.
Aaron and Christina had never attended school when they were children. Until a few days earlier, when Round Hill Elementary held a back-to-school open house, they had rarely set foot inside a school building. Both had been raised to believe that public schools were tools of a demonic social order, government "indoctrination camps" devoted to the propagation of lies and the subversion of Christian families.
At a time when home education was still a fringe phenomenon, the Bealls had grown up in the most powerful and ideologically committed faction of the modern home-schooling movement. That movement, led by deeply conservative Christians, saw home schooling as a way of life — a conscious rejection of contemporary ideas about biology, history, gender equality and the role of religion in American government.
Christina and Aaron were supposed to advance the banner of that movement, instilling its codes in their children through the same forms of corporal punishment once inflicted upon them. Yet instead, along with many others of their age and upbringing, they had walked away.
Like all rebellions, this one had come with consequences. Their decision to send Aimee to the neighborhood elementary school — a test run to see how it might work for their other kids — had contributed to a bitter rift with their own parents, who couldn't understand their embrace of an education system they had been raised to abhor. And it had led Christina, who until that summer day had home-schooled all of their children, into an existential crisis.
"I never imagined sending you to the local elementary school instead of learning and growing together at home," she wrote later that day in an Instagram post addressed to her daughter. "But life has a way of undoing our best laid plans and throwing us curveballs."
Christina did not describe on Instagram how perplexed she and Aaron had been by a ritual that the other parents seemed to understand; how she had tried, in unwitting defiance of school rules, to accompany Aimee inside, earning a gentle rebuke from the principal.
And she did not describe what happened after their daughter vanished into a building they had been taught no child should ever enter. On that first day of school — first not just for one girl but for two generations of a family — the Bealls walked back to their SUV, and as Aaron started the car, Christina began to cry.
The 'Joshua Generation'
Across the country, interest in home schooling has never been greater. The Bealls could see the surge in Virginia, where nearly 57,000 children were being home-schooled in the fall of 2022 — a 28 percent jump from three years earlier. The rise of home education, initially unleashed by parents' frustrations with pandemic-related campus closures and remote learning, has endured as one of the lasting social transformations wrought by covid-19.
But if the coronavirus was a catalyst for the explosion in home schooling, the stage was set through decades of painstaking work by true believers like those who had raised Aaron and Christina. Aided by the Home School Legal Defense Association (HSLDA) — a Christian nonprofit that has been dubbed "the most influential homeschool organization in the world," and is based less than five miles from the Bealls' house in Northern Virginia — those activists had fought to establish the legality of home schooling in the 1980s and early 1990s, conquering the skepticism of public school administrators and state lawmakers across the country.
Tell us about your home-schooling experiences
Through their influence, a practice with roots in the countercultural left took on a very different character. Among conservative Christians, home schooling became a tool for binding children to fundamentalist beliefs they felt were threatened by exposure to other points of view. Rightly educated, those children would grow into what HSLDA founder Michael Farris called a "Joshua Generation" that would seek the political power and cultural influence to reshape America according to biblical principles.
Home schooling today is more diverse, demographically and ideologically, than it was in the heyday of conservative Christian activism. Yet those activists remain extraordinarily influential.
Over decades, they have eroded state regulations, ensuring that parents who home-school face little oversight in much of the country. More recently, they have inflamed the nation's culture wars, fueling attacks on public-school lessons about race and gender with the politically potent language of "parental rights."
But what should be a moment of triumph for conservative Christian home-schoolers has been undermined by an unmistakable backlash: the desertion and denunciations of the very children they said they were saving.
Former home-schoolers have been at the forefront of those arguing for greater oversight of home schooling, forming the nonprofit Coalition for Responsible Home Education to make their case.
"As an adult I can say, 'No. What happened to me as a child was wrong,'" said Samantha Field, the coalition's government relations director.
Earlier this year, Jinger Duggar Vuolo — familiar to millions of TV viewers from the reality show "19 Kids and Counting" — published a memoir in which she harshly criticized Bill Gothard, a pivotal but now disgraced figure in conservative Christian home schooling whose teachings her parents followed. Beginning a decade ago, Gothard was accused of sexual abuse and harassment by dozens of women — allegations the minister vehemently denied.
Farris said it is not uncommon for children who grow up in oppressively patriarchal households to reject or at least moderate their parents' beliefs. However, he said such families are a minority in the home-schooling movement and are often considered extreme even by other conservative Christians.
"I view this as the fringe of the fringe," Farris said. "And every kid that I know that has lashed out at home schooling came out of this."
Christina, 34, and Aaron, 37, had joined no coalitions. They had published no memoirs. Their rebellion played out in angry text messages and emails with their parents, in tense conversations conducted at the edges of birthday parties and Easter gatherings. Their own children — four of them, including Aimee — knew little of their reasons for abandoning home schooling: the physical and emotional trauma of the "biblical discipline" to which they had been subjected, the regrets over what Aaron called "a life robbed" by strictures on what and how they learned.

Aaron had grown up believing Christians could out-populate atheists and Muslims by scorning birth control; Christina had been taught the Bible-based arithmetic necessary to calculate the age of a universe less than 8,000 years old. Their education was one in which dinosaurs were herded aboard Noah's ark — and in which the penalty for doubt or disobedience was swift. Sometimes they still flinched when they remembered their parents' literal adherence to the words of the Old Testament: "Do not withhold correction from a child, for if you beat him with a rod, he will not die."

"It's specifically a system that is set up to hide the abuse. ... At some point, you become so mentally imprisoned you don't even realize you need help." Christina Beall

The Bealls knew that many home-schooling families didn't share the religious doctrines that had so warped their own lives. But they also knew that the same laws that had failed to protect them would continue to fail other children.

"It's specifically a system that is set up to hide the abuse, to make them invisible, to strip them of any capability of getting help. And not just in a physical way," Christina said. "At some point, you become so mentally imprisoned you don't even realize you need help."
'Breaking the child's will'
Christina had felt no urge to escape when, at the age of 15, she listed her "Requirements for my husband" in neat, looping script on a ruled sheet of notebook paper.
"Must want me to be a full-time homemaker & only have an outside job if required or instructed by my Potter," she wrote, referring to biblical verses that liken humans to clay in the hands of God. "Must believe in 'full & unconditional' surrender of our # of children to God Almighty." And: "Must desire to homeschool our children."
The list is a blueprint of what she had been taught about the proper ambitions of a woman: to bear and raise children while shielding them from what those around her called "government schools." She felt both hopeful and nervous when, several years later, her father, Derrick Comfort, came home with news: He had just met with a young man who had been raised with those same ideals — and who wanted Christina to be his wife.
Aaron was shy and cerebral, a self-taught web developer who had grown up in Fairfax County, Va., had never attended college and, at age 26, still lived with his parents. He barely knew Christina Comfort, the oldest of eight children on her family's 10-acre farm on Maryland's Eastern Shore. A graduate of Patrick Henry College — founded by Farris in Virginia to cater to Christian home-schoolers — she taught math and writing to her siblings and did chores around the farm. She prayed while riding a lawn mower for God to send her a husband.
The Comfort and Beall families were both active in a religious community led by Gary Cox, an evangelical pastor and pioneer of Maryland's home-schooling movement. Christina was a graduate of Cox's home education network, Walkersville Christian Family Schools, while Aaron began attending Cox's church in rural northern Maryland as a teenager. The minister exerted a powerful influence over his congregation and students, teaching that children live in divinely ordained subjection to the rule of their parents.
The Christian home-schooling world that shaped Dan Cox
Cox — who still operates a home-schooling organization, now called Wellspring Christian Family Schools — declined repeated interview requests. Last year his son, Dan Cox, a home-schooled Maryland state delegate who denied the legitimacy of the 2020 presidential election, won the Republican gubernatorial primary. He went on to lose in a landslide to Democrat Wes Moore.
During Aaron and Christina's "courtship" — a period of chaperoned contact that served as a prelude to formal engagement — they seemed ready to fulfill their parents' hopes. Eating calamari in Annapolis or touring Colonial Williamsburg, they talked about what their future would include (home schooling) and what it would not (music with a beat that can be danced to). But signs soon emerged of the unimaginable rupture that lay ahead.
On a spring afternoon in 2012, the couple sat in a small church in Queenstown, Md. In preparation for marriage, they were attending a three-day seminar on "Gospel-Driven Parenting" run by Chris Peeler, a minister whose family was part of Gary Cox's home-schooling group. The workshop covered a range of topics, including the one they were now studying: "Chastisement."
"The use of the rod is for the purpose of breaking the child's will," stated the handout that they bent over together in the church. "One way to tell if this has happened is to see if they can look you in the eyes after being disciplined and ask for forgiveness."
Bible verses were cited in support of corporal punishment. But Christina had misgivings.

"I really don't think I can be a parent," she wrote to Aaron in the margins of the handout. "It just feels like you have to be, like, hardened."

"YES! YOU! CAN!" Aaron wrote back.

The use of the "rod" — interpreted by different people as a wooden spoon, dowel, belt, rubber hose or other implement — was a common practice among the conservative Christian home-schoolers Aaron and Christina knew, and one they had both experienced regularly in their own families.

The elder Bealls and Comforts did not respond to repeated requests to discuss the discipline they used with their children and the decision by Aaron and Christina to embrace public education. Aaron's older brother, Joshua — who Aaron said still home-schools his children — did not return calls. Aaron's other siblings could not be reached for comment. Christina's siblings, some of whom have also left her parents' home, either declined to comment or could not be reached.

Aaron actually shared Christina's qualms. He knew that the term parents in the movement casually used for discipline, "spankings," did not capture the childhood terror of being struck several times a week — sometimes more, sometimes less — with what he describes as a shortened broomstick for disobeying commands or failing to pay attention to his schoolwork.

The memory of waiting as a small child outside his parents' bedroom for his mother to summon him in; the fear that his transgressions might be enough to incur what he called "killer bee" spankings, when the rod was used against his bare skin; his efforts to obey the order to remain immobile as he was hit — all these sensations and emotions seeped into his bones, creating a deep conviction that those who fail to obey authority pay an awful price.

"For a long time, I've wondered why I was so unable to think for myself in this environment," he says today, attributing the shortcoming to "learning that even starting to think, or disagree with authorities, leads to pain — leads to physical and real pain that you cannot escape."

Now, on the threshold of parenthood — Christina would become pregnant within two weeks of their wedding on Sept. 29, 2012 — the couple's reservations about "chastisement" could no longer be ignored. As a wedding gift, they said, Aaron's brother and sister-in-law had given them "To Train Up a Child," by the popular Christian home-schooling authors Michael and Debi Pearl.

The Pearls advocate hitting children with tree branches, belts and other "instruments of love" to instill obedience, and recommend that toddlers who take slowly to potty training be washed outdoors with cold water from a garden hose. Their book advocates "training sessions" in which infants, as soon as they are old enough to crawl, are placed near a desired object and repeatedly struck with a switch if they disobey commands not to touch it.

The Pearls have defended their methods, saying they are not meant to encourage brutality and, when properly applied, reduce the frequency with which parents must later discipline their kids.

Aaron and Christina did not follow the Pearls' advice when their first child, Ezra, was born. Nor did they take on authoritarian roles with their second, Aimee, or third, Oliver. All were home-schooled, albeit in less isolation than their parents: Christina joined co-ops with other Christian mothers in Northern Virginia.

"When it came time for me to hit my kids, that was the first independent thought I remember having: 'This can't be right. I think I'll just skip this part.'" Aaron Beall

But by the time the Bealls had Aurelia, their fourth child, Aaron — now a successful software engineer whose job had enabled the family to buy a four-bedroom house in Loudoun County — had begun to question far more than corporal punishment.

"When it came time for me to hit my kids, that was the first independent thought I remember having: 'This can't be right. I think I'll just skip this part,'" he says.

But if that seemingly inviolable dogma was false, what else might be? Aaron gradually began to feel adrift and depressed.

"It's like having the rug pulled out from under your feet," he says. "All of reality is kind of up for grabs."

He scoured Amazon for books about evolution and cosmology. Eventually, he found his way to blog posts and books by former Christian fundamentalists who had abandoned their religious beliefs. He watched an interview with Tara Westover, whose best-selling memoir, "Educated," detailed the severe educational neglect and physical abuse she endured as a child of survivalist Mormon home-schoolers in Idaho.

And in the spring of 2021, as he and Christina were struggling to engage Aimee in her at-home lessons, he suggested a radical solution: Why not try sending their daughter to the reputable public elementary school less than a mile from their house?
'So much pain'
Christina could think of many reasons. They were the same ones Aaron had learned as a child: Public schools were places where children are bullied, or raped in the bathroom, or taught to hate Jesus.
But she also suspected that Aimee could use the help of professional educators. Just as important, she had learned all her life that it was her duty to obey her husband. She was confounded and angry, at both Aaron and the seeming contradiction his suggestion had exposed.
"I guess I'm just honestly confused and wonder what you think," she wrote in an email to her father in May 2021. "I'm supposed to submit to Aaron, he wants the kids to go to public school. … You think that's a sin but it's also a sin to not listen to your husband so which is it?"
At first, Christina's and Aaron's parents reacted to the news that they were considering public school for Aimee with dazed incomprehension. Did Christina feel overwhelmed, they asked? Did she need more help with work around the house? As long as Aimee was learning to read, she would be fine, Aaron's mother assured them. Christina's father sent a YouTube video of John Taylor Gatto, a famous critic of America's public education system.
The dialogue took on a darker tone as Aimee, with Christina's hesitant agreement, began school that fall. By then, Aaron had told his parents he no longer considered himself a believer.
"This is absolutely devastating," his mother, Linda Beall, wrote in a long email to Christina. "I hurt so much for you Christina!!!"
"I don't think Aaron is going to be wrestled into heaven with good arguments," Linda added. "I think this is likely about his response to hard things in his life. I think he needs to come face to face with God himself, and bow before Him in recognition of his own sin, and need for a Savior."
Despite the sympathy expressed in the email, Christina bristled at the suggestion that her husband's crisis of faith stemmed from his reluctance to face "hard things" in his life. She knew that reexamining his religious convictions and traumatic memories had perhaps been the hardest thing Aaron had ever done.
Aimee, meanwhile, was thriving at Round Hill Elementary. By the third quarter, her report card said she was "a pleasure to teach," was "slowly becoming more social and more willing to participate in class" and showed "tremendous growth" in her reading skills, which had lagged below grade level at the beginning of the year.
For several months after that first week of classes — when she had come home wearing a paper hat, colored with blue crayon and printed with the words "My First Day of First Grade" — Aimee had had a stock response when her parents asked her how she liked school: She would suppress a grin, say she "hated it," and then start laughing at her own joke.
"You should have asked to go to school," Aimee, who knew her mom had been educated at home, would eventually tell Christina. "It affects your whole life."
Now it was Christina's turn to question her belief — not in Christianity, but in the conservative Christian approach to home schooling. She began to research spiritual abuse and the history of Christian nationalism. Ideas she had never questioned — such as the statement, in a book given to her by her dad, that it "would be a waste of her time and her life" for a woman to work outside the house — no longer made sense.
Her loss of faith in the biblical literalism and patriarchal values of her childhood was coming in the way the movement's adherents had always warned it would: through exposure to people with different experiences and points of view.
Those people just happened to be her daughter and her husband.
"This is the guy I've been married to for eight years," she recalls thinking. "I know him. I know his heart. I know what kind of parent he wants to be to our kids. These easy answers of 'Oh, you're just not a Christian anymore, you just want to sin' … didn't work anymore."
As Aimee's first year at Round Hill Elementary came to an end, Aaron and Christina were more convinced than ever that they had made the right decision. But they were also at a loss for how to heal the tensions with their parents.

In a 2022 email intended for a pastor at her church but sent by accident to Christina, Linda Beall blamed her daughter-in-law for their deepening rift, saying she had taken undue offense at good-faith efforts to advise and support the family through Aaron's loss of faith.

"So she is again flipping the script from the reality that we love them and her, want to support them, and have only tried to do that again and again, but have been assaulted every time we engage. And I have given up trying [because] it all gets flipped and used against us," Linda wrote. "I really can not remember one conversations we have had since this unfolded that has not escalated things. So when she beats up 'everything' I say, never offers forgiveness, why would we want to engage again?"

Around the same time, Christina sent Aaron's parents a series of text messages lamenting what she said was their unwillingness to reconcile and explaining that she had changed her opinions about the way she and Aaron had been raised.

"There has been so much pain but I am so excited to now understand and see past the ways that people control and manipulate me," she wrote. "And you may not believe it but I still love Jesus."

Aaron and Christina had decided that, in the fall of 2022, all three of their school-age children — not just Aimee but 5-year-old Oliver and 9-year-old Ezra — would attend public school. Aurelia, then 2, would remain at home.

Despite Aimee's positive experience, Aaron and Christina were anxious, both for their children and about how their parents would react. One afternoon in June, Christina sent a text message to her mother.

"I need to tell you that all three kids are going to school in the fall. I'm sorry, because I know this will be upsetting and disappointing to you and dad," Christina wrote. "I figured you should hear it from me first."

Three hours later, her mother texted back.

"Dearest Christina, it is not at all upsetting or disappointing to me. You and Aaron are outstanding parents and I'm sure you made the decision best for your family." Catherine Comfort, Christina's mother

"Dearest Christina, it is not at all upsetting or disappointing to me," Catherine Comfort wrote. "You and Aaron are outstanding parents and I'm sure you made the decision best for your family."

Even Aaron's parents finally signaled a grudging degree of acceptance. In February, Linda and Bernard Beall walked into the gym at Round Hill Elementary one cold Saturday afternoon to watch a school performance of "The Lion King." Ezra had a part in the chorus as a wildebeest.

Sitting on plastic chairs in the dark and crowded room, the pair gave no outward sign of the remarkable nature of their visit. When the performance was over, they hugged their grandkids in front of the stage and exchanged halting small talk with Aaron and Christina. Then they drove off, with no discussion of a visit to their son's house a few blocks away.
Family night
About 10 minutes remained before the Bealls would have to pile into their minivan, and the children needed to get dressed — in their pajamas.
It was Groundhog Day, a damp night in February, and a low fire glowed in the hearth of the Bealls' living room. Aaron and Christina sat on the floor playing card and board games with their kids, while Ezra sat on the couch, wearing headphones and absorbed in a game on his laptop.
Soon they would be leaving to attend their elementary school's "For the Love of reading Family Night," held in the school library, where students were encouraged to come dressed for bedtime.
As Oliver rose to change (Ezra, the oldest, would not deign to put on his jammies), Aimee told her parents how her second-grade class had learned that day about Punxsutawney Phil.
Aaron looked at her in bewilderment.
"Phil?" he asked. "Am I out of the loop?"
His daughter stared back at him in disbelief.
"He's famous!" Aimee said. She explained Phil's role in predicting the length of winter.
"I knew about groundhogs," Aaron said. "I just didn't know about Phil."
"He's really famous," Aimee said.
Christina smiled at her husband.
"Home-schooler," she said.
These were the gaps Aaron and Christina had become accustomed to finding as they learned about a world whose boundaries extended far beyond the one in which they had been raised. There were so many things they had not learned, and perhaps would never learn.
Stacks of books on the living room's end tables testified to their belated efforts at self-education: popular works by the biologists Neil Shubin and Robert Sapolsky, as well as "Raising Critical Thinkers" by Julie Bogart, a leading developer of home education materials who has criticized conservative Christian home-schooling groups. Aaron and Christina were still young, but they knew enough about the demands of life, work and family to understand that they could not recover or reconstruct the lost opportunities of their childhoods.
But they could provide new and different opportunities for their own kids. They were doing so in Loudoun County, one of the hotbeds of America's culture wars over public instruction about race and gender. To the Bealls, who truly knew what it was like to learn through the lens of ideology, concerns about kids being brainwashed in public schools were laughable.
"People who think the public schools are indoctrinating don't know what indoctrination is. We were indoctrinated," Aaron says. "It's not even comparable."
There were still moments when they were condemned by an inner voice telling them that they were doing the wrong thing, that both they and their children would go to hell for abandoning the rod and embracing public schools. But the voice was usually silenced by their wonder and gratitude at the breadth of their children's education.
That breadth was on display as the Bealls jostled into the school library with other families. It was the second day of Black History Month, and the shelves were set up with displays of books about the Underground Railroad, soprano Ella Sheppard and Vice President Harris. Where the walls reached the ceiling a mural was painted, with Mary Poppins and Winnie the Pooh.
Aaron and Christina stood shoulder-to-shoulder, surveying the room. This was the belly of the beast, the environment their parents had worked to save them from.
But they weren't scared to be inside this school, and were now familiar with it. On Tuesday mornings, Christina volunteered here, helping Aimee's class with reading lessons.
"Let's go out this way, guys," she said, leading the way through an exit when it was time to disperse from the library to listen to the teachers read stories aloud.
The hallways were long and wide, with plenty of room for small legs to gather speed. Soon Aaron and Christina were watching as their children, who knew the way to their classrooms, ran far in front of them.
About this story
Story editing by Lynda Robinson. Photo editing by Mark Miller. Copy editing by Thomas Heleba and Martha Murdock. Development and design by Jennifer C. Reed.
Mon, 29 May 2023 23:53:00 -0500
en-US
text/html
https://www.msn.com/en-us/news/us/the-revolt-of-the-christian-home-schoolers/ar-AA1bSchJ
In 1987, when I was at university studying English literature, Martin Amis came to town for a reading and signing at the student bookstore. He was a literary celebrity, this being an era in which those two words could be juxtaposed without irony, and we undergraduate fans were so numerous that—in my memory, if probably not in actual fact—some of us, finding no chairs available, resorted to sitting cross-legged at his feet, like eager children in a kindergarten class. That would be an unusually swear-filled, scabrous kindergarten class, naturally. Though Amis was there to promote "Einstein's Monsters," his very bleak, very scary, very scared book about nuclear weapons, he was at the time best known for his dark comic novel "Money." That book had been published three years earlier, and was avidly passed around among my peers, to be read between our assignments on Chaucer or Coleridge.
To an English student studying English at an English university—an institution that Amis, too, had attended a generation earlier—Amis exuded a kind of transatlantic glamour, despite being thoroughly English himself. Later that night, I wrote in my diary that, during the Q. & A. session at the bookstore, "Amis had been talking about a New York expression, 'schmoozing,' which is like talking business in semi-social situations, making contacts, learning names." I'd never heard the word before, and was delighted, as Amis clearly also had been, by its concision and felicity. I'd never been to New York, or even read much American literature. My impression of the city at the time was to a disproportionate degree informed by "Money," which opens with its antihero, John Self, getting into an altercation with a cabdriver on the "industrial corsetry of FDR Drive"—perfect expression—before landing at his hotel in midtown. "I heard the ragged hoot of sirens, the whistles of two-wheelers and skateboarders, pogoists, gocarters, windsurfers," Amis had written. "I saw the barrelling cars and cabs, shoved on by the power of their horns. I felt all the contention, the democracy, all the italics, in the air." A year later, I would move to that irresistible city and spend the next three decades of my life there, learning American; and although it would not be entirely true to say that every single time I schmoozed, or was schmoozed, I remembered Amis's language tutorial, I'll say it anyway. —Rebecca Mead
"Martin Amis has died." Those four words were—are—so shocking because they contain a contradiction. Seventy-three seems a reasonable age to reach—it's not as though his career was nipped in the bud—but his work was so indelibly associated with the energy and vigor of youth that it seems as if he was cut down in a prime that had, in fact, passed. It was as though he were still smoking in the bike sheds when he had become the headmaster, at once rebellious and stern. The writing had an inimitable (if much imitated) swagger even after it started to shuffle and falter. He made writing, and reading his writing, seem such fun that it was easy to forget the formidable work ethic that fuelled such a prolifically unrationed body of work.
He was the most American English writer there has ever been. It's hard to imagine any writer enjoying greater success, acclaim, fame, and influence, but among his group of pals—Salman Rushdie, Ian McEwan, Julian Barnes—he was the least rewarded with prizes. The only one of his novels to have been short-listed for the Booker was "Time's Arrow." "Money," unbelievably, didn't make the list. (Equally mysterious, "Yellow Dog," which was terrible, somehow appeared on the longlist.) It's not hard to fathom the reasons for this gap between scale of reputation and relative dearth of prizes. The white-water torrent of work was amazing, but no big novel, considered on its own, achieved anything like formal perfection. Being able to out-paragraph everyone does not mean you can out-book them. And prizes, anyway, are often awarded on the basis of a consensus. Judges need first a list and then a winner they can all live with. Amis's work elicited such strong feelings for and against that, I'm guessing, someone always over-my-dead-bodied the book in question. He was such an exceptional writer that there was always something to take exception to. That's part of his greatness and legacy. —Geoff Dyer
I first read the novels of Martin Amis in the mid-two-thousands. He existed for me at the other end of a long pair of mental barbecue tongs. My friends and I missed school to protest the U.K.'s declaration of war on Iraq in 2003. Amis, along with Christopher Hitchens, was among the loudest of the many adults who discussed Islam in public, in ways that made it seem that they did not know what they were talking about.
His literary criticism hardened my bias against him. This century saw him often quoted in the newspapers railing against cliché and proclaiming his commitment to "style." His novels abound, however, in repetition. Everybody is deliquescent to him, everything a cassoulet. Feeling something like pity, I closed "House of Meetings" and then the markets crashed.
"Inside Story," published in 2020, changed my mind. Amis writes conversation—real conversation, recalled—the way a bell rings. People say they love the "casualness" of Amis's writing, but I think they often mean that he wrote dialogue properly, the way people actually talk. It can be tricky to connect with a writer walled off from you by circumstance. It's not impossible. As a young person, I had little appreciation for the nuances of written conversation, and no patience for my elders. Now that I can read differently, I'm excited to start again. —Jo Livingstone
Finding out that Martin Amis had died felt like the moment on the first page of "Money" when the taxi John Self is taking from J.F.K. to midtown Manhattan hits a divot in the road, causing his head to thud against the roof. "I really didn't need that, I tell you, with my head and face and back and heart hurting a lot all the time anyway," the hard-living, jet-lagged Self complains. Amis was one of my heroes, the living writer who'd brought me more delight than any other, an unfailing source of laughter and courage. So, no, I really didn't need this at all.
Fittingly enough, his death has precipitated an orgy of quotation, as people return to the books and share their favorite passages online. For me, however, this describes an ordinary week: I am always rereading Amis, especially the journalism. I do it for pleasure, of course, but not only for pleasure. Writing book reviews and interviewing authors is my means of livelihood; insofar as I know what I'm doing, I've learned it from studying the pieces in "The Moronic Inferno," from 1986, and "The War Against Cliché" (2001). Amis was an ambidextrous critic-practitioner: his newspaper and magazine work ("written left-handed," he said) was as well-done, as "nubile and unwitherable" (to borrow a bracing adjectival pairing), as his fiction. Whenever I am stuck on an assignment, I turn to this prose as to a favored amphetamine. It never fails to pick me up and set me buzzing.
When I worked at the New Yorker, in the early twenty-tens, I had the good fortune to serve as one of Martin's editors. It is hard to imagine a less taxing role. I asked him in an e-mail if he'd like to write about the new Don DeLillo book ("The Angel Esmeralda," a short-story collection); he replied that the idea was "appealing," and several weeks later I received a typically immaculate slice of Amis prose. A few days before the review went to press, he asked me to provide him a call so we could go over the page proofs—a nerve-racking prospect for my twenty-six-year-old self. I'd heard the story (possibly apocryphal) that he'd once conducted such a phone call from the bath. There was, thankfully, no sloshing to be heard when I rang him. "Let me just summon up the document here," he said, in his deep, dry voice, as though opening a PDF were some kind of magic trick. The call went fine. He was polite, charming, fastidious. He even complimented the subhead I'd come up with, which contained an allusion to Shakespeare—"my favorite writer," as he said in the piece. I was quietly ecstatic.
Although we worked together again a few years later (he wrote a very funny piece on then candidate Donald Trump for Harper's, where I was editing the reviews section), I never met him in person—not quite. At a party one evening, not so long ago, I looked up to see him standing on the other side of the room. I thought about going over to introduce myself—and hesitated. I was fairly drunk, I realized, drunker than I wanted to be. I remembered the scene in "Money" (p. 121 in the Penguin Classics edition) when a plastered John Self makes an ass of himself at a Manhattan soirée not unlike the one I was at. ("Go home, John. Just go home.") I decided to get a glass of water and sober up. By the time I was feeling more lucid, Amis had left the building.
I've been regretting my hesitancy this past week. But what was best in Amis—the pungent humor, the wry sanity, the rapturous alertness and responsiveness—remains present in his books. As I write this, they are splayed open all over my desk. I expect them to remain there for some time. —Giles Harvey
I want to put it right out there: I feel privileged to have been Martin Amis's friend and was delighted every time I was lucky enough to be in his company.
I met him forty-two years ago, when I was living in England, running a literary magazine that ended up publishing quite a lot of his fiction. Among his first pieces, in early 1983, was a seventy-five-page manuscript that I read late on the night it arrived, barking with uncontrollable laughter. It made me kick my feet with joy. (The pages would be the opening chapters of Amis's novel "Money.") In nineteen-eighties London, Amis was a literary pop star, cooler than cool, seemingly incapable of a misstep, publishing long, knowing pieces in the Sunday papers—on the Americans (John Updike, Saul Bellow, Gore Vidal, Elmore Leonard), on the English (Muriel Spark, J. G. Ballard, Philip Larkin), on soccer, on burgers, and on anything else that engaged his anthropologic curiosity—while also writing sassy, knowing fiction about bad sex, bad behavior, and loathsome characters, in a crackling prose that seemed distinctly not British.
In person, Amis appeared to live so comfortably in his own head that he wasn't always in touch socially. At the height of his youthful swagger, he published a kind of how-to book for video games: "Invasion of the Space Invaders: An Addict's Guide to Battle Tactics, Big Scores and the Best Machines," which, toward the end of his life, even he grudgingly admitted wasn't, you know, his best work. (And Amis rarely admitted he wrote anything less than perfect—this was an unexpectedly endearing quality.) To this day, I still smart from my first visit to the Bayswater flat where he did his writing. We sat chatting. He rolled a cigarette and spontaneously revealed that he had just looked at how much money he had in his bank account. "I had an idea," he said. "I was wrong . . . by a factor of ten." I took this in, doing various calculations in my head. After all, I was the guy with an overdraft trying to put out a literary magazine.
We played tennis. He whupped me. We played poker, a gaggle of friends, a highlight of my time in London. He whupped me there, too. He once challenged me to arm-wrestle and stared at me in disbelief when I beat him. I apologized. "It's because I'm American," I said. I met him at parties, and meals, often with his friends—Christopher Hitchens, Ian McEwan, Salman Rushdie, Tina Brown. I cooked for him once. We did Q. & A.s in front of a live audience. I remember one—held at N.Y.U.'s Bobst Library, in Washington Square—that mesmerized everyone, including me. He spoke about the music of sentences and the rewards of writing fiction. He went deep. I thought, Please don't stop.
Amis's persona—the unsmiling photos, the upper lip half curling into a snarl, the sense of entitlement—conveyed "I am cool in a way you will never be." In the flesh, he didn't snarl. He was tender, deferential, thoughtful, supportive. He enjoyed his large family—he once confessed to me that he loved being the "patriarch"—and was at impressive ease with his children. He was a transparent, warm friend. He lived, more than anything, to read. He conveyed tranquility.
He wrote to be entertaining but also had a remarkable indifference to what others might think. He was, on the page, unapologetically himself. His last book, "Inside Story," is, frankly, about whatever he wanted it to be at the moment he was writing it: an early romance, his wife, his erections, Saul Bellow's Alzheimer's, Christopher Hitchens's cancer. It is written in the past tense, the present tense, the first person, the third person. It is disliked by just about every one of my friends. I love it. It is so very Martin.
Sometimes I think of Amis's fiction as akin to opera. And, as with the best operas, the story can sometimes seem beside the point. You're there not for the plot but for the music and, of course, the voice. I will miss that voice. Oh, Martin, it was such a deep, recurring pleasure to hear it. —Bill Buford
Martin Amis at his best was a thrilling writer, a novelist whose books approximate the pleasures of unwrapping a present. He was also—of a piece, I think—an enduring voice for the idea that sitting down at the desk every day was the highest calling a person could have. As a writer who grew up surrounded by writers, he approached the craft, the writing but also the reading, with serious ambition, and yet without ever losing a hold on its impudence, its play, its creative glamour, its joy. Why on earth would a person do anything else if he or she could join the game of authorship? That was the question that Amis seemed to carry through the world and, even more, across the page. For many of us who encountered his work at a malleable age, this attitude was infectious, and enough.
Writers (to use one of the grand, dubious categoricals that Amis loved) generally have a golden decade, provide or take: a stretch when the gears of their talent and imagination fall into alignment and they produce the work on which their reputations rest. Vladimir Nabokov reached his moment in late middle age, from the mid-nineteen-fifties to the mid-sixties ("Lolita," "Pnin," "Nabokov's Dozen," "Pale Fire"). Saul Bellow probably did around the same time, too ("The Adventures of Augie March," "Herzog"). Amis's reputation-making period extended from the mid-eighties into the nineties, when he produced, one after the other, "Money," "London Fields," "Time's Arrow," and "The Information." Those novels not only showed his style in all its rhetorical range but followed the energy of a time when Britain, buoyed and buffeted by the Thatcherite push to enterprise and global commerce, found itself reaching toward crass New World ways.
"London Fields," published in 1989, is perhaps the purest of Amis's novels, his paean to the British capital in the throes of this awkward transition. Not coincidentally, it is narrated by an American. (The book's title refers to a green in Hackney, but we're meant to understand it also as a play on "fields" in the electromagnetic sense, as different spheres of Britain's old class structure overlap and press uneasily together to create new currents and drives.) Amis said that the real subject of every novel was, as Trollope had it, "The Way We Live Now," and this one, set in a near future of shifty relationships and misinformation, shows how eager his social vision could be. Like many of his peers, he had bridled against what he felt to be the anodyne imperatives of British realism, but his fiction was not quite fantastical. At its best, it exaggerated what was already there, like a TV with the saturation turned up.
His prose style was a performative oral style, a talking-to-you style filled with wordplay and heavily inflected by what might be called an Englishman's idea of American speech. ("Just sad dreams. Yeah: oh sure. Just sad dreams. Or something like that," an opening line in "The Information" goes.) To American ears, his punched-up swagger could sometimes read as affected—but the affectation was authentic in its way. A number of Amis's London friends landed Stateside, as ultimately he did, too. His argot tracked not just that cohort's westward vector but its influences, put-ons, fascinations. His writing was both intensely ironized and vividly subjective: Amis the author was alienated from the world, and approached it with an alien's incredulity, but he was never alienated from you, the reader, and in a strange way seemed at core a normal guy with his heart on his sleeve. The valence was theatrical—he was the character and the actor at the same time.
Wed, 24 May 2023 01:53:00 -0500
en-US
text/html
https://www.newyorker.com/books/page-turner/martin-amis-remembered-by-writers
A woman revealed that she confronted a man that had been sitting beside her on a flight after noticing he was sending racist text messages.
In a video, TikTok user Talia, who often shares travel tips on her platform, had been on a flight from Puerto Rico to Atlanta when she noticed that the man sitting beside her was sending racist and bigoted text messages about Black and gay people to one of his family members.
In Talia's video, she recorded herself directly confronting the man after debating on whether or not she wanted to say anything in the first place. "You know what, I wasn't going to say anything but I decided I want you to feel as uncomfortable as I do."
RELATED: Mom Tells A Stranger On A Plane It's His Fault Her Son Burst Into Tears After Seeing What Movie He Was Watching
She told the man that she had seen the messages he had been sending throughout the flight and that he was "disgusting" for the things he had been writing. The unnamed man attempted to pretend he didn't know what Talia was speaking about, but she was quick to rebut that he did know.
"I'm not gonna repeat it because everybody doesn't need to know," she informed him, "but I want you to know that I know, I saw it, and I think that you're disgusting." When he didn't directly respond to her, Talia pointed out that upon being confronted, he didn't have "anything to say to that."
He began profusely apologizing, but Talia wasn't having it. "You don't have to be sorry to me. You're sorry because I saw it, but I want you to feel as uncomfortable as I do sitting next to you."
In a follow-up video, Talia showed a video she had taken of the man's text messages to a family member that had been on the same flight. In them, the passenger was ranting about how he was unable to sit beside his family and inquired when airlines would start to "raise prices and weed out these people," specifically talking about both Black people and Talia sitting beside him.
RELATED: Plane Passenger Who Requires A Wheelchair Says An Airport Employee Made Her Walk Off Of The Plane & Berated Her
© Provided by YourTango woman confronts racist man texting about her on a flight Photo: TikTok
In a separate text, the man wrote that someone he knew named Ryan, who was also on the flight, was "sitting next to a huge Black woman." Upon confronting him, there were still four hours remaining on their flight, and for the entire time, the man sat with his back turned, clearly embarrassed at being called out.
In the caption of her video, Talia provided more information, writing that while she "could've minded my business" she felt a need to speak up and put him in his place. "I happened to glance over and see the words "big black woman" so I continued reading. He and his family went on and on about the woes of being stuck sitting next to Black and gay people."
RELATED: Woman Gets Kicked Off A Plane After Demanding A Trump Supporter Be Moved Away From The Seat Next To Her
In the comments section, people praised Talia for speaking up and making him feel uncomfortable.
"I'm proud of you and don't even know you. I know the back and forth with yourself on this was hard and you did that!!" one TikTok user wrote.
Another user added, "This is what handling it with grace and courage looks like! I am so sorry you had to experience this."
"You handled that with class. You called out a grown man and did it with more respect than I would have. I hope he is able to learn and grow from this," a third user pointed out.
Talia made sure to point out that if someone is "bold enough to pull your phone out in the middle seat of an airplane" and send racist text messages about Black people, then she has no problem making it known that such a thing is incredibly repulsive.
"I'm going to be bold enough to say something to you," she remarked.
RELATED: Plus-Sized Traveler Starts Petition To Demand Larger Passengers Get Free Seats On Planes After Experiencing 'Disapproving Looks' & 'Hateful Comments'
Nia Tipton is a Brooklyn-based entertainment, news, and lifestyle writer whose work delves into modern-day issues and experiences.
Tue, 30 May 2023 13:15:03 -0500
en-US
text/html
https://www.msn.com/en-us/lifestyle/other/woman-confronts-man-on-plane-after-reading-a-text-he-wrote-about-her-i-want-you-to-feel-as-uncomfortable-as-me/ar-AA1bUE4N
In the summer of 1938 the first women known to travel the entire Colorado River—and survive—documented the flora and fauna of the region before it was further reshaped by Western development. They were white botanists in academia who battled both the usual obstacles in scientific expeditions and some unusual ones: doubters telling them they were doomed to fail, a lack of funding, the serious risk of injury or even death and, for one of the botanists, her father's permission. Elzada Clover and Lois Jotter wrangled the only experienced river runner available, Norm Nevills, who insisted they find some river runners turned expedition volunteers to accompany them safely through the journey. The two scientists woke early to make breakfast for the group and search for plants, traversed the rapids and cliff walls with the men in boats all day and then made dinner while annotating their findings. Their research has implications for how humans manage the fragile river system that today provides water for some 40 million people and whose limits are being tested as overuse and climate-fueled drought sap it dry.
Melissa Sevigny is author of Brave the Wild River: The Untold Story of Two Women Who Mapped the Botany of the Grand Canyon. In her book, Sevigny brings readers along for the whitewater rafting, the near drownings and the gnawing hunger Clover and Jotter experienced on this breathtaking scientific expedition.
Sevigny sat down with Scientific American to discuss Clover and Jotter's journey, her personal experiences on the river and the process of writing nonfiction that reads like an adventure book.
[An edited transcript of the interview follows.]
How did you first learn about Clover and Jotter? What initially sparked your interest?
Spark is a good word. You know, there was something there right from the very beginning that I just had to chase down. I grew up in Arizona all my life, and I thought I was pretty up to date on the Colorado River, and yet when I encountered these women's names, I had never heard them before. I was shocked! I ran across their names just by chance. I was looking for something online in the special collections department of Northern Arizona University, which is here in Flagstaff, Ariz., where I live. A hyperlink popped up that said "women botanists," and I was curious, so I clicked on it. And there was just one name in there—Lois Jotter. It turned out her collection was housed at the university, and so there was a description of what was in those files, and her diary was there and letters that she wrote. She was kind of a pack rat. She kept everything to do with this trip. I learned that she had gone down the river in 1938 with her mentor, Elzada Clover, and I just wondered, Why hadn't I heard of these women? I was very curious about the science in particular. The few things that I could find that had been written about them really focused on them as women who ran the river at a time when women weren't really doing that. That wasn't the story that interested me—what interested me was that they were scientists at a time when women weren't doing that either. That was the story I wanted to uncover.
Where do you think the field of botany would have gone without this research? Would someone else have just done it without them? Or were they seeing a gap in the field and filling it themselves?
That's a great question. Of course, there were botanists working in the region as a whole, including a lot of women botanists whose names I hadn't heard before, such as John Wesley Powell and his sister Ellen Powell Thompson. But nobody had gone down the river because people weren't really doing that there. There wasn't a way to just sign up for a river trip. And of course, the Grand Canyon and Cataract Canyon and, to a lesser extent, Glen Canyon [all situated along the Colorado River] were very inaccessible. It was hard to get there on foot or by horseback. There were also Indigenous people in this region who knew a lot about the botany. So I'm really talking about the first botanists, from a Western science perspective, who were making a formal collection and were going to publish papers on this collection. They really were the first to do that. I think for [Clover], in particular, she saw it as kind of this blank space on the botany map that hadn't yet been filled in, and she was very attracted to the idea of going there and filling in that blank space in the map. It's an interesting question. If they hadn't done this trip, what would have happened? Would someone else have come along and done it instead? I think, yes, eventually, but I don't know if there would have been that kind of comprehensive look at the botany before the dam went in and changed everything if these two women hadn't done it.
I get the sense while reading the book that the two botanists realized the timing and importance of their research in the moment. Was there any evidence of that in their diaries?
The diaries were interesting because they're very immediate thoughts of what's happening on the river. And you can see this shift that happens early in the trip. Even before they get to the river, they're spending a lot of time writing about plants and natural history. Then they hit the river, and it's not exactly what they expected, and they're doing a lot of work getting the boats downriver to just survive in general. And the diaries have a definite shift—shorter entries, much more hurried entries. But I did find that afterward, when they had time to reflect on what they had collected, they spent more time talking about, specifically, the Indigenous history of the region and how certain plants were used by Indigenous peoples. I learned from one of Clover's students that I interviewed that she always referred to herself as the first "non-Native" woman to run the river; she would correct people if they said she was the first woman to do it. She spent time the following year with a Havasupai tribe, and I think she was very aware of the long Indigenous history of the river and respectful of that. It came sort of as a surprise. I wasn't necessarily expecting that from a white woman in the 1930s.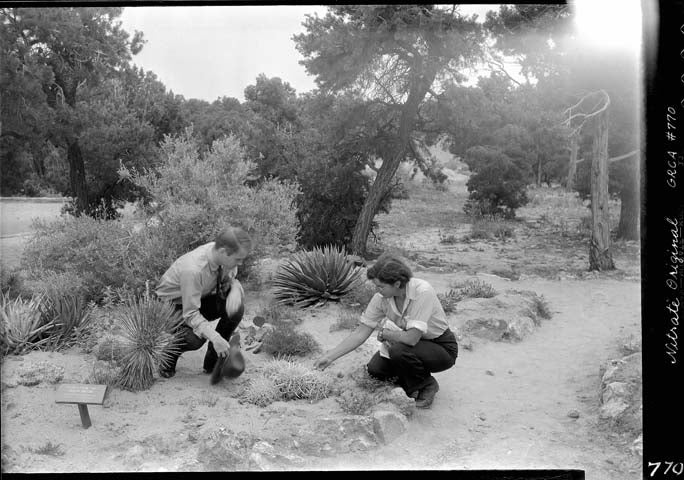 This book primarily takes place in 1938, and when looking back at people's politics, we often describe them as "from a different era." Can you tell me how you understood how people were understanding Clover and Jotter as women in botany, a field that is thought of as women galavanting in gardens collecting flower pressings. And can you also speak to how they interpreted this bias against them?
What a big question. We could talk about that for hours. I tried to be very unflinching when facing the racism and the sexism of the era—both what they experienced as women and what they inflicted as white people. Early in Clover's career, before she became a botanist, she worked at a segregated school for Mexican American students. I dug as deep as I could into the very scant records about that school, and it did seem to have a racist program of instruction that was trying to Americanize these Mexican American kids. She must have been complicit in that. I wanted to be unflinching when I discovered parts of their story that ... we look back on now and say, Well, that really was a different era. I didn't want to dismiss it by saying it was just a different time. On the flip side of that coin, people are a patchwork of identities, and parts of their identities will confer privilege, and parts of their identities will invite oppression—and we see that in these women. I think the fact that they're white is the reason they were able to do this trip. We don't have a comparable story of a Black woman or an Indigenous woman doing this kind of trip. I hope the stories are out there, and we just haven't found them yet. But I think the fact that they were white meant they were able to scrape up the money, and they were able to feel relatively safe going on a trip with a bunch of strange men. The sexism they faced was astonishing. I wasn't entirely prepared for it. I wasn't expecting to write so much about the sexism, and I think that's how they felt. I think they went into this trip wanting to think about science, and they were continually being asked by the newspaper reporters questions that just zeroed in on their gender—continually having their personal appearance described, often in very unflattering ways, continually being asked, Did do you know that the only woman who did this has died?, things like that. It's clear in their diaries that they were very, very aware of the sexism they were facing. If they had been men, it would have been much easier to do this trip.
As a science journalist, what is it about their research that you were so shocked or enamored by? Is there a particular sampling or particular incident that struck you?
They made this really comprehensive plant list of more than 400 species of plants that they somehow managed to create as they went down the river, and I was just fascinated by that process. You know, it's not too different from what botanists do today when they're taking samples. That must have been an incredible process when they were collecting cactus; it blows me away. But what really interested me was that process of putting together a plant list with Western and Latin names, which is a colonial process, and I was aware of that going in. They did find "new" plants to Western science, but that didn't interest me as much as their observations and how the plants fit into the environment. Very early in the book, I knew I wanted to write a scene where they reached the Colorado River, and they're looking at it together. And the leader of the trip, Norm Nevills, is looking at the river to see how to get through these rapids. I wanted to write the scene where [Clover] is standing there, and she's looking at the plants. I discovered that she wouldn't be seeing an "ecosystem" because that word barely existed. It was invented in 1935, and nobody was using it yet. So when she looked at it, she didn't see an ecosystem. What did she see? She used words like association or community. She was using these other words to talk about how the plants fit into their environment. And you can tell from the scientific papers that these women wrote that they were thinking very strongly about what we would now call ecosystem science. That really fascinated me because it was the beginning of the way we now think about ecosystems, and you could see them kind of puzzling it out in real time.
You also took a trip on the Colorado, following in these researchers' "footsteps" and keeping your own diary. What was that experience like?
It was incredible. It was emotionally very intense! I couldn't completely follow in their wake or in their line down the river, partly because of the pandemic. I was writing this book during the pandemic, and that really crunched the amount of time that I had to do fieldwork after the vaccines came out. Also, because of the dam, lower Cataract Canyon and Glen Canyon are now under a lake, so I couldn't retrace those parts of the journey. But I did do the Grand Canyon two-week trip. And emotionally, I was not entirely prepared for that. I'd never done any kind of whitewater rafting before. I was going to be doing this alone, and I was, frankly, frightened. I found, through a friend, a botany crew that was going down. It felt right for me to go with a crew that was going to be doing some work on plants and to know what it was like to try to not only get down the river safely but also have to stop and do this plant work and kind of bushwhack into these places that a tourist wouldn't attempt to get into. Like, how can I get through these thickets of arrowweed or tamarisk or mesquite and [try] to get back to the plants that we're looking for? It was an incredible experience. I kept a diary, and I made myself write in it every night, even if I was exhausted. I had almost a complete draft at the point that I went on this trip. Their diaries were often very terse, especially as they got more and more tired. They would just say something very quick, such as: We saw the Desert View Watchtower; We saw this. I wanted to fill in the details, such as: What did the cliffs look like? What was the feeling in the air? What was the feeling of the way sand gets into your hair? I actually ended up writing the epilogue of the book while I was trapped in my tent during a rainstorm for several hours. That was the right place to do it.
This is such a really unique nonfiction book. I learned so much about science and history, but the book also reads like an adventure novel. How did you pull that off?
Ironically, I think that happened because I approached it as a science writer. I've spent a lot of time trying to figure out how to convey science in a way that is exciting and understandable. I had things I wanted to get across with this book. I wanted to tell people about the importance of scientific research in this region and the importance of having a diverse group of people doing scientific research. And I wanted to package that in a way where you don't really know that that's what you're getting, right? I want them to get the science in the midst of that adventure. I think the main thing I've learned about covering science for the past decade and a half or so is that it's really not about the science; it's about the people. People are always the center of any science story. And in this case, I have wonderful people to work with, wonderful characters who are also interesting and different and diverse. In my early draft, I was attempting to go back and forth in time to tell you things about how Glen Canyon Dam was going to be underwater and all these invasive species are going to come in, but it didn't work. It was terrible. I finally figured out that I needed to stay in 1938, and I needed to stay in these characters' heads. I wanted you to feel nervous or excited or afraid or whatever it was that they were feeling at these different moments in the book.
What do you wish more people understood about this natural landscape?
Oh, my gosh, yeah, so many things. I wish people understood that the work that needs to be done now on the Colorado River, which is in a crisis, is at a crossroads. It needs to be done by all kinds of people. Science is done by very ordinary people. These women were, in ways, just ordinary women, and I wrote a whole book about them. I think they're remarkable, but they're also ordinary women chasing their passion and pursuing their curiosity about the world. We desperately need more people studying and understanding the Colorado River region and the natural world as a whole. It's from that knowledge that we find ways to protect it and also find the courage and the desire to protect it. Here in the Colorado River Basin, especially, we need to be listening to the knowledge of Indigenous wisdom keepers. We need to be listening to the knowledge of people who know this river and run this river and understand the region. We need to be listening to the knowledge of scientists who are coming from all different backgrounds and perspectives, all different genders and all different levels of ability. That's really kind of what I learned in the process of writing this book, so I hope it will inspire people to understand that science is done, often very incrementally, by completely ordinary people, and anybody can engage in that process.
So are you a Clover or a Jotter?
That is really hard! Clover's adventurousness is not something I necessarily share—her willingness to just get out there and do these, like, slightly crazy things. I'm more of a homebody. But it's hard for me to say that I'm more of a Jotter either, because even though she was the less adventurous of the two, she was also really personable. People just instantly liked her, including me. When I read her diary, even though I never had a chance to actually meet her, she was an instantly likable person. I might be a little more like Clover in that I'm a little harder to get to know. I'm sorry, I can't pick.
Mon, 05 Jun 2023 02:07:00 -0500
en
text/html
https://www.scientificamerican.com/article/the-first-two-botanists-who-surveyed-and-survived-the-colorado-river/
For nearly all of his 77 years, Henry Winkler says he has been dealing with a learning challenge that he'll never overcome – dyslexia.
"There are times when I am so frustrated by my brain that I hit my head," Winkler tells TODAY.com in a sit-down interview.
The actor has appeared in dozens of movies and TV shows over the years, most recently "Barry," in which he stars as self-absorbed acting coach, Gene Cousineau, opposite Bill Hader.
Currently in its fourth and final season, the dark comedy has not only scored Winkler legions of fans, but also his first Emmy in a career that's spanned more than 50 years.
But it's Winkler's portrayal of Arthur "Fonzie" Fonzarelli, the tough guy with a heart of gold in "Happy Days," that made the actor a household name, endearing him to a generation of viewers, then leaving him typecast in an acting drought that lasted almost a decade.
Winkler tells TODAY.com that dyslexia has affected his work as an actor over the years, starting with his breakout role on "Happy Days."
"I sat around the table reading "Happy Days" in the '70s. Now, I'm reading it and I'm stumbling. I stumble because I can't read off the page. No matter how hard I try, it is a difficult process for me," Winkler says.
"I'm messing up other people's timing. I'm slowing the process down. I'm making jokes because I'm hiding behind humor in my embarrassment," he explains.
Winkler wishes he had known then that he had dyslexia, a language-based learning disability that can make reading, word recognition and writing difficult among other things.
Growing up in the '50s and '60s, a time when little was known about dyslexia, Winkler says he was shamed over his lack of comprehension both in school and at home.
"I wasn't trying hard enough. I was stupid. I was lazy. Not living up to my potential," he says of the messaging he received.
Upon being diagnosed at 31, the "Barry" actor says he finally realized that he was dealing with "something with a name."
His initial reaction was anger at his parents. "I was so angry that I was yelled at, humiliated. I was grounded. I was punished. For what? For nothing," he says.
Winkler has since used his diagnosis as an opportunity to help others struggling with the same learning disability.
In 2014, he, along with writing partner Lin Oliver, penned "Here's Hank," the first in a bestselling series of children's books about a lovable second-grader who, like Winkler, struggles with reading and math.
The actor also offers his support to others with dyslexia, most recently to Kelly Clarkson's daughter, River. During a visit to "The Kelly Clarkson Show," Clarkson told Winkler her daughter was "getting bullied at school for not being able to read like all the other kids."
"I said to her what I have said to every child I have ever met on this planet," Winkler tells TODAY.com. "How you learn has nothing to do with how brilliant you are."
"(Dyslexia) is a passion because it is something that empowers me. Something that embarrasses me. Something that I didn't know I had. Something you don't overcome," Winkler says.
He explains that when it comes to having a learning challenge, it's about receiving acceptance and support, and not being shamed.
"How you learn has nothing to do with how great you are," he says. "And how difficult it is for you to learn has nothing to do the with destiny you're going to meet."
And while a tremendous amount of progress has been made in understanding the disability since he was growing up, Winkler says there's still a long way to go.
"We make fun of, we judge people who are different," he explains. "A lot of people on this earth, they're not making a choice. It's in their DNA. You cannot help being dyslexic. You don't wake up one morning and say, 'I'm going to be a pain in the a-- in my teacher's life.'"
As far as his own destiny is concerned, the "Happy Days" actor says it's to continue having "the best time ever."
"I still love what I do. I love what I do in my house with our children and grandchildren. I love what I do in my professional life."
This article was originally published on TODAY.com
Tue, 23 May 2023 04:24:16 -0500
en-US
text/html
https://www.msn.com/en-us/tv/news/henry-winkler-on-growing-up-with-dyslexia-i-was-punished-for-nothing/ar-AA1bAiSZ