OG0-092 Dumps
OG0-092 Braindumps
OG0-092 Real Questions
OG0-092 Practice Test
OG0-092 dumps free
The-Open-Group
OG0-092
TOGAF 9 Part 2
http://killexams.com/pass4sure/exam-detail/OG0-092
Question #71 Section 1
You are serving as the Lead Architect for an Enterprise Architecture project team within a multinational oil and gas
corporation. It is organized into two major business groupings:
Upstream operations which include exploration for crude oil and natural gas and operating the infrastructure
necessary to deliver oil and gas to the market
Downstream operations which include the manufacturing, distribution and marketing activities for oil products
and chemicals. Safety is a priority for the company, with the aim to ensure it causes zero harm to people and the
environment. The company has to satisfy the regulatory requirements of each of the countries it operates in.
The downstream business generates a third of the company's profits worldwide and includes more than 30,000
petrol stations and various oil refineries. In some countries it also includes oil refining, a retail petrol station
network, lubricans manufacture and marketing, industrial fuel and lubricans sales. The practice for the downstream
business has been to operate locally, managed by local "operating companies".
The Governing Board is concerned about the risk posed by operating in this complex global environment with a
large part of the downstrean business represented by local operating companies. As a result, the Chief Executive
Officer (CEO) has appoimted a Chief Compliance Officer (CCO) to be responsible for overseeing and managing
compliance issues to the corporation. The CCO reports directly to the CEO.
The CCO has approved the expenditure of resources to establish an Enterprise Architecture program, and has
mandated the use of the TOGAF standard as the framework. He has requested to be
You have been asked to recommend an approach that would enable the development of an architecture that
addresses the needs of the Chief Compliance
Officer, legal staff, auditors and the local operating companies.
Based on the TOGAF Standard, Version 9.2, which of the following is the best answer?
A. You recommend that an analysis of the stakeholders is undertaken, including development of a
Stakeholder Map. This will allow the architects to define groups of stakeholders who have common concerns.
The concerns and relevant viewpoints should then be defined for each group of stakeholders, and recorded in
the Architecture Vision document.
B. You recommend that the ArchiMate modeling language is used to create a set of models that can be
applied uniformly across all architecture projects. Each architecture should then be defined based on this
fixed set of models. All concerned parties can then examine the models to ensure that their needs have been
addressed.
C. You recommend that a set of models be created for each project architecture that can be used to ensure
that the system will be compliant with the local regulations. A formal review should be held with the
stakeholders to verify that their concerns have been properly addressed by the models.
D. You recommend that a Communications Plan be created to address the powerful and influential
stakeholders. This plan should include a report that summarizes the key features of the architecture with
respect to each location and reflect the stakeholders' requirements. You will check with each stakeholder that
their concerns are being addressed.
Answer: B
Question #72 Section 1
You are working as a consultant to the Chief Architect at an intelligent and security organization responsible for
securing government communications and information systems. These provide real-time, highly secure
communication of voice, video, and message data to remove locations around the world. The agency has recently
received information from intelligence sources that the current encryption protocols may no longer be secure. In
response, a program is underway to upgrade the systems.
The agency has an established Enterprise Architecture (EA) capability based on the TOGAF standard. The
Executive Director of the agency is the sponsor of the
EA capability.
Since reliable, high-preformcane, and secure communications are essential to be preserving national security, the
Executive Director has placed stringent requirements for the architecture of the upgraded systems. It must be able
to provide assurance of the upgraded systems. It must be able to provide assurance and verification of specific
performance measures on the key services that are most crucial for system operation. Focusing on these service-
level details and specific measurements will allow stricter requirements to be enforced in service contracts. It will
also provide a high degree of assurance that necessary performance is being delivered and that notifications will
occur if any critical service fails to perform as required.
A portion of the program budget has been allocated to conduct a review of the EA. The scope of the review is to
evaluate the processes, content, and governance of the EA capability to ensure that the higher target performance
and service levels required by the upgraded system can be achieved.
The Chief Architect has noted that the core EA artifacts that have been in use are not able to describe these new
capabilities. The artifacts do not have explicit provisions for defining the in-depth measurement requirements
regarding specific services required for the system. She has learned that certain services within the current system
have service measurement implemenations that match some of the new requirements, but they are only used in a
few areas.
Recent EA efforts at another national agency have produced generalized high-performance communication system
models to realize similar requirements in a critical defense system involving secure communications. It is possible
that these models may be useful for the upgrade program.
[Note: You may need to refer to the Content Metamodel chapter, section 30.4 (located in Part IV) of the reference
text in order to answer this question.]
You have been asked to make recommendations for tailoring the Architecture Content Metamodel to accommodate
the requirements of the upgraded system.
Based on the TOGAF Standard, Version 9.2, which of the following is the best answer?
A. You recommend that the motivation and governance extensions are incorporated into the Architecture
Content Metamodel. Using these extensions will allow modeling the goals, objectives and drivers for the
architecture, linking them to servive levels and more detailed governance models. This will also enable the
ability to re-use existing profiles, customizing them for the various service contracts involved.
B. You recommend that a Communications Engineering view is created using the infrastructure
consolidation extension from the Architecture Content Metamodel. This view will allow architects to align
the needed performance measurement communications across the system. This will support the stringent
performance measurements needed for the more detailed governance views required for the upgraded system,
making the interfaces to the communication and network layer of the architecture highly visible at the
application level.
C. You recommend all of the extensions be incorporated into the Architecture Content Metamodel. The full
Content Metamodel will enable the EA team to capture and categorize all the important additional data neded
to support the performance and measurement objectives linked to these artifacts. Once the new repository
content has been implemented, on-demand queries can be used to generate a customized governance
stakeholder view that isolated the artifacts and data needed to assess measurement for any particular service.
If this view is found to be inadequate for the governance concerns, the servie models within those artifacts
can be expanded.
D. You recommend that the services extension be incorporated into the Architecture Content Metamodel. By
using this extension, the service model is no longer constrained by what is expected in typical business
service defintions, allowing more flexibility for adding customized models to support the more stringent
measurement requirements. The services extension can also be used to map terminology between the
business services and the application components.
Answer: D
Question #73 Section 1
You are serving as an Enterprise Architect at a large aerospace company. It designs, manufactures and sells civil
and military aviation products worldwide and manufactures in multiple countries both inside and outside of the
European Union. The company has grown rapidly by acquisition and has inherited numerous different procurement
processes and related IT systems.
Recently, several procurement processes, within the civil aviation business, have had problems related to the timing
of purchases, which has led to excess inventory. The Vice President in change of Supply Chain Management has
made the decision to consolidate and reduce redundant procurement processes and systems. He has committed to
the CEO that the business will move to a "Just-in-time" procurement system so as to keep inventory costs low.
The TOGAF standard is used for internal Enterprise Architecture activities. At presents, there are no architectural
assets in the Architecture Repository related to this initiative. All assets will need to be acquired, customized, or
created from scratch. The company prefers to implement commercial off the shelf package applications with little
customization. The CIO, who is the project sponsor, has stated that she is not concerned about preserving the
existing procurement processes or systems.
This project is using an iterative approach for executing the Architecture Development Method (ADM). The
architecture development project has completed the
Architecure Vision Phase and has started a number of iteration cycles to develop the Architecture. As a packeged
application is being considered, the next iteration will include both the Business and Application Architectures.
Stakeholder concerns that should be addressed by these architectures include:
1. What groups of people should be involved in procurement-related business processes?
2. What applications will these groups use once the architecture development is complete?
3. What non-procurement applications will need to be integrated with the new procurement applications?
4. What are the dependencies between the non-procurement and the new procurement applications?
[Note: You may need to refer to the Architectural Artifacts chapter, section 31.6 (located in Part IV) within the
reference text in order to answer this question.]
You have been asked to identify the most appropriate catalogs, matrices, and diagrams to support the next iteration
of Architecture development.
Based on the TOGAF Standard, Version 9.2, which of the following is the best answer?
A. You would describe the Baseline Business Architecture with an Organization/Actor catalog, a Business
Service/Function catalog, and a Data Entity/Business Function matrix. You would describe the Baseline
Application Architecture with an Application Portfolio catalog and an Application/Function matrix.
B. You would describe the Target Business Architecture with a Business Service/Function catalog, an
Organization/Actor catalog, and Data Lifecycle diagrams. You would describe the Target Application
Architecture with Application Communication diagrams, an Application Interaction matrix, and an
Application Portfolio catalog.
C. You would describe the Target Business Architecture with a Business Interaction matrix, and a Business
Service/Function catalog. You would describe the Target Application Architecture with an Application
Communication diagram, an Application/Organization matrix, an Application Interaction matrix and an
Interface catalog.
D. You would describe the Baseline Business Architecture with a Baseline Business Process catalog, and an
Object lifecycle catalog. You would describe the Baseline Application Architecture with an Interface catalog
and a Technology Portfolio catalog.
Answer: B
Question #74 Section 1
Your role is that of Lead Enterprise Architect for a chain of convenience stores. The chain includes over 15,000
retail outlets throughout the Asia-Pacific region.
Each store in the chain is an independently owned and operated franchise. The stores operate 24 hours a day and 7
days a week. Many of the stores have been wirh the franchise for more than 10 years and still use the original IT
systems deployed at that time.
The CEO of the chain has stated his concerns about the inefficiencies of the current systems and identified the need
to change. He has defined a new strategic vision that will enhance the business by providing its franchisees new
services to help them complete with other retail outlets and online retailers. This strategy is part of the long-term
commitment to enhance the brand image and increase revenue for the chain. He has also stated that he expects
improved financial results by the end of the current fiscal year.
The changes will help provide the chain with improved products, and more efficient operations. The stores will also
act as delivery and return locations for a large online retailer which will further increase the number of potential
customers. The addition of a corporate-wide data warehouse will provide analytics that will enable the marketing
group to Improve its ability to target advertising and new products to specific regions.
The chain has a mature Enterprise Architecture practice based in its headquarters and uses the TOGAF standard as
the method and guiding framework. The CIO is the sponsor of the activity.
The Chief Architect engaged the services of a leading consulting firm that specializes in business strategy. An
initial study has been conducted to identify the strategic changes needed to implement the CEO's vision. This
recently completed with approval of a strategic architecture encompassing the entire chin, including detailed
requirements and recommendations.
Based on the recommendations from the initial study, the decision for the chain to adopt a packegd suite of
integrated applications that is tailored to the needs of the franchise has been taken.
You have been asked by the Chief Architect to propose the best approach for architecture development to realize
the CEO's vision.
Based on the TOGAF Standard, Version 9.2 which of the following is the best answer?
A. You proposed that the target architecture is defined first, followed by transition planning. This is because
the vision is well understood and the strategic architecture agreed. The target first approach will ensure that
the current problems and inefficiencies of the baseline architecture are not carried forward, and the baseline
architecture are not carried forward, and that the proposed solution addresses the requirements identified in
the initial study.
B. You propose that his engagement define the baseline architecture first in order to assess the current
infrastructure capcity and capability. The initial priority is to understand the problem. Then the focus should
be on transition planning and architecture deployment. This will identify requirements to ensure that the
prjects are sequenced in an optimal fashion so as to realize the vision.
C. You propose that the team focus on defining the target architecture by going through the architecture
definition phases (B-D). This is because the initial study identified the need to change. This will ensure that
the change can be defined in a structured manner and address the requirements needed to realize the vision.
D. You propose that the team focus on architecture definition with a specific emphasis on understanding the
strategic change parameters of the business strategy. Once understood, the team will be in the best position
to identify the requirements, drivers, issues, and constraints for this engagement. You would ensure that the
target architecture addresses non-functional requirements so as to ensure the target architecture is robust and
secure.
Answer: A
Question #75 Section 1
You have been assigned the role of Chief Enterprise Architect within a leading professional services company that
specializes in providing outsourcing services.
The company has over 20,000 professionals and works on some of the world's largest outsourcing projects.
Outsourcing services include business processes, infrastructure, and service management. The company also
provides business consulting services. Roughly half of its turnover comes from the private sector and hal from the
public sector.
With numerous service areas and a large number of diverse engagements in progress at any given time, overall
engagement management within the company has become challenging. The company has recently had a number of
high profile projects that have overrun on budget and under delivered, thereby damaging its reputation and
adversely impacting its share price.
The company has established an Enterprise Architecture program based on the TOGAF standard, sponsored jointly
by the Chief Executive Officer and Chief
Information Officer. An Architecture Board has been formed comprised of IT staff executives and executives from
the major service areas and consulting practice.
The Enterprise Architecture (EA) team has been working with the Strategic Planning team to create a strategic
Enterprise Architecture to address these issues.
The EA team has defined a framework and held workshops with key stakeholders to define a set of architecture
principles to govern the architecture work. They have completed an Architecture Version at a strategic level and
laid our Architecture Definitions for the four domains. They have set out an ambitious vision of the future of the
company over a five-year period. This will include three distinct transformations.
The CIO has made it clear that prior to the approval of the detailed implementation and Migration plan, the EA
team will need to assess the risks associated with the proposed architecture. He has received concerns from some
of the vice presidents across the company that the proposed architecture may be too ambitious and they are not sure
it can produce sufficient value to warrant the risks.
You have been asked to recommend an approach to satisfy these concerns.
Based on the TOGAF Standard, Version 9.2, which of the following is the best answer?
A. Before preparing the detailed Implementation and Migration plan, the EA team should review and
consolidate the gap analysis results from Phases B to D. This can be used to understand the transformations
that are required to achieve the proposed Target Architecture. The EA team should then assess the readiness
of the organization to undergo change. Once the architecture has been assembled, it should be analyzed using
a state evolution table to determine the Transition Architectures.
B. The EA team should apply an interoperability analysis to evaluate any potentital issues across the
architecture. This should include the development of a matrix showing the interoperability requirements.
Once all of the concerns have been resolved, the EA team should finalize the Architecture Roadmap and the
Implementation and Migration Plan.
C. The EA team should evaluate the organization's readiness to undergo change. This will allow the risks
associated with the transformations to be identified and mitigated for. It will also identify improvement
actions to be worked into the Implementaion and Migration Plan. The Business Value Assessment technique
should then be used to detetmine the business value and associated risks for the transformation.
D. The EA team should bring together information about potential solutions from the appropriate sources.
Once the target architecture has been assembled, it should be analyzed using a state evolution table to
determine the Transition Architectures. A value realization process should then be established to ensure that
the concerns raised are addressed.
Answer: C
For More exams visit https://killexams.com/vendors-exam-list
Kill your exam at First Attempt....Guaranteed!


https://killexams.com/pass4sure/exam-detail/OG0-092 Search results
Industry pundits, application security professionals, development managers, developers and legal teams alike realize that the world has changed. Rather than writing code, developers assemble components, making them more productive personally and also enabling them to meet the better, faster, cheaper goals imposed by the companies they work for. And most organizations find out—like it or not—that their code under management is comprised north of 50% open—source components.
It seems that the use of open source, with faster, better, cheaper benefits and operational, security and intellectual property risk, ought to be addressed both in architecture and governance frameworks. How might an organization map the use of popular architecture and governance frameworks with the policies and processes necessary to govern and manage the use of open source? In order to accomplish this mapping, let's consider extending the combined use of TOGAF and COBIT, two popular frameworks.
To put us all on the same page, let's first align on a definition of architecture. Because I like standards, can we all agree to use the ISO/EID definition? "Fundamental concepts or properties of a system in its environment embodied in its elements, relationships, and in the principles of its design and evolution (ISO/IED 42010)." So, it's all about the structure of a system.
The Open Group Architectural Framework has evolved to help enterprise architecture structure architectural domains, including business, data, application and technology. If its use is successful, it informs the structure for enterprise architecture, and informs the processes and techniques around software development. It helps organizations avoid re-inventing the wheel, and as a vendor, tool and technology-neutral open standard, TOGAF can complement other frameworks.
Where does open source fit in? As described by Dave Lounsbury, CTO and Vice President of The Open Group, the considered use of open source fits in all four domains. In business architecture, requirements are defined and readiness for change is analyzed. In application architecture, component guidance is backed up by an audit and inventory. In data architecture, governance and project metadata are determined. And under technical architecture, technology opportunities are considered. Under these domains, governance, including capability and compliance assessments, is determined by an architecture board. Sounds great. And in fact, we're getting close to addressing the business need, the "why this matters." But how are key performance indicators determined, and broader IT governance and processes (including a broader set of stakeholders) established? If TOGAF supplies a methodology to add structure for enterprise architecture processes and technology, COBIT can help organizations implement TOGAF and connect it to other IT processes.
What of COBIT? Control Objectives for Information and Related Technologies is a framework created by ISACA for IT management and governance. With COBIT 5 (the latest version), ISACA has attempted to consolidate major ISACA frameworks and research, and to better align with other major frameworks (e.g. TOGAF, ITIL) and standards in the marketplace, with the goal of becoming an "overarching" framework enabling greater IT efficiencies. Essentially, according to Mauritz Kloppers, an independent IT management advisor, they've "harmonized practices and standards such as ITIL, ISO 27001 and 27002, and PMBOK." In COBIT language, "The COBIT 5 goals translate stakeholder needs into specific, practical and customized goals within the context of the enterprise, IT-related goals and enabler goals."
Relative to governing and managing the use of open-source components while addressing operational and security risk, I've found COBIT to be very useful by leveraging their "Risk IT Key Management Practices," which is a combination of Evaluate, Direct and Monitor (EDM) processes for governance of enterprise IT and Align, Plan and Organize (APO) processes for management of enterprise IT. I simply extend these governance and management processes to govern and manage the use of open-source components. Similarly, they've established governance and management processes pertaining to enterprise architecture, and then tied practices to a RACI (Responsible, Accountable, Consulted, Informed) chart.
While TOGAF adds structure for enterprise architecture, processes and techniques, COBIT puts TOGAF into context by relating architectural processes to all other IT processes. And COBIT, through RACI charts, adds responsibilities for TOGAF, helping organizations implement TOGAF and connect it to broader IT processes. To complete the circle, COBIT also adds key performance indicators for TOGAF. Nice.
So what's my beef? If open-source use is as prevalent as industry experts and your own open-source use analysis indicates, why aren't these frameworks explicit in calling out the need for its governance and management? Rather than "extending" their use, shouldn't these frameworks be explicit about addressing open-source project use?
Many would argue that open-source use has hit a "tipping point," that it has helped accelerate the rate of innovation for mobile, cloud and Big Data, while affecting how individuals and organizations are creating software. The increased amount of co-opetition among organizations through the use of open source (see Lodestone, OpenMAMA, GENIVI) is another indicator of its industry acceptance and game-changing capability. In my view, COBIT's Risk IT Key Management Practices should be explicit about risk from the use of open-source components, and these risks should be in scope. Risk factors, including loss of IP, security vulnerabilities, license conflicts and obligations, and export controls, need to be addressed directly.
And TOGAF should not just make an association, but be explicit in business architecture, application architecture, data architecture and technical architecture domains regarding the added benefits. These benefits and risks of open source can then "cascade" into the broader IT governance and management COBIT framework.
Phil Marshall is Senior Product Marketing Manager with Black Duck Software.
Sat, 13 May 2023 12:00:00 -0500
en-US
text/html
https://sdtimes.com/cobit/togaf-cobit-and-the-governance-and-management-of-open-source-software/
By Dave Emerson
Cover Story
Summary
Fast Forward
OPAF, under the guidance of The Open Group, has developed the O-PAS Standard, Version 1.0.
The standard defines minimum requirements for components that can be used to create federated process automation systems with an open and interoperable reference architecture.
O-PAS Version 1.0 was released in January 2019 as a preliminary standard of The Open Group; OPAF will incorporate industry feedback after an inter­operability workshop this June.
A detailed look at O-PAS™ Standard, Version 1.0
By Dave Emerson
Process automation end users and suppliers have expressed interest in a standard that will make the industry much more open and modular. In response, the Open Process Automation™ Forum (OPAF) has worked diligently at this task since November 2016 to develop process automation standards. The scope of the initiative is wide-reaching, as it aims to address the issues associated with the process automation systems found in most industrial automation plants and facilities today (figure 1).
It is easy to see why a variety of end users and suppliers are involved in the project, because the following systems are affected:
manufacturing execution system (MES)
distributed control system (DCS)
human-machine interface (HMI)
programmable logic controller (PLC)
input/output (I/O)
In June 2018, OPAF released a technical reference model (TRM) snapshot as industry guidance of the technical direction being taken for the development of this new standard. The organization followed the TRM snapshot with the release of the OPAS™ Version 1.0 in January 2019. Version 1.0 addresses the interoperability of components in federated process automation systems. This is a first stop along a three-year road map with annual releases targeting the themes listed in table 1.
Table 1. The O-PAS Standard three-year release road map addresses progressively more detailed themes.
| | | |
| --- | --- | --- |
| Version | Target date | Theme |
| 1.0 | 2019 | Interoperability |
| 2.0 | 2020 | Configuration portability |
| 3.0 | 2021 | Application portability |
By publishing versions of the standard annually, OPAF intends to make its work available to industry expeditiously. This will allow suppliers to start building products and returning feedback on technical issues, and this feedback-along with end user input-will steer OPAS development. O-PAS Version 1.0 was released as a preliminary standard of The Open Group to allow time for industry feedback.
The OPAF interoperability workshop in May 2019 is expected to produce feedback to help finalize the standard. The workshop allows member organizations to bring hardware and software that support O-PAS Version 1.0, testing it to verify the correctness and clarity of this preliminary standard. The results will not be published but will be used to update and finalize the standard.
---

Figure 1. A broad sampling of suppliers and end users are highly interested in the scope of the OPAS under development by OPAF, because it touches on all the key components of industrial automation systems: hardware (I/O), the communication network, system software (e.g., run time, namespace), application software, and the data model. 
---
Some terminology
For clarity, a summary of the terminology associated with the OPAF initiative is:
The Open Group: The Open Group is a global consortium that helps organizations achieve business objectives through technology standards. The membership of more than 625 organizations includes customers, systems and solutions suppliers, tool vendors, integrators, academics, and consultants across multiple industries.
Open Process Automation Forum: OPAF is an international forum of end users, system integrators, suppliers, academia, and other standards organizations working together to develop a standards-based, open, secure, and interoperable process control architecture. Open Process Automation is a trademark of The Open Group.
O-PAS Standard, Version 1.0 (O-PAS): OPAF is producing the OPAS Standard under the guidance of The Open Group to define a vendor-neutral reference architecture for construction of scalable, reliable, interoperable, and secure process automation systems.
Standard of standards
Creating a "standard of standards" for open, interoperable, and secure automation is a complex undertaking. OPAF intends to speed up the process by leveraging the valuable work of various groups in a confederated manner.
The OPAS Standard will reference existing and applicable standards where possible. Where gaps are identified, OPAF will work with associated organizations to update the underlying standard or add OPAS requirements to achieve proper definition. Therefore, OPAF has already established liaison agreements with the following organizations:
Control System Integrators Association (CSIA)
Distributed Management Task Force (DMTF), specifically for the Redfish API
FieldComm Group
Industrial Internet Consortium (IIC)
International Society of Automation (ISA)
NAMUR
OPC Foundation
PLCopen
ZVEI
Additionally, OPAF is in discussions with AutomationML and the ISA Security Compliance Institute (ISCI) as an ISA/IEC 62443 validation authority. In addition to these groups, the OPC Foundation has joined OPAF as a member, so no liaison agreement is required.
As an example of this cooperation in practice, OPAS Version 1.0 was created with significant input from three existing standards, including:
ISA/IEC 62443 (adopted by IEC as IEC 62443) for security
OPC UA adopted by IEC as IEC 62541 for connectivity
DMTF Redfish for systems management (see www.dmtf.org/standards/redfish)
Next step: Configuration portability
Configuration portability, now under development for OPAS Version 2.0, will address the requirement to move control strategies among different automation components and systems. This has been identified by end users as a requirement to allow their intellectual property (IP), in the form of control strategies, to be portable. Existing standards under evaluation for use in Version 2.0 include:
IEC 61131-3 for control functions
IEC 16499 for execution coordination
IEC 61804 for function blocks
O-PAS Version 3.0 will address application portability, which is the ability to take applications purchased from software suppliers and move them among systems within a company in accordance with applicable licenses. This release will also include the first specifications for hardware interfaces.
Under the OPAS hood
The five parts that make up O-PAS Version 1.0 are listed below with a brief summary of how compliance will be Checked (if applicable):
Part 1 — Technical Architecture Overview (informative)
Part 2 — Security (informative)
Part 3 — Profiles
Part 4 — Connectivity Framework (OCF)
Part 5 — System Management
Part 1 - Technical Architecture Overview (informative) describes an OPAS-conformant system through a set of interfaces to the components. Read this section to understand the technical approach OPAF is following to create the O-PAS.
Part 2 - Security (informative) addresses the necessary cybersecurity functionality of components that are conformant to OPAS. It is important to point out that security is built into the standard and permeates it, as opposed to being bolted on as an afterthought. This part of the standard is an explanation of the security principles and guidelines that are built into the interfaces. More specific security requirements are detailed in normative parts of the standards. The detailed normative interface specifications are defined in Parts 3, 4, and 5. These parts also contain the associated conformance criteria.
Part 3 - Profiles  defines sets of hardware and software interfaces for which OPAF will develop conformance tests to make sure products interoperate properly. The O-PAS Version 1 profiles are:
Level 1 Interoperability Hardware Profile: A certified product claiming conformance to this profile shall implement OSM-Redfish.
Level 2 Interoperability Hardware Profile: A certified product claiming conformance to this profile shall implement OSM-Redfish BMC.
Level 1 Interoperability Software Profile: Software claiming conformance to this profile shall implement OCF-001: OPC UA Client/Server Profile.
Level 2 Interoperability Software Profile: Software claiming conformance to this profile shall implement OCF-002: OPC UA Client/Server and Pub/Sub Profile.
The term "Level" in the profile names refers to profile levels.
Part 4 - Connectivity Framework (OCF) forms the interoperable core of the system. The OCF is more than just a network, it is the underlying structure allowing disparate components to interoperate as a system. The OCF will use OPC UA for OPAS Versions 1.0, 2.0, and 3.0.
Part 5 - System Management covers foundational functionality and interface standards to allow the management and monitoring of components using a common interface. This part will address hardware, operating systems and platform software, applications, and networks-although at this point Version 1.0 only addresses hardware management.
Conformance criteria are identified by the verb "shall" within the O-PAS text. An OPAF committee is working on a conformance guide document that will be published later this year, which explains the conformance program and requirements for suppliers to obtain a certification of conformance.
Technical architecture
The OPAS Standard supports communication interactions that are required within a service-oriented architecture (SOA) for automation systems by outlining the specific interfaces the hardware and software components will use. These components will be used to architect, build, and start up automation systems for end users.
The vision for the OPAS Standard is to allow the interfaces to be used in an unlimited number of architectures, thereby enabling each process automation system to be "fit for purpose" to meet specific objectives. The standard will not define a system architecture, but it will use examples to illustrate how the component-level interfaces are intended to be used. System architectures (figure 2) contain the following elements:
Distributed control node (DCN): A DCN is expected to be a microprocessor-based controller, I/O, or gateway device that can handle inputs and outputs and computing functions. A key feature of O-PAS is that hardware and control software are decoupled. So, the exact function of any single DCN is up to the system architect. A DCN consists of hardware and some system software that enables the DCN to communicate on the O-PAS network, called the OCF, and also allows it to run control software.
Distributed control platform (DCP): A DCP is the hardware and standard software interfaces required in all DCNs. The standard software interfaces are a common platform on top of which control software programs run. This provides the physical infrastructure and interchangeability capability so end users can control software and hardware from multiple suppliers.
Distributed control framework (DCF): A DCF is the standard set of software interfaces that provides an environment for executing applications, such as control software. The DCF is a layer on top of the DCP that provides applications with a consistent set of O-PAS related functions no matter which DCN they run in. This is important for creating an efficient marketplace for O-PAS applications.
OPAS connectivity framework (OCF): The OCF is a royalty-free, secure, and interoperable communication framework specification. In O-PAS Version 1, the OCF uses OPC UA.
Advanced computing platform (ACP): An ACP is a computing platform that implements DCN functionality but has scalable computing resources (memory, disk, CPU cores) to handle applications or services that require more resources than are typically available on a small profile DCP. ACPs may also be used for applications that cannot be easily or efficiently distributed. ACPs are envisioned to be installed within on-premise servers or clouds.
Within the OPAS Standard, DCNs represent a fundamental computing building block (figure 3). They may be hardware or virtual (when virtual they are shown as a DCF as in figure 2), big or small, with no I/O or various amounts. At the moment, allowable I/O density per DCN is not settled, so some standardization in conjunction with the market may drive the final configuration.
DCNs also act as a gateway to other networks or systems, such as legacy systems, wireless gateways, digital field networks, I/O, and controllers like DCS or PLC systems. Industrial Internet of Things (IIoT) devices can also be accessed via any of these systems.
---

Figure 2. OPAS establishes a system architecture organizing process automation elements into interoperable groupings.
---
Building a system
End users today must work with and integrate multiple systems in most every process plant or facility. Therefore, the OPAS Standard was designed so users can construct systems from components and subsystems supplied by multiple vendors, without requiring custom integration. With the OPAS Standard it becomes feasible to assimilate multiple systems, enabling them to work together as one OPAS-compliant whole. This reduces work on capital projects and during the lifetime of the facility or plant, leading to a lower total cost of ownership.
By decoupling hardware and software and employing an SOA, the necessary software functions can be situated in many different locations or processors. Not only can software applications run in all hardware, but they can also access any I/O to increase flexibility when designing a system.
One set of components can be used to create many different systems using centralized architectures, distributed architectures, or a hybrid of the two. System sizes may range from small to large and can include best-in-class elements of DCS, PLC, SCADA, and IIoT systems and devices as needed.
Information technology (IT) can also be incorporated deeper into industrial automation operational technology (OT). For example, DMTF Redfish is an IT technology for securely managing data center platforms. OPAF is adopting this technology to meet OPAS system management requirements.
Comprehensive and open
Each industrial automation supplier offers a variety of devices and systems, most of which are proprietary and incompatible with similar products from other vendors and sometimes with earlier versions of their own products. End users and system integrators trying to integrate automation systems of varying vintages from different suppliers therefore have a challenging job.
To address these issues, OPAF is making great strides toward assembling a comprehensive, open process automation standard. Partially built on other established industry standards, and extending to incorporate most aspects of industrial automation, the O-PAS Standard will greatly Improve interoperability among industrial automation systems and components. This will lower implementation and support costs for end users, while allowing vendors to innovate around an open standard.
For more information on OPAS Version 1.0, please download the standard at https://publications.opengroup.org/p190. Submit feedback by emailing ogspecs@opengroup.org. 
---

Figure 3. DCNs are conceived as modular elements containing DCP (hardware) and DCF (software), both of which are used to interface field devices to the OCF.
---
Reader Feedback
---
We want to hear from you! Please send us your comments and questions about this Topic to InTechmagazine@isa.org.
Thu, 06 Jun 2019 04:53:00 -0500
en
text/html
https://www.isa.org/intech-home/2019/may-june/features/the-open-process-automation-standard-takes-flight
The Educational Techniques Group has been at the forefront of chemical education for the last 20 years and was involved with the creation of several major innovative & exciting projects which saw nationwide release. Today the group is moving forward into the 21st Century and is always looking for members involvement and enthusiasm. The group is looking to work closely with the RSC's fantastic learn chemistry team and are hoping to promote the use of different technologies within education.
The group is run by a committee of RSC members who are always eager to hear from group members. If you have any suggestions as to what you would like to see your group doing please do not hesitate to contact the secretary.
You can also keep up to date with us on twitter by following us @EdTech_RSC.
Quick links
Forthcoming events organised by the Educational Techniques Group.
For further information on the Educational Techniques Group you can contact the Secretary, Mr Peter Banks CSciTeach MRSC.
Useful information and resources for all RSC interest groups.
Committee
Chair
Vacancy
Treasurer
Dr Peter Hoare
Mon, 29 Nov 2021 21:15:00 -0600
en-GB
text/html
https://www.rsc.org/membership-and-community/connect-with-others/through-interests/interest-groups/educational-techniques/
Enterprise Cloud Platform Strategic Account Manager
Google
Thani Sokka has over 17 years of experience in systems engineering, enterprise architecture, design and development, software project management, and data/information modeling, working with the latest IT systems technologies and methodologies. He has spent significant time designing solutions for the public sector, media, retail, manufacturing, financial, biomedical, and social/gaming industries. At Google, Thani is a Strategic Account Manager focused on empowering Google Cloud Platform's largest customers derive the most from Google's cloud technologies, including it's compute, storage, and big data solutions. He also works closely with the Google Cloud Platform Product Management and Product Engineering teams to help drive the direction of Google's Enterprise Cloud Platform business. Prior to Google, Thani was an enterprise architect at Oracle focused on helping Federal organizations implement SOA (Service Oriented Architecture) solutions. Thani also worked as a senior IT consultant at Booz Allen Hamilton, a lead software architect at Thomson Reuters, and a software engineer at MicroStrategy. Thani has achieved various IT certifications from organizations such as MicroStrategy, Oracle, and The Open Group (TOGAF). He holds a M.S. degree in Computer Science from Johns Hopkins University and a B.S. degree in Computer Science, Biomedical Engineering, and Electrical Engineering from Duke University.
Fri, 06 Mar 2015 18:37:00 -0600
en
text/html
https://www.dbta.com/DataSummit/Speakers/Thani-Sokka.aspx
The Group Policy Editor in Windows 11 or Windows 10 is a vital configuration editor that allows you to change settings organization-wide. Primarily it's designed for IT admin can change the advanced settings of a remote computer. However, if you have an administrator account, you can open Group Policy Editor in multiple ways, and manage your computer and network.
These are the methods you can use to open the Group Policy Editor on Windows systems:
Using Windows Search box
Create a shortcut
Using Command Prompt or Power Shell
Using Run Prompt
Via Control Panel
Via Settings.
Before you begin, you should know that the Group Policy Editor is available in Windows 11/10 Pro, Windows 11/10 Enterprise, and Windows 11/10 Education editions only, and not in Windows 11/10 Home.
See this post if Windows cannot find GPEDIT.MSC. If you are using Windows 11/10 Home edition, you need to add the Local Group Policy Editor to your computer.
1] Windows Search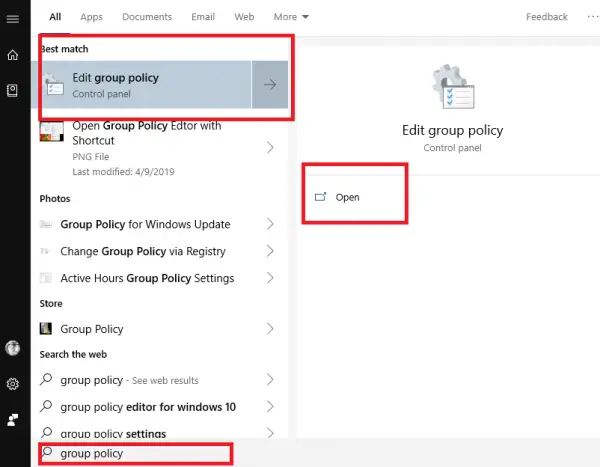 Press the Windows button to open Start Menu
Type "group policy."
It should list the policy editor on the tap
Click open to open the Group Policy Editor.
Read: How to search Group Policy for specific GPO in Windows 11/10.
2] Create a Desktop Shortcut
If you use it often, it is best to create a shortcut on the desktop and even assign a hotkey.
Navigate to C:\Windows\System32
Search for "gpedit.msc"
Once it appears, right-click on it, and select Create a shortcut.
Click Yes when it prompts that the shortcut can only be created on the desktop
Next time you want to open it, double click to launch it.
You can also assign a hotkey to it, and you can start it using a keyboard combination.
3] Using Command Prompt or Power Shell
If you are a power user who uses Command Prompt or the Power Shell, here is a nifty solution for you.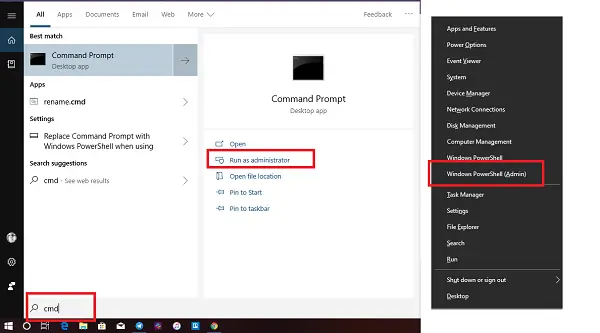 Make the WinX Menu show PowerShell instead of Command Prompt.
Then open Win+X and select Windows Power Shell (Admin).
Or you could search for CMD and choose to launch it with admin privileges.
Type "gpedit" and it will open the GPE in a few seconds.
4] Using Run Prompt
Probably the easiest method, and also the most common one.
Open the Run prompt (WIN+R)
Type gpedit.msc, and hit Enter
You may get prompted with the UAC prompt
Choose yes, and it will launch the Group Policy Editor
5] Via Control Panel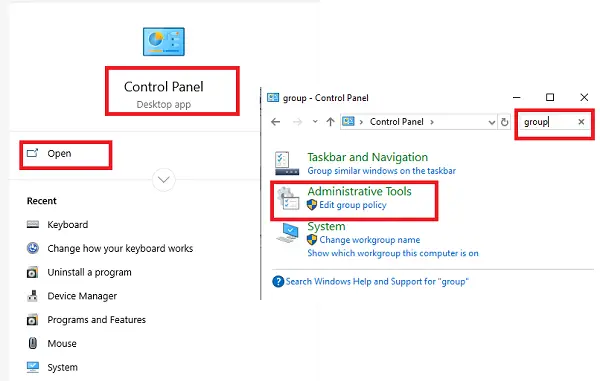 Open the search bar, and then type control
It will reveal the Control Panel. Click or tap to start it
In the search box on the top right, type "group."
Look for Administrative Tools > Edit group policy
Click to launch it
It is useful for those who use the Control Panel for almost everything to manage the computer.
6] Via Settings
Open Windows Settings
Type Group Policy and GPE should be available
Click on the result, and it will start the editor.
Which method to open Group Policy Editor is your favorite? Let us know in the comments.
Related read: How to repair a corrupt Group Policy in Windows 11/10.
Fri, 09 Jul 2021 19:21:00 -0500
en-US
text/html
https://www.thewindowsclub.com/how-to-open-group-policy-editor-in-windows-10
Daniel Hatter began writing professionally in 2008. His writing focuses on Topics in computers, Web design, software development and technology. He earned his Bachelor of Arts in media and game development and information technology at the University of Wisconsin-Whitewater.
Sat, 21 Jul 2018 06:41:00 -0500
en-US
text/html
https://smallbusiness.chron.com/open-group-policy-management-editor-server-2008-57651.html
At Springer Nature, we are committed to the goals of open research. Our policies help authors achieve a high level of openness with their research and support them in meeting the open access (OA) requirements of their research funders and institutions. For information on our Nature Portfolio policies on self-archiving and re-use terms see our self-archiving and license to publish page.
For further Springer Nature OA policies, such as our retrospective open access policy, information on pricing adjustments and guidance on funder compliance and open access licensing; see our journals open access policies on SpringerNature.com.
Thu, 16 Jul 2020 23:40:00 -0500
en
text/html
https://www.nature.com/nature-portfolio/open-access/open-access-policies
Welcome to Smithsonian Open Access, where you can download, share, and reuse millions of the Smithsonian's images—right now, without asking. With new platforms and tools, you have easier access to more than 4.5 million 2D and 3D digital items from our collections—with many more to come. This includes images and data from across the Smithsonian's 21 museums, nine research centers, libraries, archives, and the National Zoo.
What will you create?
#SmithsonianOpenAccess
Remixes by: Access Smithsonian, Amazon Web Services-Sumerian, Amy Karle, An Open Book Foundation, AstroNuts, Autodesk Tinkercad, Cesium, Chris Funk & N M Bodecker Foundation, Creative Commons, Duke University-MorphoSource, Georgetown University Maker Hub in Lauinger Library, Google Arts & Culture, The Khronos Group, MHz Foundation, Michael Joo, Matthew Putman, and James J. Williams III, Sketchfab, Smithsonian Center for Learning and Digital Access, Smithsonian Data Science Lab, Smithsonian Libraries & Museum in a Box, Wikimedia DC
The Smithsonian Open Access launch event is presented in partnership with:

Data hosting provided by AWS Public Dataset Program
---
Contact: openaccess@si.edu
The Smithsonian Open Access launch event is presented in partnership with:

Data hosting provided by AWS Public Dataset Program
---
Contact: openaccess@si.edu
Sat, 21 Jan 2023 17:41:00 -0600
en
text/html
https://www.si.edu/OpenAccess
501(c) Groups — Nonprofit, tax-exempt groups organized under section 501(c) of the Internal Revenue Code that can engage in varying amounts of political activity, depending on the type of group. For example, 501(c)(3) groups operate for religious, charitable, scientific or educational purposes. These groups are not supposed to engage in any political activities, though some voter registration activities are permitted. 501(c)(4) groups are commonly called "social welfare" organizations that may engage in political activities, as long as these activities do not become their primary purpose. Similar restrictions apply to Section 501(c)(5) labor and agricultural groups, and to Section 501(c)(6) business leagues, chambers of commerce, real estate boards and boards of trade.
527 Group — A tax-exempt group organized under section 527 of the Internal Revenue Code to raise money for political activities. These groups are typically parties, candidates, committees or associations organized for the purpose of influencing an issue, policy, appointment or election, be it federal, state or local. Such organizations can raise unlimited funds from individuals, corporations or labor unions, but they must register with the IRS and disclose their contributions and expenditures.
Hybrid PACs (Carey Committees) — A Carey committee is a hybrid political action committee that is not affiliated with a candidate and has the ability to operate both as a traditional PAC, contributing funds to a candidate's committee, and as a super PAC, which makes independent expenditures. To do so, Carey committees must have a separate bank account for each purpose. The committee can collect unlimited contributions from almost any source for its independent expenditure account, but may not use those funds for its traditional PAC contributions.
Political Action Committee (PAC) — A political committee that raises and spends limited "hard" money contributions for the express purpose of electing or defeating candidates. Organizations that raise soft money for issue advocacy may also set up a PAC. Most PACs represent business, such as the Microsoft PAC; labor, such as the Teamsters PAC; or ideological interests, such as the EMILY's List PAC or the National Rifle Association PAC. An organization's PAC will collect money from the group's employees or members and make contributions in the name of the PAC to candidates and political parties. Individuals contributing to a PAC may also contribute directly to candidates and political parties, even those also supported by the PAC. A PAC can provide $5,000 to a candidate per election (primary, general or special) and up to $15,000 annually to a national political party. PACs may receive up to $5,000 each from individuals, other PACs and party committees per year. A PAC must register with the Federal Election Commission within 10 days of its formation, providing the name and address of the PAC, its treasurer and any affiliated organizations.
Feel free to distribute or cite this material, but please credit OpenSecrets. For permission to reprint for commercial uses, such as textbooks, contact OpenSecrets: info@crp.org
Wed, 12 Jun 2019 04:27:00 -0500
en
text/html
https://www.opensecrets.org/527s/types.php
May 20—There are fewer reporters on the beat these days, which is why it's all the more important for the ones that are left to be aggressive in the way they cover government missteps and residents' concerns.
That was part of the message delivered this week by Mark Mahoney, a Pulitzer Prize winning editorial writer and editor with the Daily Gazette in Schenectady who served as guest speaker during the annual meeting of the New York Coalition for Open Government.
"One of the problems we're having here with the open government is the declining the number of reporters and local journalism," Mahoney said.
Citing a 2022 article from the Columbia Journalism Review, Mahoney noted that the number of reporters in the United States, from 2004 to 2021, declined by 57% from 71,640 to 30,820.
"It's more than half the reporters gone," he said. "So not only do you have fewer reporters out in the field, the reporters that remain are tasked with doing a lot more work for their papers a lot more efficiently, which means maybe they won't take time to go to a meeting except for the big one, whereas a lot of times they would go to all of them."
Mahoney has attended a lot of meetings over the course of his career, which was punctuated with his Pulitzer Prize win for editorial writing in 2009. The Pulitzer Prize committee cited Mahoney's "relentless down to earth editorials on the perils of local government secrecy," which he continues to pen in his capacity with the Daily Gazette.
For years, Mahoney has focused his work on highlighting the shortcomings of local governments and elected officials when they fail to follow open government rules and Freedom of Information Laws.
During Wednesday's meeting of the coalition, which works to promote open government across New York state, Mahoney encouraged residents to continue to press public officials to follow the rules. He said it's equally important for reporters to do their part by not just reporting on what transpires during a public meeting but also whenever government officials attempt to conduct business in private that should be public.
"Let the public know that this stuff is going on and what these people are up to," he said. "You know you let the public know that you're aware, let the public officials know that you're watching them, because if they think no one's paying attention, they'll take advantage of that and some of them do it deliberately, and some of them do it, you know, incidentally. A lot of public officials don't know the law."
"When you stand up for your right to know, when a reporter reports a violation, it does have a ripple effect," he added. "It serves both to educate the officials, and also to keep them from violating the rules."
While some of them proved more stubborn than others, Mahoney said over the years he's found accurate reporting, coupled with timely, to-the-point, no-nonsense editorials can be effective in convincing public officials to follow the rules, uphold the law and respect the public's right to know.
"Embarrassment is a legitimate and effective tool," he said. "Nobody likes to have their name in the paper being called out, you know, for for being a not transparent or for keeping secrets, or whatever."
Mahoney lauded the coalition and its members for serving as an active advocacy organization not only for the public but for the press as well.
"I think this organization, particularly for a small and and relatively new grassroots group, has done an incredible job raising awareness," he said.
The New York Coalition for Open Government has been calling out public officials for failing to be transparent and for keeping secrets since 2016. Started by Amherst attorney Paul Wolf, the non-partisan group originally focused on open government and Freedom of Information Law concerns in Western New York and has now expanded its efforts statewide.
The coalition's annual meeting included an overview of the coalition's accomplishments from last year, including its efforts to organize a protest of Niagara Falls Mayor Robert Restaino's repeated use of special meetings and a informational get-together held with the Niagara County Clerks Association to offer advice on complying with New York's open government rules.
The coalition also generated several reports on governmental transparency, including one that found 61% of New York counties failing to respond to Freedom of Information requests within five days as required by law and another that found 72% of towns were not posting meeting documents online and 25% meeting minutes or recordings of meetings, again as required by state law.
Wolf acknowledged that in New York, the last state in America to adopt open government laws in 1973, there's still plenty of work to do on the government transparency and access to public information front.
The coalition supports mandatory in-person meetings for governing bodies, with requirements that all meetings be streamed live so residents and others can participate via computer or telephone.
Wolf noted that while New York does have a state agency — the Committee on Open Government — that renders opinions on transparency issues, it does not have any true oversight agency or any penalties in place for public officials or municipalities when they violate the rules.
"We don't that here in New York and that's something that we really need," he said.
Fri, 19 May 2023 23:59:00 -0500
en-US
text/html
https://news.yahoo.com/open-government-group-honors-reporters-111900706.html