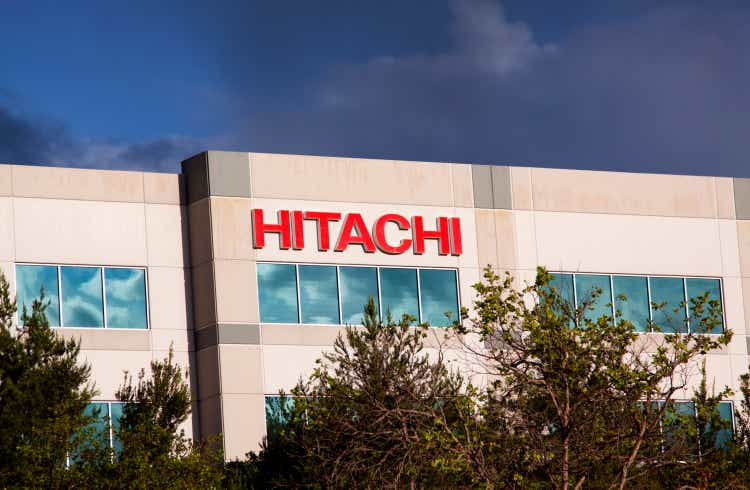 Published on the Value Lab 9/2/23
Hitachi (OTCPK:HTHIY) is one of Japan's more well known conglomerates. While their household-name status should normally mean less of a value edge, due to the confluence of factors, mainly the chip ban and the reopening of China, some of their higher margin segments could see positive increments. On top of that, they have some nice secular tech-based growth drivers in their larger segments. Overall, their low multiple combined with a good probability of sustained growth, despite forecasts expecting declines, makes capital appreciation here quite likely in our view. A clear buy.
Q3 Results
To begin, we have compiled the granular segment EBITA to get a view of how exposed Hitachi results' are to their different segments, whose profiles are very different in terms of end markets and positioning into 2023.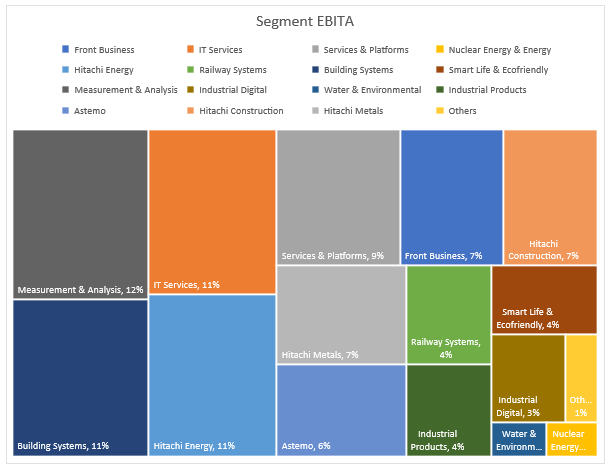 For those that think more linearly and less graphically, here's the original table.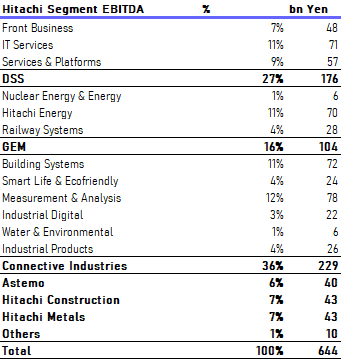 Measurement & Analysis (12%)
This segment is the highest margin of all of Hitachi's businesses, and they produce valuable, high ticket technology like electron microscopes and metrology equipment essential for semiconductor production. The growth in fabs and foundries have been good for this business so far in 2022. In the latest quarter, revenue growth showed acceleration at 31%, with EBITA growing by more than 50% thanks to operating leverage. The average Hitachi margin is lower than 10%, so the 15% margin in this segment contributes substantially to positive mix effects.
Semiconductor manufacturing may slow down in most western markets since we are seeing a semiconductor glut, but there are strategic tailwinds that may keep demand going, especially for Hitachi. The chip ban is likely to get China investing more heavily in their own fabs, and Hitachi's proximity and exposure to Chinese markets could be downside protection to this segment. Moreover, clinical and chemical markets should be quite stable.
However, for now, orders are down in this segment, and the shrinking backlog is the reason why the markets are forecasting about a 10% decline in earnings in 2023.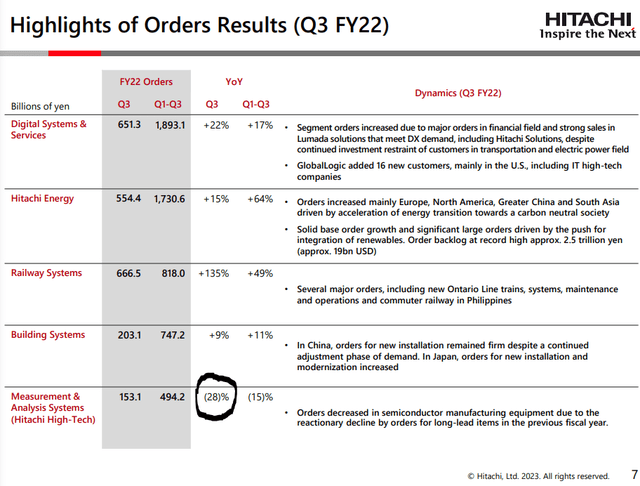 However, strategic considerations could limit declines in the order rate and backlog, and would not yet be visible in the results.
Building Systems (11%)
This includes HVAC and elevators. Exposure to China is important here too. This is one of the higher margin Hitachi segments, and part of the demand here has been dormant due to a locked down China. A recovery there should be positive for this segment, whose maintenance and razor and blades economics will contribute positively to Hitachi's cash generation profile.
Sustained growth on maintenance but also new installations from a recovering Chinese real estate market - note that only partial recovery in Chinese markets would be needed to keep this engine going - should see a positive contribution from this segment into the next year as well. As it stands, growth in the Q3 at 11% in revenues showed some more acceleration, where it had been lower at a 9-month trailing 9% growth so far this year. A general acceleration in results in the recent quarter is appreciated, despite FX pressures with an appreciating Yen and depreciating FX in foreign markets beginning to materialise over the last couple of months. Underlying demand must be improving - indeed, orders are up 9% in the last quarter showing recovering demand.
IT Services (11%)
These are higher margin businesses as well at 11.3%, focused on digital transformation services but also general IT management for financial companies in the ASEAN markets and for the public sector.
The main growth driver and the majority of the IT business right now is this business called Lumada, which contributes results in several segments. They provide security and cloud services and apps to help companies manage and consolidate data from IoT. Exposure to financials, the public sector, and industry is driving growth here.
The growth of Lumada is pretty phenomenal, and is still mainly focused on Japan, which has a long way to go in terms of digitalisation, as it a notoriously analogue country (you need to carry around a personal stamp for admin). Lumada was organically launched in 2016 so it's good to see its progression and we expect continued growth into 2023 without much problem especially as digital systems and services orders are accelerating in the Q3 to 22%.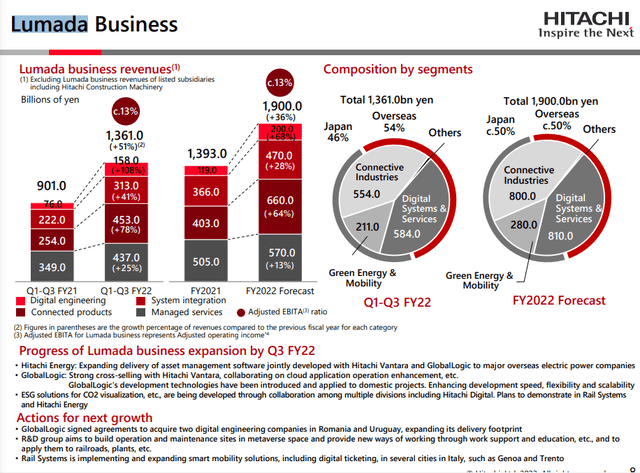 Hitachi Energy (11%)
This is quite a straightforward segment, as it is an engineering and products business that provides products and services to the electric grids of countries. This is an important infrastructure, especially in the context of electrification, and provides a secular market. This is another segment where revenue growth is accelerating in Q3 at 39% compared to 28% YTD. We can expect further growth into 2023, unfortunately it is one of the lower margin segments.
Services & Platforms (9%)
This business also includes some revenues from Lumada, in particular digital engineering which is growing at 28% within the Lumada line. But there's also GlobalLogic which is another quite recent acquisition that adds to these digital engineering capabilities. This is a lower margin segment at 8.2%, closer to the company average, but it is growing nicely at 24% YTD. The tech angle here provides some secular growth tailwinds, and things like omnichannel and general retail and logistic digitalisation support this business.
Hitachi Construction Machinery (7%)
This segment has been hit pretty hard this year. YTD revenues are down 34% and EBITA has halved. With orders recovering generally in the building systems segment, we expect the possibility of a recovery of some of these losses into the coming year. Margins are reasonable at 9%, so a recovery here will go a decent way.
Hitachi Metals (7%)
This is a more vulnerable segment. 23% growth was achieved thanks to pricing initiatives, but this could reverse as customers require deflation since the underlying commodities are deflating too. This segment produces metal materials used in various industrial parts. Its margin is lower than the company average at 5%, which means markups are already low. They are unlikely to go lower on a percentage basis, but revenues and EBITA should fall into the next year, thankfully not going the longest way.
Bottom Line
Metals and Machinery will balance out, then everything else should grow and it balances out declines that one could expect in measurement and analysis, assuming strategic considerations don't mitigate declines. For the declines in measurement, there are about four other segments of equal import producing similar growth than the order declines currently seen in measurement. Overall declines seem rather unlikely considering the rate of growth in the tech segment especially, despite universal reporting on slowing sales cycles for tech offerings - Lumada is exploding.
The company trades at around a 10x PE multiple. That's too low considering EPS growth is entirely possible, even assuming the worst in their jewel measurement segment. With reopening in China already producing order growth for some of the better Hitachi segments like building systems, Hitachi looks primed to show sustained growth from its cheap, industrial profile. Longer term, investors can be happy with their high-tech exposures in semiconductor metrology and clinical and chemical analysis. Semiconductor is very cyclical, and it will come back in a couple of years at most, if not sooner depending on how China responds to the chip ban.
Editor's Note: This article discusses one or more securities that do not trade on a major U.S. exchange. Please be aware of the risks associated with these stocks.