Medical
DAT
Dental Admission Test
https://killexams.com/pass4sure/exam-detail/DAT
Question: 94
What is the median for the numbers 89, 87, 94, 82, 89, 91, 95, 88, 90, 87, 92 and
93?
A. 87 and 89
B. 89.5
C. 93
D. 89.75
Answer: B
The median of the number set above is 89.5. The median is the number that falls
in the middle of the set when the numbers are ordered by numeric value (least to
greatest). The set above should be ordered as follows: 82, 87, 87, 88, 89, 89, 90,
91, 92, 93, 94, 95. When there is an even number of entrants in the set, the middle
two numbers should be averaged together to find the median. This sequence has
12 numbers and the middle two are 89 and 90, which equal 89.5 when averaged.
Question: 95
What is the mode for the numbers 34, 62, 58, 49, 37, 85, 22, 44, 37 and 52?
A. 48
B. 46.5
C. 61
D. 37
Answer: D
The mode for the number set above is 37. It is the number that occurs most
frequently in a number set. 37 occurs twice, while all of the other numbers occur
once. The order of the numbers is not relevant nor is the number of entrants in the
set.
Question: 96
What is the median for the following set of numbers? 15, 62, 47, 33, 89, 4, 76, 40,
54
A. 28
B. 46.7
C. 47
D. 39.2
Answer: C
The median or the middle number when the numbers are in ascending order (4,
15, 33, 40, 47, 54, 62, 76, 89) for the number set above is 47. The mean is about
46.7. There is no mode because each number occurs only one time in the set.
Question: 97
To find the percentage (p) of any number (n), which formula can be used?
A. ( p x 100) ÷ n
B. ( p p x x n n ) ÷ 100 ) ÷ 100
C. 100 - ( p p x x n n ) )
D. ( n n x 100) ÷ x 100) ÷ p p
Answer: B
To find the percentage of any number, such as 42% of 677, for example, multiply
the percentage in its whole value by the number, then divide the product by 100.
(42 x 677) ÷ 100 = 284.34.
Question: 98
People who score in the 95th percentile on an exam:
A. Earned a score of 95 on the test
B. Scored as well or better than 95% of the people who took the same exam
C. Scored in the top 95% of test takers
D. Answered 95% of the questions correctly
Answer: B
A test taker who scores in the 95th percentile scored as well or better than 95% of
the people who took the exam. It is a comparative measure of success that has
nothing to do with the number of questions on the exam, the number of correct
responses given or the "score" of the exam in a 1 to 100 grading scheme. Early
education exams are typically evaluated solely on this measure. Secondary school,
higher education and professional exams vary in their emphasis on this method,
but most report comparative percentile scores as a frame of reference.
Question: 99
What is the outlier in the following set: 11, 22, 33, 44, 55, 112, 23, 34 and 45?
A. 55
B. 11
C. 112
D. There is no outlier.
Answer: C
The outlier is 112. An outlier is any number that is widely divergent from the rest
of a data set, and it can be deduced logically, in many cases. It can be found
arithmetically as well. An outlier is usually any number that is more than two
standard deviations from the mean. The mean of the number set is about 42
(42.11). The standard deviation for the set is about 29.5. 42 + 29.5 + 29.5 = 101;
therefore, any number greater than 101 is an outlier in this set. 101 < 112,
therefore 112 is an outlier.
Question: 100
If Martin invests $20,000 for 20 years and his investment earns 20% interest
compounding quarterly, what will it be worth at the end of his investment period?
A. $991,228.82
B. $120,000.00
C. $244,529.20
D. $424,872.36
Answer: A
A $20,000 investment that earns 20% interest compounded quarterly would be
worth $991,228.82 at the end of a 20-year investment period. The equation for
compound interest is A = P(1 + r/n)nt in which A is the amount including interest,
P is the principle investment, r is the interest rate expressed in decimal form
(0.12), n is the number of times interest is added per year, and t is the number of
years for which the principal is invested. A = $20,000(1+.2/4)80. = $991,228.82.
Question: 101
The division of your company that you oversee contains 18 employees whose
total salary last year was $855,000. The average salary of all company employees
with the same level of responsibility and qualifications is $50,000. Is your
department above or below the company average?
A. Below by 20%
B. Above by 10%
C. Below by 5%
D. Above by 15%
Answer: C
The average salary of a worker in your department is $47,500, which is 5% below
the company average. Divide your workers' total salary by the number of workers.
There is a $2,500 difference between the average salary in your division and the
company's average. $2,500 is 5% of $50,000.
Question: 102
Using data to predict what might occur in the future, beyond what the data set has
explicitly demonstrated, is called:
A. Variable anticipation
B. The futures market
C. Predicate analysis
D. Extrapolation
Answer: D
Extrapolation is the use of recorded data to predict events in similar groups or in
the future. For example, if annual standardized test scores decreased in Alabama,
Georgia and Louisiana, that data could be used to extrapolate (or predict) that
annual standardized test scores also decreased in Mississippi.
Question: 103
In a game, one card is drawn from a complete deck of playing cards without
jokers. If the card is a club or a queen, the gambler wins double his bet.
Otherwise, the dealer keeps the money. How much better are the dealer's odds in
this game?
A. 50% better
B. 38% better
C. 32% better
D. 44% better
Answer: B
In a game where the dealer keeps a gambler's wager if he draws any card but a
club or queen, his odds are 38% better than the gambler's of winning the money.
There are 52 cards in a deck and 13 cards in each suit, including clubs. There are
four queens in each deck, but the queen of clubs has already been counted, so
only the queens of hearts, diamonds and spades count toward the gambler's list of
winning cards. Therefore, the gambler needs one of 16 cards to be pulled in order
to win, which make his odds of winning 31%. If his odds are 31%, the gambler's
odds are the far superior 69%, which is better by 38%.
For More exams visit https://killexams.com/vendors-exam-list
Kill your exam at First Attempt....Guaranteed!


https://killexams.com/pass4sure/exam-detail/DAT Search results
No result found, try new keyword!They do all of this while preparing for the Medical College Admission Test ... 18 months after you seriously start(ed) thinking," Khubchandani says. "It's a one-year process that becomes ...
Thu, 23 Apr 2015 01:05:00 -0500
https://www.usnews.com/education/best-graduate-schools/articles/the-medical-school-admissions-cycle-a-month-by-month-guide
Medical schools are highly competitive. The national acceptance rate is 43%, according to data compiled by the Association of American Medical Colleges. Students often ask, "How do I get into medical school?" Use these top 10 tips from doctors and medical students to help you prepare for your pre-health profession.
1. Get Some Medical Experience on Your RĂŠsumĂŠ
Job shadow with doctors and other medical professionals. Admissions committees don't expect applicants to have real experience actually treating patients. After all, you're not a doctor yet. But they do want to know that you've spent time getting to know what your future job would be like. Job shadowing is a great way to get some medical experience but there are other non-shadowing opportunities that may be available to you.
"Med school admissions committees want students to have realistic expectations for what a career in medicine will be like. says Dr. Sarah Carlson, an associate chief of surgery at VA Boston HCS, and an assistant professor at BU School of Medicine. who has also served on a medical school admissions committee. As an undergraduate, she volunteered to file x-rays at the local hospital, then parlayed that into an opportunity to talk with the radiologist. He explained both how to read x-ray films, and why he chose his profession. "It's those types of interactions that are important to have under your belt," she says. "Quite frankly, medicine isn't for everyone, so it's best if you do some soul-searching and spend some time with the people who have the job you want. Most doctors are happy to sit down with students who are considering a career in medicine."
Former pre-med student and current medical school student Karmyn Polakowski served with Michigan Tech's EMS for a couple of years. "It was definitely the highlight of my undergraduate career," she says. "I was not only able to deploy my patient interaction and care skills, but I found the EMS family that created bonds to last a lifetime. EMS brings out special qualities in everyone and learning how to utilize everyone's strengths is really quite eye-opening. This lesson in itself makes me confident in my ability to work well as a physician amongst a group of other healthcare workers someday soon." Polakowski is now attending Michigan State University College of Human Medicine.
Other ways to get medical experience include becoming a Certified Nursing Assistant (CNA) or as a hospital scribe doing data entry. Some applicants are able to gain clinical experience by helping to care for family members.
2. Do Research Projects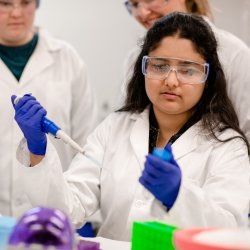 Demonstrate your hands-on science knowledge. "Undergraduate research experience really shines through on medical school applications. Most medical schools want students who are interested in research, and the best way to show that interest is to come in having already gotten your feet wet" says Dr. Carlson. She did pipetting and ran assays for Dr. Pushpa Murthy's lab at Michigan Technological University. It was a small part of the research, but she conveyed the overall impact. "I had to explain at my interviews that the larger scope of the research was about inositol phosphate metabolism."
Medical student Carly Joseph did long-term research in engineered biomaterials. "Sticking with it gave me time to learn how to think critically and ignited my passion for science," she says. "I started off simply learning about biomaterials from older students in the lab, then gradually worked up to doing my own experiments and eventually presenting at conferences." By choosing to make research a main priority each semester she was able to form close relationships with faculty mentors and accomplish more during undergrad than she ever imagined.
In addition to college-based research programs, you can investigate summer offerings, including those through the National Science Foundation Research Experience for Undergraduates program or check out the AAMC database for summer undergrad research programs
3. Put in Time Serving Others
Dr. Carlson volunteered with the Big Brothers-Big Sisters organization. So did Joseph. Rake leaves, build an accessibility ramp, clean the beach, walk a dog. There are lots of non-clinical options for volunteering that demonstrate your willingness to pay it forward and deliver back.
"They have many different programs and services." Joseph, accepted into Central Michigan University's College of Medicine, was part of the Forever Friends program, matched with an elderly woman she visited a few times each month. "I 've formed a great friendship with her, and hopefully, helped alleviate some loneliness. It 's a win-win!"
"Doctors are generally pretty altruistic people, and med schools want to see that you care about your community or have some drive to contribute to the greater good," says Dr. Carlson. "Community service comes in many forms, and really anything qualifies, from trash cleanup and mentorship programs to working the concession stand at a fund-raiser for a charity—anything that requires some unpaid time for a good cause."
Ask your pre-health professions advisor about volunteering opportunities on campus or in your community, which could include helping at local food banks or blood drives, local shelters for the homeless or those dealing with domestic violence. You could tutor, deliver good companionship and Meals on Wheels, or walk the dogs at a local animal shelter. Take an alternative spring break and work with Habitat for Humanity or on developing clean water sources for Third World countries. Check with your school for a list of community and global partners it works with who can use your time and talents. The mentors you develop will come in handy when it's time to gather recommendation letters—most schools ask for at least three—and the friendships you develop will last a lifetime.
4. Choose a Major You Will Excel In
Grades aren't everything, but they're extremely important. Choose a field of study that will yield a competitive GPA (grade point average). The recommended GPA for medical school applicants is 3.7 for MDs (medical doctors), 3.5 for DOs (doctors of osteopathy), and 3.4 for NDs (Doctor of Naturopathic). While many students who are planning careers in medicine decide to major in biology, Dr. Carlson earned her bachelor's in chemistry. Many of her colleagues majored in even more unexpected fields, including engineering, English, music, and classics.
"It 's OK if you 're not on the pre-med track right away when you start college; pursue experiences that genuinely interest you and rely on guidance from your faculty mentors to navigate your path"Carly Joseph
There is no such thing as a pre-med major, says pre-health professions advisor Dr. Kemmy Taylor, who works with students preparing for medical careers at Michigan Technological University. "There is no specific major requirement for getting into medical school.. You can major in whatever degree program you want." You will still need to do well in both your cumulative and your science GPA, classes like biology, physics, chemistry, and math, that are required for medical school admission. If you are struggling in any classes, get help right away.
During her fourth year, Joseph had to take many of the medical school prerequisite classes that were not part of her engineering curriculum and build a Medical College Admission Test (MCAT) study plan into her schedule.
5. Apply to Multiple Medical Schools

Improve your odds by not placing all your hopes on one school. Do individual research on each school, says Taylor; application requirements can vary from school to school and from year-to-year.
She also notes that you can reach out to admission committees with specific questions about the program and expectations. And, she says, don't be bummed if at first you don't succeed. Try again. "If you don 't get accepted into the school of your dreams, it 's OK! Schools have many applicants and can 't take everyone," says McKenzie, who was accepted into the Michigan State University College of Human Medicine. "My dad, who has been a family physician for 29 years, often tells me, "An MD is an MD, it doesn't matter where you go to school."
"Don't take it personally when you get some rejections—they happen at every stage of the game. If you cast a wide net, you'll increase your likelihood of getting an acceptance."Dr.  Sarah Carlson
Other ways to get noticed among the hundreds or even thousands of medical school applications submitted each year: send supplemental materials beyond your application. For example, "if you've published a paper, consider sending a copy of the publication with a handwritten note to the director of admissions, indicating you really hope to be considered for acceptance," she says.
6. Study Early and Often for the Medical College Admission Test, or MCAT
MCAT scores range from 472-528. Accepted medical students average around 508. Recommended study time: 300-350 hours.
Take a course and buy books and study on your own. Find the method that works for you. Take practice exams many times and don't let your practice scores spook you, says McKenzie. "I used the Kaplan book series, and studied by reading, highlighting, and taking notes. The real MCAT was not as hard as the Kaplan test, in my opinion." The pre-health professions advisor can help you find the resources you need.
You can also join a pre-health professions club or association at your school, including Alpha Epsilon Delta, the national honor society for health pre-professionals. Members help each other get ready for tests, along with hosting speakers and events to help gain knowledge and experience.
7. Learn Another Language
"I speak Spanish almost every day at work," says Dr. Carlson. "It 's what I use the most from my premed education." Joseph spent a semester in Chile. "Focusing on language, culture, and people challenged me in a me in ways that technical classes couldn't and was critical in my preparation for medical school. If you 're thinking about studying abroad, do it. Communication and understanding different cultures are crucial skills for anyone entering the medical field, and medical schools look for applicants who make the effort to broaden their horizons culturally."
Medical volunteer programs abroad are another option to gain both life and health-care related experiences. Students are placed in hospitals and clinics in both rural and urban settings where staff is inadequate. Work, with professional guidance, can include giving vaccinations and other tasks interacting directly with patients, as well as helping to make facilities cleaner and more accessible. Programs are normally for people aged 18 and older
8. Don't Skimp on Extracurricular Activities

Show that you're interested in other things besides schoolwork. Dr. Carlson says having outside interests makes you stand out (she plays violin in an orchestra). "It's OK to indicate some of these personal interests on your med school applications—they deliver the interviewers something to relate to you with," she says. "I interviewed one applicant who only got a C in biochemistry, but he wrote lots of letters to the admissions committee highlighting his other strengths. We accepted him, and he turned out to be a star."
"Medical schools like to see commitment in their applicants, be it to sports, work, or extracurricular activities," says McKenzie. "It 's easier to not join clubs and just do homework and relax, but devoting time now to extracurricular commitments is worth it in the long run. These experiences also deliver you good opportunities to get to know people who can write the letters of recommendation."
Joseph says to choose activities based on what works best for you. Aim for quality rather than quantity.
"There 's a lot of pressure to have as many leadership roles as possible and be involved in tons of student organizations. For me though, having a few deep and lasting experiences was the way to go. I chose to invest my time in research, improving my Spanish, and volunteering," she says.
9. Be Polite and Be Yourself at Medical School Interviews
Research the schools you're interested in and look at mission statements, so you know something about the institution that you can share at the interview. Practice answering interview questions. When you arrive, be courteous to everyone you meet at the interview, including the receptionist.
"Schools are interested in learning what kind of student and person you are," says McKenzie. Schools invest in students and are looking for a good fit.
If you need help with effective body language, knowing how to dress professionally or for other tips, check out your school's Career Services office, which may offer mock interview opportunities and other techniques to help you present your best self.
10. Be Ready to Explain Why You Want to be a Doctor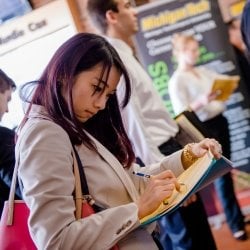 Avoid generic answers like "I want to help people." There's no one right answer. Be specific. Tell your story.
McKenzie's dream centers on helping people close to home, in an underserved area that suffers from chronic physician shortages. "I have always wanted to return to the Houghton-Hancock area, where I grew up, and to serve my rural community."
For Joseph, the dream centers on combining a passion for science with helping others in a direct way.
Dr. Carlson 's dream started when she was five years old and her sister was born with cystic fibrosis. She reminds applicants to go beyond that initial inspiration during application interviews and explain how you've prepared for a grueling process that is not for everyone. "After medical school comes residency, and then—for some—fellowship, academic track positions, publications, and navigating an ever-evolving health care system," says Dr. Carlson.
Bonus Tips for Getting into Medical School
Dr. Carlson has two more important suggestions to help you successfully apply to medical school:
Ask a Mentor or Advisor to Pick Up the Phone and Make a Call for You
"This is an unwritten rule that everyone does and nobody ever told me until I was several years into my training," says Dr. Carlson. "If you want to go to a particular school, find a way to have one of your mentors or advisors reach out to the admissions committee on your behalf."
For example, if you wanted to go to the University of Michigan ask your advisor or another mentor to call the director of admissions or any other person they know and advocate for you. Email can also be effective, she says. "It's a bonus if your mentor/advisor actually has a personal contact at the medical school you're interested in. "There is a culture of 'I can vouch for this person' that goes very far in the medical world. A phone call won't get you in if your application is terrible, but if you're on the cusp of acceptance and someone makes a call on your behalf, it can deliver you the push you need to be accepted."
Don't Be Afraid to Self-Promote (In a Humble Way).
"It's OK to highlight the accomplishments you're proud of; put these in your required personal statement or find a way to work them into conversation during interviews. The key is to do it humbly but confidently: 'I was fortunate enough to win a teaching award from my time as a chemistry lab TA, and that's something I'm really proud of.' It's OK to be proud of your own achievements! Selectively highlighting a few make your application stand out from the rest."
Do you have the personal skills it takes for a career in medicine?
Medical students must be dedicated and focused. "A significant amount of personal sacrifice comes along with the training, and if you don't have a great motivation, you won't find the sacrifice worth the reward," says Dr. Carlson. If you can answer yes to these questions, or you're willing to find the resources to work to develop any of these vital skills you could improve, you increase your chances of being able to accomplish what it takes to be accepted into medical school.
Are you compassionate, mature, and emotionally intelligent?
Compassionate people are kind. They are aware of suffering in the self and other living things, and they want to help alleviate suffering. Mature people are able to accept responsibility. They are considerate of others, patient, and supportive of others, among other qualities. Emotionally intelligent people are aware of their emotions. They can harness and apply their emotions to problem-solving and other tasks and manage emotions—like being able to cheer up yourself, or other people, or to infuse calm into a situation.
Are you hard-working?
Hard-working people are conscientious about correctly performing duties and tasks on time. They are willing to put in the hours necessary to achieve goals.
Are you a high achiever?
High-achieving people are motivated to set and complete ambitious goals. They have a passion to excel in the field they choose to work in and are not daunted by obstacles.
Are you socially conscious?
Socially conscious people strive to stay informed and aware about the world around them, including how people interact with the economy, education, and both physical and social environments.
Do you have excellent quantitative and qualitative skills?
People with quantitative skills can perform analyses and other concrete and measurable tasks. Two examples of quantitative skills are data interpretation and math. People with qualitative skills are able to perform broad skills. Resilience and creativity are two examples of qualitative skills.
---
Pre-Health Professions at Michigan Tech
Michigan Tech's placement rate into medical school is 60 to 70 percent (well above the national average) and is nearly 100 percent for physical therapy school. Choose a pre-health profession and prepare for your future today.
Tue, 07 Aug 2018 02:27:00 -0500
en
text/html
https://www.mtu.edu/pre-health/preparation/pre-medical/tips/
No result found, try new keyword!Medical school admissions officers use interviews to determine ... presence, critical thinking, compassion and resilience. Interviews are also used as a way to screen for applicants who are ...
Tue, 13 Feb 2018 00:40:00 -0600
https://www.usnews.com/education/blogs/medical-school-admissions/articles/medical-school-interviews
Preparing for Admission to Medical School
By Dr. George S. Hand Jr., Professor Emeritus, UAB
Early Acceptance
Current high school students should be aware of the Early Medical School Acceptance Program (EMSAP). EMSAP is an undergraduate and medical school educational program that provides highly qualified students an enriched undergraduate experience in preparation for medical or dental school.
It is never too early for high school students who have an interest in a career in medicine to begin the preparation required to gain acceptance to medical school. The comments and suggestions that follow may help you gain insight into the preparations our Committee on Admissions considers advantageous. Most of the major health professions (medicine, dentistry, optometry, and osteopathy) require similar preparation; thus, these comments would be appropriate for students considering a career in any of them.
Take four years of English, mathematics and science courses (biology, chemistry and physics) in high school.
Obviously it is through the skills of language and mathematics that we communicate with one another.
Above average memorizing ability with solid memorizing comprehension is most important.
You are encouraged to concentrate on acquiring such skills along with being able to spell correctly and write legibly. As you make preparation for such tests as the ACT, the SAT, the MCAT, and others, your memorizing comprehension and verbal reasoning will be exceedingly important.
Make certain you work to the best of your ability while in high school and college.
Do your best to be at least a B+ level student, because medical admissions committee members are looking for individuals who are high achievers. In addition to being a solid student academically, you need to participate in a reasonable number of extracurricular activities to round out your personality. Leadership skills are also highly desirable.
It is important to choose an accredited college or university that you can afford, which you will enjoy attending, which will provide you with the program of study you most desire, and which has a strong pre-professional program.
The pre-professional health careers advisor on your college campus should be knowledgeable and helpful in his/her counseling and advising.
Choose a major that is your best and favorite subject.
It is NOT necessary for you to major in one of the sciences in order to be accepted to medical school. Consideration in choosing your major obviously should include "What will I do with my major if I am not accepted to medical school or if I decide not to go to medical school? How marketable will I be with my major if I don't go to medical school?"
Students who wait to choose a major in their sophomore year of college generally have the opportunity to study courses in several disciplines. It is possible that a more informed choice can then be made since they know from experience their relative strengths and weakness in course work and their relative likes and dislikes.
Part of your preparation for medical school includes college courses in biology, chemistry, physics, mathematics (BCPM courses), and English.
You must have "B" or better grades in the required BCPM courses to be considered competitive for medical school. If you earn grades at a B+ level in the required courses, then you may major in any subject you wish, but you obviously must do well in all of your course work.
Explore carefully the various opportunities available in the different health professions.
One can gain familiarity with the medical profession by talking to and observing physicians and making rounds with them, by:
volunteering your services at a hospital,
working for the Red Cross,
visiting those individuals from your church who are sick, and
working as a nurse's aide, an orderly, or a scrub technician, etc.
Through direct personal experience, you will gain insight into the medical profession that no amount of memorizing or "just thinking about it" will provide you.
Be sure to apply EARLY and meet all required deadlines.
This is important as you apply for admission to college, but it is even more important when you make application for admission to Medical, Dental, or Optometry school. You should keep in close personal touch with the health professions advisor on your college campus as he or she will advise you concerning the application process and deadlines to meet. Your advisor will also be able to put you in touch with those individuals who are the admissions officials at the various professional schools.
Tue, 09 Feb 2016 17:20:00 -0600
en-US
text/html
https://www.uab.edu/cas/advising/pre-health-advising/advice-for-high-school-students
Isn't it time we began embracing the simplified documentation guidelines that finally came about to ease our billing and coding woes?
These pared-down Centers for Medicare & Medicaid Services guidelines, put into place now nearly 3 years ago, were designed to help minimize note bloat, to try and cut through all the stuff that made our medical records essentially useless behemoths of documentation. Notes that go on for page after page, endless reams of data and templated macros that someone thought were going to make our lives, and by extension the lives of our patients, better.
The amount of work and energy that we all put into creating these things unfortunately seems to far surpass the mental energy we are ultimately able to put into taking care of our patients.
We've let ourselves go down a pathway of charting electronic medical records that put a focus on what is written on the page, instead of our actual thought processes and documentation of what really happened that day.
I recently saw an example of how "simple" a note could be, posted by one of the medical societies.
It was demonstrating how, in order to reach a moderate level of complexity for billing, all we really needed to document for managing two medical problems was a brief set of statements indicating that the patient was here today for management of those conditions, was having no issues with taking their medicines, and that we were planning to continue those medications.
For example, documentation of an office visit for the management of well-controlled hypertension might read: patient is taking their medicines, notes no side effects, has no referable symptoms, and the medication is going to be continued, maybe along with home blood pressure monitoring, maybe some relevant lab testing, maybe some patient education.
We should be able to accomplish this in just a few lines.
When was the last time you read a consultation note from a subspecialist that really just got to the point?
Why do we need to see, in every single office note, every single past event that occurred for the patient that might in some way be related to their condition?
Oncology patients who arrive for a dose of chemotherapy don't need to have their entire charts re-dictated, or re-cut and pasted, into today's note.
I know that the subspecialists like to see the long trail of events that led to where we are today, but often at the end of their voluminous notes we come to the two lines that are relevant -- all that matters.
Here today for follow-up of their cancer, mild side effects from the last dose of chemotherapy, now improved, ready for dose number four, check CBC and electrolytes today, CT scan in 3 months.
And how many times have you seen a urologist's note containing an incredibly vast review of systems and physical exams that includes every single organ system, including HEENT, heart, lungs, abdomen, and psychiatric?
Do we really need their judgment, mood, and insight? Alert and oriented × 3?
All we really want to see is what they thought of the patient's urologic exam.
True, there are certainly times where they should be thinking about things more broadly, when the abdominal exam might make some sense for the urologist, but more often than not, a cardiovascular and pulmonary exam isn't really why I sent the patient to see them.
I thought their prostate felt abnormal, you?
Much of this could be answered with a few simple lines, and we'd all be much better off -- both the producers of this excessive documentation, and those of us required and expected to read it -- if we could just cut to the chase.
In 1862, Victor Hugo reportedly wrote the world's shortest letter to his publisher, inquiring how sales of his latest book were going.
"?"
His publisher replied "!"
This is something we should all aspire to.
When I was an intern, rotating through subspecialty services in the hospital, the attendings would require us to hand write the entirety of the patient's previously dictated discharge summary into our admission notes.
And then when the patient was discharged from that hospitalization, the attending would require us to dictate the entire course of the hospitalization, including all tests, procedures, and treatments, and add this on to another dictated version of the entire previous dictated discharge summary.
Bloat piling upon bloat.
Perhaps as our electronic medical records continue to get more sophisticated, continue to be more flexible, and continue to receive our input, we will find a way to put this excessive information into a separate repository, a place where the detailed true past medical history, the true hospital course, the true course of a specific illness, can be plotted and mapped and managed and maintained.
Keep the notes from today relevant to what's happening today, what your patient came in for, what was discussed, what you thought about what you found, and what you plan to do about it.
Why do we need to cut-and-paste every lab, every procedure result, every imaging test report, into every day's note during a hospital stay or an outpatient evaluation?
Certainly we can reference it, bring in the important points, use the functionality of the system to track trends, but repeating data over and over again just creates noise that buries the signal, the true signal of clinical care.
Finally, after years of complaining, the bureaucrats in Washington listened to us and removed the requirements for vast past medical/social/family histories, detailed reviews of systems, multiorgan physical examinations, and agreed to let us just put down the meat of the matter.
Like many things in healthcare, we've been moving slowly to adapt, unwilling to change, reluctant to deliver up our massive notes.
Perhaps there was a sense of, the longer the note, the greater the importance of what we were doing for the patient.
But we can all recognize the truth of the matter, that it's all there in a nutshell.
Cancer responding, continue current chemotherapy, recheck labs.
Continue current blood pressure medication, work on diet and exercise.
Prostate exam abnormal, recommend MRI and biopsy.
Isn't it time we got to the point?
Mon, 13 Nov 2023 04:03:00 -0600
en
text/html
https://www.medpagetoday.com/opinion/patientcenteredmedicalhome/107319
Hometown: Pittsburgh, PA
Undergraduate: Notre Dame, BS in Biology
Can you tell me a little bit about yourself before you came to Drexel?
I feel like before I came to Drexel, as far as medical specialties I was thinking about, I was actually thinking more about pediatrics because I've always liked working with kids in any capacity. I was in a College Mentors for Kids club in college, and we would bring local elementary school kids to campus to gear them toward thinking about going to college one day. We would do fun activities on campus and just let them see what college life could be like. This really made me realize that I'm pretty good with kids and I could see myself working with them. I still have to do a lot of pediatrics shadowing and looking at what being a pediatrician would really be like before I can decide.
After finishing my undergraduate degree, I went home to Pittsburgh and worked in a lab at Hillman Cancer Center, which is affiliated with University of Pittsburgh. I worked in a lab that was focused on immunotherapy for head and neck cancers. The biggest thing I tell people about that experience is that it definitely showed me I was doing the right thing by going to medical school. With my biology degree, I was never really sure if I wanted to do more of the scientific discovery part, or the medical school part. Doing research helped me hone important skills, but I also saw that I did not want to be in research forever; it reassured me that I was doing the right thing. It also allowed me to work with a mentor who was an ENT, so I got to see what that specialty involved.
What drew you to medicine in general, and to College of Medicine specifically?
For medicine, it's that when I was like a week old, my mom was diagnosed with a brain tumor. That was obviously a hectic situation for my family, because she just gave birth to me and it felt like, 'Oh my god, what's going to happen now?' She actually got the entire tumor removed and has been clear from it for the past 24 years -- as long as I've been alive.
Growing up and hearing about that, I was always amazed at the fact that one person, this neurosurgeon, was able to deliver me my mom for my entire life. So I always thought it would be rewarding to be able to be that person for someone else – not necessarily by being a neurosurgeon or anything, but I've always felt drawn to the fact that doctors have this ability to change people's lives.
As for what drew me to Drexel, I just felt like every time I came to visit, I could see that people here really cared about each other, especially in terms of the students and the faculty. To me, med school was going to be med school no matter where I went: we learn the same amount of material and take the same standardized tests, but I wanted to go where I could see myself happiest. And for me, that was Drexel.
As part of your studies at the College of Medicine, you did a summer internship at Tower Health – West Reading. Can you tell me more about that?
I've been considering specializing in OB/GYN for a while. I think women's health is really important and interesting. I really wanted to spend this summer looking into that a little more, and did an internship that was half clinical shadowing in the hospital, and half doing clinical research with my mentor Dr. Jiang, an OB/GYN doctor in West Reading.
Dr. Jiang was doing this study that was comparing two types of hormone replacement therapy for postmenopausal women. There's an FDA-approved hormone replacement therapy and a kind called pellet hormone therapy. Pellet therapy isn't FDA approved, but is appealing to a lot of women because of a study that came out a while ago that said that traditional hormone therapies were linked to higher incidences of breast cancer, clotting diseases and issues like that. So I think a lot of women got scared and went to this pellet hormone therapy thinking it was safer and more natural. What we wanted to look at this summer was the actual safety of it, which Dr. Jiang did a prior study on and found that it wasn't necessarily safer than the FDA-approved therapy. And my job this summer was looking at these clinical guidelines implemented in 2017 to see if they made pellet hormone therapy safer or not.
What was your internship like in terms of day-to-day work?
I worked remotely for part of the week and went to West memorizing a couple of times a week to shadow. Working remotely, I was going through patient charts and putting information into an Excel spreadsheet; I looked at any side effects they had, looked at their lab levels, and looked at their hormones and how those were affected by the pellets.
On the days that I shadowed, I was either in the women's health clinic, which was really cool, or in the OR for gynecology, where I got to watch hysterectomies and tubal ligations. For the other part of shadowing, I was on labor and delivery and got to see babies being born.
What was it like working with people from Tower Health–West memorizing and learning from them?
I loved the environment. It felt like when I walked in, there was just like an understanding among everyone that this is a teaching hospital – it seemed like everyone just got the memo. They were committed to taking the time to teach any learners and they made sure to be welcoming and open to questions. I never felt like I was really annoying someone by asking a question even when things were hectic and people were stressed out, and that was great for me.
Having Dr. Jiang to contact when I was working remotely was definitely helpful. He's been a great mentor and is very open to me calling him at any time with questions. I could tell he was motivated to make sure that I felt welcomed and knew what I was doing. Even though I was working on the pellet study remotely, it definitely didn't feel like I was all by myself in my apartment, which was really nice.
How do you think some of the things you learned this summer are going to come into play as you get back to classes?
I think that it'll be really helpful this year, especially in the reproductive unit, because I feel like I did the work backwards in terms of learning about that. This summer, I was basically exposed to what a third-year MD student would have on an OB/GYN rotation, except that I wasn't able to do anything but observe. I've seen the clinical side of it now, and I hope it'll help me think through things and organize information better during the OB/GYN unit. I've at least learned the abbreviations that people use and the terminology.
What other organizations, extracurriculars, research or community service experiences have you been involved in at the College of Medicine? How have they impacted your experience here?
I worked with admissions a lot, and last year I gave a lot of tours to applicants. I was also helping the staff in admissions develop things for Accepted Students' Day before that got canceled, due to COVID-19. This year, I'll be involved with the Pediatric AIDS Benefit Concert, on the food committee for the event – so, again, that's something that has changed due to COVID. We're not sure if we can hold the event in person anymore, but if it's a virtual event, that means no food. We're definitely having to adapt everything, but I want to be involved; I volunteered for the event last year without being on an official committee, and I loved the cause the event raises money for, as well as the atmosphere with the student performances.
I'm also going to be on the executive board of the College of Medicine's chapter of the American Medical Women's Association (AMWA), helping plan events. I don't know if there was a specific thing that got me interested in women's health, but I helped a lot with the Eliza Shirley House clinic last year, one of our Health Outreach Project (HOP) clinics that's an emergency shelter for single women and families. I just always liked going there and liked working with the women there. The work wasn't always relating to specifically women's health issues, but I liked the mission of what we were doing there and trying to help empower women.
What advice would you deliver prospective students who are considering the College of Medicine's MD Program?
My advice is definitely along the lines of kind of why I chose to attend Drexel. I'd tell them the fact that again, med school is med school and to look for a school where you're going to be happiest. And going along with that, I'd say to take care of yourself first, especially with what's going on right now. If you're not at your best, you're not going to do your best work and succeed at school. I always try to make sure that I'm in my best headspace before I really tackle school. I think that's a pretty important part of med school.
Sat, 29 Aug 2020 02:55:00 -0500
en
text/html
https://drexel.edu/medicine/academics/md-program/md-program-admissions/meet-our-medical-students/annie-robel/
In addition to the rising cost of health care, which schemes need to factor into their annual increases, most schemes are not growing their membership base with younger, healthier members. An older membership base typically has higher claims, costing the scheme more. 
Yatt says that one of the biggest misperceptions is around how the medical savings component of a medical scheme membership works. "Most schemes allocate a proportion of the monthly contribution to a member's medical savings account, typically around 25%, which can be used to pay for medication, GP visits or other day-to-day health care needs. Members can use their entire medical savings allocation for the year in the first six months, in which case the scheme is essentially loaning them the money in advance. When people say they have run out of medical aid, that's not exactly true: they are still covered for the big ticket items such as a hospital admission, but they have run out of their medical savings component of their plan." 
Fedhealth operates a little differently: rather than offering a medical savings benefit, the scheme's MediVault and Wallet benefit allows members to choose how their medical savings are structured. A flexible repayment option means members only start paying for their day-to-day benefits when they intend to use them. Members who select the flexible option transfer funds from their MediVault to their Wallet when they need to pay for day-to-day expenses, with the funds repaid interest-free over 12 months.
Members who choose the fixed option have a predetermined amount transferred to their Wallet on 1 January each year. This amount is pro-rated for those who join after 1 January. Members know upfront how much day-to-day funds they have available for the year and start to repay that amount every month from the beginning of the year. 
Both options allow members to transfer additional funds if they should need it. 
"Medical savings have now become an accepted part of a medical scheme plan. The challenge with a conventional medical scheme is that most people either have too much medical savings or too little, as most plans are rigid in this regard. We've tried to circumvent that rigidity by providing more flexibility so members can decide what works best for them," says Yatt, adding that this flexibility is ideally suited to younger, healthier members as it allows them to choose a more affordable plan. 
Fedhealth is the only scheme which allows members to upgrade their plan during the year, typically within 30 days of a life-changing event such as a pregnancy or being diagnosed with a disease. "This means members don't have to pay for a more expensive plan just in case," says Yatt. 
He adds that it is possible to keep your medical scheme membership affordable if you pay attention to how it works. 
Fedhealth was the first scheme to raise the child-dependant age to 27, although other schemes have since followed suit and increased the child-dependant age. 
Yatt advises prospective medical scheme members to read the fine print and carefully examine each scheme's benefit options. "Don't choose your medical scheme based on their lifestyle programme but rather on what benefits it offers."
His advice to younger people is not to fall into the trap of thinking they don't need to be covered by a medical scheme. "Without the benefit of medical scheme membership, you risk having to self-fund expensive health care treatments should you be diagnosed with a serious illness like cancer. This can quickly decimate your savings. Instead, be clever about it, factoring in that more affordably priced plans will have limitations in what they cover. Take away that shortfall with complementary products like gap cover," he concludes. 
By: Jeremy Yatt, Principal Officer of Fedhealth Medical Scheme.

Tue, 14 Nov 2023 18:53:00 -0600
en
text/html
https://www.dailymaverick.co.za/article/2023-11-15-medical-cover-for-2024/
Hometown: Bethesda, MD
Undergraduate: BS in Chemistry, The College of William and Mary
Graduate: Certificate in Human Sciences, Virginia Commonwealth University
Can you tell me a little bit about yourself before you came to Drexel?
Before Drexel, I was a medical assistant for a general surgery practice in Washington, DC. During the pandemic, I volunteered as an EMT in my small town near Shenandoah National Park. It has been humbling to serve my community through this last year, and it validated my passion for medicine.
In undergrad, I was a three-season Division I track and field athlete for The College of William and Mary. During my time as a competitive athlete, I suffered many injuries, but they ultimately strengthened my interest in medicine.
What drew you to medicine in general, and to the College of Medicine specifically?
Growing up, I would listen to my mother, an internal medicine physician, talk about her day treating patients; I was drawn to her sense of purpose and care for them. I was particularly drawn to medicine during my undergraduate career, when I began volunteering for health clinics near campus. I witnessed the need for good health care for underserved communities, which inspired me to look for more opportunities to help. At the same time, I also began thinking about where I'd love to study medicine, and a focus on community health and social determinants of health was paramount. The College of Medicine seemed like the perfect fit, with an emphasis on early engagement with patients and service to the community throughout one's time in medical school.
What did you study as an undergraduate? How do you think those studies, and any work, research, or continuing education experiences you had prior to medical school, will prepare you for this next step in your academic career?
As an undergraduate, I studied chemistry and worked in a physical chemistry lab. Once I found medicine as my passion, I also pursued a Wilderness EMT certification. My work in the classroom and lab have sharpened my work ethic, which will carry me through the rigorous academic load of a medical student. Through my coursework and volunteerism as an EMT, I have polished my interactions with patients and learned to be a quick, innovative thinker in emergency situations.
Many of my experiences, collegiate athletics included, offered valuable experience as a team member. It's been rewarding to pursue team goals in the research lab, on the ambulance, and on the track. I look forward to continuing that experience in medicine.
How did having a parent in the medical field shape your desire to become a physician?
My mother is an internal medicine physician and there is never a doubt that she loves what she does. I enjoy listening to her stories about the connection she can make with each patient and how she guides them through and out of sickness.
Early on, I knew I wanted to work with people. I fell in love with the hard sciences and began to see medicine's unique intersection between science and relationship-building. I think my mom always secretly hoped I would go into medicine, but never pressured me. It has been a powerful experience to chase my dream of becoming a physician of my own accord. I believe something so challenging and demanding needs to be discovered organically through experiences and coursework. Now that I am entering my first year at the College of Medicine, I cannot wait to continue my journey to become a physician and pursue the relationship-building aspect of medicine that drew me to this field in the first place.
What advice would you deliver to current medical school applicants?
Do not be afraid to showcase who you are as an applicant. There is no cookie-cutter method to apply to medical school, and that is what makes it such a gratifying feeling when you receive an acceptance: you know that your unique story was exactly what that school was looking for.
Another word of advice would be to find your "why." The medical school application process is too difficult to chase without knowing why you want to become a doctor in the first place. Once I found my reason, I found it incredibly helpful to have a reminder of what I was doing all of this work for in the first place.
Mon, 25 Oct 2021 12:53:00 -0500
en
text/html
https://drexel.edu/medicine/academics/md-program/md-program-admissions/meet-our-medical-students/evan-woods/
Opinion editor's note: Star Tribune Opinion publishes a mix of national and local commentaries online and in print each day. To contribute, click here.
•••
I keep hearing that math and memorizing scores among American students are lagging, still behind pre-pandemic scores. But from all the complaints coming from people who are burdened by student loans, it appears that even long before the pandemic, many college-bound students were sadly lacking in those basic skills.
How could people who qualified for college admission not have been able to figure out whether they could afford college, or afford to go out to an out-of-state school, or afford to live on campus instead of with their parents, etc.?
And apparently, memorizing comprehension scores have long been way down if these students didn't even understand the basic concept of a loan — something that needs to be paid back.
Math was never my best subject. Nevertheless, when I took out a mortgage for my home in 1998, I "did the math." Even though the bank approved my mortgage loan, I could see that I would not comfortable living on what little income I'd have left after I made my mortgage payment. So, for the first five years, I took in a renter to help pay the bills.
In "Three people, three stories of living with student debt" (Nov. 5) the Star Tribune told of three women trying to manage student debt. I was appalled by the rationalizations of two of them. Only one of the three seemed to take responsibility for her debt, stating that "at the end of the day, it's a decision you make."
This woman now realizes that if she could do it all over again, she'd attend a community college and work more while attending school to avoid debt. She also said she wishes she'd been told that there were other options besides going to a four-year school.
Gosh, back in the 1970s, I was aware of such options and attended Normandale Community College while living at home. Why aren't kids today aware of that kind of option? I think many are, but imagine it's beneath them. I'm tired of people assuming that others in the community should pay for their overly ambitious decisions.
Another subject in the story, a 22-year-old, said she wasn't panic about repaying her debt when she took out nearly $80,000 in student loans to attend an out-of-state school from 2019 to 2021. Seriously, was she not able to do the math? She wishes she would have sat down with someone before she took out the loans to consider what she was getting herself into.
Had she not taken the time to compare the cost of in-state vs. out-of-state colleges, and then to compare the cost of living on campus vs. living at home? If not, why not? Who commits to spending that kind of money without thinking it through?
Clearly she valued the experience living "in a red state" over being realistic and living at home while attending college. But once she realized that she could only afford to pay her rent and living expenses, why didn't she pack up and move back home before accumulating $80,000 in debt?
Still another subject is a 28-year-old junior at the University of Minnesota studying political science. At least she started out at a community college, but she is panic about how she will pay back the loans she will accumulate before she graduates. And she is president of the student-advocacy group LeadMN.
How can a person be that involved with education and students and still be clueless about the consequences of student loans? I guess because people like her expect that someone else will pay for their college loans. This student said she was very disappointed that loan forgiveness didn't happen. She claims that like many others, if her loans had been forgiven, she "would have been able to buy a house, get a good running car and not live paycheck to paycheck."
But no one has rationally explained why student loans should be forgiven while millions of us taxpayers are still responsible for paying off our home loans, medical debts, car loans, home repair loans, etc. I'm retired and still have three years left on my home mortgage. When will Joe Biden or Tim Walz forgive that loan??
Pam J. Pommer lives in Bloomington.
Mon, 13 Nov 2023 07:46:00 -0600
text/html
https://www.startribune.com/counterpoint-why-cant-student-debtors-do-the-math/600319475/
No result found, try new keyword!The Western Cape High Court issued a provisional interdict on Monday to keep the medical privileges of Dr Louis Kathan, described by his patients as a 'miracle worker', in place at Vincent Pallotti ...
Tue, 14 Nov 2023 08:48:29 -0600
en-us
text/html
https://www.msn.com/