https://killexams.com/pass4sure/exam-detail/ASVAB-Word-Knowledge Search results
Beyond their duty to serve the Nation, Soldiers often find themselves in positions of leadership and mentorship, tasked with guiding their fellow servicemembers through the challenges of military life.
To equip Soldiers with the necessary skills to excel in a leadership role, the 832nd Transportation Battalion held a unit NCO Professional Development training event at the U.S. Army Transportation Museum Nov. 6.
The first part of the class was a discussion on the core competencies and roles and responsibilities of NCOs led by NCO of the Quarter (FY23 2nd Quarter) Sgt. 1st Class Stanley Dunham, 832nd Transportation Bn. The second part of the class focused on accountability and covered counseling tactics, techniques and procedures.
"Soldiers encounter situations where they must provide emotional support, guidance and leadership to their peers. You just got pinned and now you are wearing your rank, what do you do?" asked instructor Sgt. 1st Class Sgt. First Class Stanley Dunham.
During the open discussion, Dunham encouraged each individual to have confidence in themselves.
Whether it's dealing with the stresses of Army life or personal issues, or simply maintaining morale, the ability to effectively lead is crucial.
"As an NCO, if you're committed, you will be influential and your unit will be successful," Dunham said.
Then, the battalion Sergeant Major Sgt. Maj. Guillermo Martinez led a class on counseling.
Martinez learned the art of counseling through years of experience as a former recruiter, by sitting down and talking with hundreds of applicants and showing them how the Army can help them achieve their goals.
First, he addressed a common misconception that counseling is used to correct deficiencies: The counseling can be conducted monthly and it is one of the most important responsibilities for an NCO.
Counseling is a tool that helps develop people, and it can help people feel empowered afterword and become more capable, resilient and better prepared for future responsibilities, Sgt. Maj. Guillermo Martinez said.
"Do not shy away from it, do it," Martinez said.
"You get better all the time and I'm still learning, too."
Rules for success
Be prepared for the meeting with your subordinate.
Practice positive leadership and active listening. One of the keys to leadership is knowing and understanding yourself.
Start the conversation with a course of interest to the Soldier.
Record the facts.
If you are a junior NCO, consult the platoon sergeant if remedial training is required. He or she will have the experience to make a helpful recommendation.
Remember to always follow up with your Soldier.
Finally, remember the Sgt. Major Martinez's door is always open.
Mon, 06 Nov 2023 10:01:00 -0600
en
text/html
https://www.army.mil/article/271502/empowering_soldiers_equipping_ncos_with_the_necessary_knowledge_skills_to_effectively_lead_manage_subordinates
Recently our country celebrated Veterans Day. Thank you to all of the veterans who may be reading this article. It was my honor to serve as both an enlisted soldier and later as a commissioned officer in the US Army Infantry. Although I received some leadership training as a Boy Scout, my first real taste of leadership was in the military. FM 22-100 Military Leadership, is the Army's basic manual on leadership and was my first formal introduction to leadership training.
While the contexts of military operations and small business management may seem worlds apart, the core principles of effective leadership transcend boundaries. In this article, I'll explore how these military leadership tenets can be adapted and applied to small business leadership.
What is Leadership?
"Leadership is the process of influencing others to accomplish the mission by providing purpose, direction, and motivation." – FM 22-100
Whether you are leading troops on the battlefield, employees during the work day, or a client through a strategy session I think this definition of leadership as "influence" is applicable, so let's go with that. To better understand how military leadership principles can be effectively translated into the business realm, let's delve into the Army's fundamental leadership framework: Be, Know, Do.
Be, Know, Do: The Foundation of Leadership
The Army's leadership framework is built on three simple, yet profound, words: Be, Know, Do. This framework contains the essence of what it means to be a leader in any field.
Be: This involves character traits and values. Integrity, responsibility, and respect are not just military virtues; they are equally vital in the business world. As a business leader, embodying these qualities sets a tone for your company culture and builds trust among your team and clients.
Know: Knowledge in the Army covers technical skills and tactical proficiency. In business, this translates to understanding your market, your products & services, and the intricacies of managing a business. Continuous learning and adaptation are key to staying competitive and effective.
Do: This is about taking action and setting the example. In small business, this means not just delegating tasks but also being willing to roll up your sleeves and get involved in all aspects of the business.
Decisive and Confident Leadership
In the military, decisiveness and confidence are critical in high-pressure situations. Similarly, in business, making timely decisions confidently—even in the face of uncertainty—can be the difference between success and failure. However, this doesn't mean rushing into decisions without proper consideration; it means gathering the necessary information quickly, evaluating options, and then confidently making a decision.
Adaptive and Flexible Approach
Just as the military must adapt to rapid changes on the battlefield, businesses must be agile in response to market dynamics. The ability to pivot strategies, embrace new technologies, and innovate processes is crucial for small businesses to thrive. Equally important is the ability to multitask, maintaining focus on immediate tasks while keeping an awareness of the overall situation.
Mission First, People Always
The Army's principle of putting the mission first while taking care of its people is incredibly applicable to small business. Your business goals (the mission) are important, but achieving these goals is only possible through your team (your people). Fostering a supportive, inclusive, and motivating work environment is as essential in business as it is in the military.
Clear Communication and Effective Teamwork
Clear, concise communication is a cornerstone of military operations and is equally important in business. Effective communication ensures that everyone understands their roles, responsibilities, and the business objectives. Teamwork, built on the foundation of effective communication, is vital for achieving business goals.
Ethical Leadership and Responsibility
The military emphasizes ethical leadership and taking responsibility for actions. In business, ethical considerations and social responsibility not only enhance your brand's reputation but also contribute to a sustainable business model.
Yes, we used to joke that "there's a right way, a wrong way, and the Army way". Not everything in the military is ideal, nor is civilian life. On the whole, FM 22-100 was a great introduction to leadership when I was a young Lieutenant. It continues to be a good reference nearly 35 years later. Reflecting on these insights, it becomes clear that the principles outlined in FM 22-100's definition of leadership offer valuable lessons beyond the military context.
FM 22-100 offers helpful leadership guidance that can be applied in business and public service. It emphasizes the importance of influencing others, not just through authority, but by instilling purpose, direction, and motivation. Leaders are tasked not only with achieving specific goals but also with enhancing the capabilities and wellbeing of their organizations and teams. This holistic approach to leadership underscores the balance between accomplishing objectives and nurturing the development of individuals and the organization as a whole, making it a universally applicable and enduring model of effective leadership.
What are some of your favorite leadership books or references?
[Joe Domaleski, a Fayette County resident for 25 years, is the owner of Country Fried Creative – an award-winning digital marketing agency located in Peachtree City. His company was the Fayette Chamber's 2021 Small Business of the Year.  Joe is a husband, father of three grown children, and proud Army veteran.  He has an MBA from Georgia State University and enjoys sharing his perspectives drawing from thirty years of business leadership experience. Sign up for the Country Fried Creative newsletter to get marketing and business articles directly in your inbox. ]
Mon, 13 Nov 2023 07:15:00 -0600
Joe Domaleski
en-US
text/html
https://thecitizen.com/2023/11/13/applying-army-leadership-principles-to-small-business/
FORT SHAFTER, Hawaii — U.S. Army Pacific welcomed record-breaking attendance for the largest ever Artificial Intelligence/Machine Learning Summit in the Frederick C. Weyand Command Center on Fort Shafter, Hawaii, Oct. 25-26, 2023.
This year's summit, the third iteration of the annual event, showed a substantial increase in participants, more than tripling last year's tally of 44 to over 150 external attendees.
"One thing I've learned over my career is that the best way to come to the optimal solution is to have a diverse group of folks working on the problem," said Lt. Gen. James B. Jarrard, USARPAC deputy commanding general, during his opening remarks. "We are asking you to be teammates as we try to solve these problems together. We're not going to solve all the problems in the next couple of days, but hopefully, we will understand the problems better and identify some leadership to take ownership of those issues."
The effort demonstrated USARPAC's aim to unify the AI/ML community of interest, composed of military, private sector and academic personnel, under a shared purpose to address its challenges and capability gaps where AI/ML capabilities can be integrated to enable data-driven decision-making and reduce decision cycle timelines.
By increasing engagement with the AI/ML community and through continued experimentation, USARPAC hopes to reach its goal to outpace threats in the Indo-Pacific region through technological advancements.
"This is a unique opportunity to bring in a wide audience," said Maj. Josh Deehr, the USARPAC Chief Data Office deputy director. "We're having people from all service components and from research centers across the Department of Defense participate, including the Office of the Secretary of Defense Chief Data and Analytical Office."
Deehr added, "We're also bringing in academia so people can gain an appreciation for the challenges we face in the Pacific. By bringing everybody together for an annual summit, we can have a better understanding of not only what people are doing within USARPAC but across the DoD, in academia, and in the federally funded research and development centers, so that we can capitalize on and synchronize our efforts to have a unified path forward."
USARPAC has an experimentation and concepts branch to drive experimentation integration throughout the execution of Operation Pathways to fully recognize the needs of Soldiers in competition, crisis and conflict. This year's summit will also look to capitalize on lessons learned from Operation Pathways to focus efforts on advancing or improving specific targeted areas using AI/ML techniques, tools and methodologies.
The summit featured four main working groups where participants focused on curating or improving an AI/ML development and integration campaign plan on the following topics: logistical common operational picture, network modeling and simulation, foreign disclosure decision support tools and enhancing the digital kill chain. The campaign plans for each of these areas will be integrated into the overall Army Campaign Plan.
The logistical common operational picture working group covered optimizing naval logistics in contested environments, augmenting traditional human-designed embedded diagnostics with machine learning, sustainment of the theater's ammunition inventory, and advanced supply chain analytics and visualizations.
The foreign disclosure decision support tools working group discussed enhanced tactical and artificial reasoning and AI-assisted situation report generation.
The network modeling and simulation working group discussed discovering hidden behaviors in binary software applications and the Air Mobility Command's persistent digital environment.
The enhancing digital kill chain working group focused on correlating order-of-battle movement patterns for learned event exploitation, combining information content with embedding relationship optimization, and synthetic data for AI/ML.
All working groups discussed the above mentioned subjects and more.
"Listening to all the different partners within this industry, whether Massachusetts Institute of Technology Research and Engineering or the different research labs, got me excited about the possibilities for the future," said Capt. Jennifer Niemann, with the U.S. Army Artificial Intelligence Integration Center. "Partnering technical experts with people who have the Army knowledge makes the discussions really productive because you don't usually have much of both in the room together."
By gathering like-minded individuals with a collective mission, USARPAC is one step closer to solidifying its place as a leader in an ever-evolving technological landscape.
"This summit was a great opportunity to meet with folks, not only within the Army but across the DoD," said Myron Hohil, the senior scientific technical manager for Artificial Intelligence at Picatinny Arsenal Development Command Armaments Center. "It was an excellent venue for discussing key items within USARPAC that are of interest and discussing a variety of different approaches to solve problems."
Tue, 24 Oct 2023 12:00:00 -0500
en
text/html
https://www.army.mil/article/271242/artificial_intelligencemachine_learning_professionals_gather_for_largest_ever_indo_pacific_summit
In this Q&A with Airbus U.S. Space & Defense, we talk with Michael Arrington, program manager for the Lakota helicopter, flown by both the U.S. Army and National Guard, and Craig Dupuy, senior manager for National Guard Business Development, about how Airbus employs capabilities developed on the commercial side to Strengthen mission availability of the Lakota, the support structure keeping the aircraft operational, and lessons learned from the UH-72A and commercial sector that contribute to the new UH-72B's success.
Breaking Defense: Tell us about Airbus support of the Lakota fleet and what that means for readiness?
Arrington: Airbus is the world leader in helicopter production with about 54 percent of the market. We understand fleet sustainment and bring decades of aerospace experience to supporting the US Army's missions. Leveraging capabilities and lessons learned from our commercial helicopter success, we developed an effective Contractor Logistics Support program to support the enduring fleet. Parts support is the backbone of the CLS contract, and it's important to remember that the CLS accounts for sustaining, engineering, obsolescence, touch-labor and continuing airworthiness.
Airbus believes that sustainment equals readiness. It is sometimes overlooked, but the 479 Lakota helicopters in the US Army and National Guard represent the Army's third largest fleet. It's larger than the Chinook fleet and 75 percent the size of the Apache fleet.
What sets our approach apart? It goes back to our commercial advantage and knowledge of the aircraft. Our forecasting, parts readiness, and overall support of the Lakota fleet is based on incorporating best practices based on millions of flight hours. Additionally, Airbus' reputation as a trusted OEM allows us to support the Army under an economical framework that delivers the utmost readiness for Lakota.
Dupuy: It's always a challenge to maintain fleet stocks at the appropriate level; you either have too much or too little. You're incurring cost and time to store and move components around to where needed. Under our CLS program, we manage those stockage levels and take the management burden off the Army. In fact, we often lead the fleets with a non-mission capable supply metric (the time an aircraft is down awaiting a part) at a rate of approximately 5 to 6 percent.
Having the right part at the right location at the right time is something that we live or die by on the commercial side of our fleet. Commercial companies don't keep large stockpiles, but they must keep flying as the commercial market revolves around profit. We try to carry that mindset  back into our support structure for the Army.
The difference in this case is that instead of a commercial entity generating revenue, we apply the same principles to generate readiness for the Army. Our approach is derived from supporting the over 12,000 Airbus helicopters that fly around the world and we want the Army to take advantage of that experience.
We are thankful and proud of our opportunity to support the US Army as the primary trainer for all Army aviators and we want to stay there. We want to create a positive memory for all US Army aviators to look back on as a shared experience of cutting their teeth on an Airbus helicopter. We also want aviators who fly a range of missions in different conditions and environments to know that the Lakota is highly versatile and can be reconfigured as needed. 
Arrington: Our ability to forecast and anticipate maintenance requirements allows us to prevent maintenance crises. A large part of that is truly understanding our MTBRs (mean time between repairs). Tracking our MTBRs helps us make sure we're up to date in forecasting quantities and volumes so that when there is a need to increase, we can get in front of any surge requirements. That goes for seasonal requirements, as well, being prepared for adjustments of parts during different times of the year.
And let's not forget, we must control obsolescence. We always ensure that engineering service memorandums for product improvement such as our MEP (Mission Equipment Package) are routinely reviewed and we actively work to make sure the improvements are accompanied with a plan of action. 
We are also responsible for overall airframe safety and closely track any issues that come up related to continued airworthiness and product improvements. Staying ahead of those challenges is a top priority. Some are Army specific, but again, having a large fleet operating in the commercial sector, we are often able to identify issues before they impact the Army. It boils down to continuous monitoring, consistent engagement, and getting ahead of challenges by bringing solutions before you hit a wall.
Readiness is readiness regardless of whether it is on the military or commercial side. Commercial-side readiness generally equates to revenue, while readiness on the Army side is linked to mission success. 
Breaking Defense: That's the parts side. Airbus also operates several maintenance hubs that play a role in keeping the Lakota flying. Tell us about those.
Arrington: The main role of our maintenance hubs is to take some of the burden off the shoulders of the units. The hubs are there to help units get their aircraft turned around quickly and back out on mission.
This includes assisting with minor phase maintenance every 400 operational hours and major phase every 800 hours. Phased maintenance gets more complex as you gain time on the aircraft and the major phase is much more parts heavy and touch-labor intensive. The Lakota isn't any different than any of the other Army platforms. Our hubs exist to support the end user. It's the same as a depot-level team or facility that performs higher level or pass-back maintenance for other fleets. In this case, it's simply another benefit that's included in the construct of our contract.
Dupuy: The maintenance hubs primarily support the National Guard side of the fleet. When you look at how the National Guard is organized within the Lakota formations, they're detached out all over the country. Across the 47 states that use Lakota to perform missions, the aircraft numbers vary, but overall the units are typically small with lower numbers of maintainers at a site.
The Army National Guard doesn't have large numbers of maintainers available, especially to support the Lakota fleet. Additionally, the Guard consistently works on limited full-time manning which presents challenges. This is what drives the value of the maintenance hubs.
I'd add that when you look at phased maintenance for the active-duty Army, a lot of those units are centrally located and have significant maintenance capability. They also possess an established pass-back maintenance capability with the Regional Aviation Support Maintenance Groups or other depot level organizations that support maintenance gaps or needs. Our hubs serve in the same capacity. They provide the same support specific to the Lakota, but on a smaller, more economic scale.
Arrington: In addition to the hubs, we also provide field teams under our contracts and in coordination with the product office. If you can't make it to a hub and have a troubleshooting issue or an issue with maintenance of various pieces, we send out contract field teams to the sites where they're needed.
This allows us to bring OEM experience to the fleet. The soldiers out there in the field, they're extremely capable, but we are there with them, shoulder to shoulder. Always there to support and we want them to benefit from our experience. Why learn a hard lesson two or three times? Learn it once, share it, and get better. It's about transfer of knowledge shared through our experiences. We want the Army to stand on its own, but we are always there to develop the team and pass on our hard-won lessons.
Breaking Defense: How have maintenance and logistics lessons learned on the UH-72A and in the commercial sector translated to the new Bravo model?
Dupuy: The UH-72B benefits from numerous product and reliability improvements developed during the lifecycle of the commercial Airbus EC145 helicopter, representing decades of learning.
The simple Airbus view of this is that if you want to remain competitive, then you must improve. That's the UH-72A and the UH-72B, a best-of-breed aircraft that was derived from continuous improvement. In the end, the US Army is the benefactor of our improvement plan.
We didn't charge the Army for the improvement from the Alpha model to the Bravo model. It was handed to the Army with no charge in development costs because we developed it for commercial competitiveness.
Those improvements include a new bearingless, five-bladed rotor and rotor head that increases the aircraft's load capacity while reducing the number of components and the maintenance burden. A Fenestron shrouded tail rotor includes a newly designed gearbox and the removal of one transmission from the tail rotor system that reduces maintenance and enhances safety for ground operations. One less transmission equates to fewer components, and less cost and complexity. Other improvements Strengthen aircraft performance and Strengthen sustainability while reducing cost. Together, these improvements offer significant capability and growth opportunities to the Army.
We delivered all of this on a short timeline at no developmental cost to the Army. I'd argue that our commercial experience and the approach we take there to win commercial business have saved the Army in the billions over the life cycle.
Arrington: That last point, in my opinion, is an important one. Lessons learned from the aircraft already developed in the commercial world address a lot of the unscheduled maintenance issues you see on the military side. Scheduled maintenance is easy and predictable. Unscheduled maintenance is not. It's complicated and unpredictable.
When you fly more, unscheduled maintenance exponentially increases. It is the driver that limits you, and we looked to take those out of the UH-72B, just as we've done over the years going back to the twin-engine BK117 and BO105 helicopters, the Lakota's predecessors. Again, decades of lessons learned. Efficiency, effectiveness, reduced cost, end gain results, readiness – that's what is important.
What brings value? What keeps us on top? The commercial side traditionally doesn't deal with maintaining old, they want new. How is it improved? The UH-72B, a much more capable and affordable airframe, was delivered to the Army. With price escalation included, it was basically offered at the same price as the Alpha model. The burden was not passed to the Army. In the end, that's the value we bring to the Army.
Tue, 14 Nov 2023 03:26:00 -0600
Breaking Defense
en-US
text/html
https://breakingdefense.com/2023/11/keeping-the-lakota-helicopter-flying-for-the-army-and-national-guard-is-also-a-job-for-the-oem/
No result found, try new keyword!• The Nevada Army Guard's breakfast is on the second Monday of the month at 8 a.m. at the Carson City Elks Club. Cost is $8. For information or to confirm, email csmjvh@hotmail.com. There will be no ...
Tue, 14 Nov 2023 03:00:00 -0600
en-US
text/html
https://thisisreno.com/2023/11/military-briefs-around-northern-nevada-10/
No result found, try new keyword!Capt. Jennifer Niemann, from the U.S. Army Artificial Intelligence Integration Center, emphasized the value of partnerships between technical experts and those with Army knowledge. This ...
Fri, 27 Oct 2023 19:25:00 -0500
en-us
text/html
https://www.msn.com/
Estimated read time: 2-3 minutes
SALT LAKE CITY — This year, fewer military veterans transitioning to civilian life after military service reported feeling hopeful about life after the military than two years ago, a study by the University of Phoenix found.
Forty-two percent of veterans also reported concern about finding suitable employment for their skill level, with 47% believing they are underemployed.
"When I was still in (the Marines) and thinking about getting out ... I knew it would be challenging, but I thought, how could the challenges of civilian life possibly stack up to what I've been doing on a daily basis? So, I set on the course of leaving the military and transitioning to a civilian life with a lot of bravado," Eric Ryan, who left the Marine Corps in 2005, said. "Then reality really hits you in the face."
As senior director of Military Operations at the University of Phoenix, Ryan said he's seen military members go from having important leadership roles, with great responsibility in their duties, to having their confidence "beaten down" because of the real-life challenges any human encounters.
"I just had such big plans and so many things that I felt to do, and it was a lot harder than I thought because I had a lot to learn and a lot of transition to do myself," he said, adding that missing the structure provided by the military was a hard part of that transition.
Ryan's biggest pieces of advice for veterans to get back into civilian life are to build networks and destigmatize mental health — looking for mentors and people who can help translate the valuable skills learned in the military into a working resume is an excellent start.
To get career and resume help, Ryan said almost every college or university offers career services, which is great for veterans looking to start or go back to school. American Corporate Partners is another great resource specifically geared toward helping veterans be career ready.
The Department of Veteran Affairs, he added, has a lot of resources for mental health help and support. Ryan's favorite mental health resource is Give an Hour, a website that provides a toolkit for mental wellness.
"I wish every young veteran leaving the military service would reach out to (these resources) because it's a free service — it's out there because people in this country support veterans and want them to do great things," Ryan said. He said these programs often have more mentors than people to mentor because of the lack of knowledge about them.
"You're going to do great if you apply yourself and decide (what) is going to be part of your path," Ryan said.
Related stories
Most latest News stories
Sat, 11 Nov 2023 05:16:00 -0600
en
text/html
https://www.ksl.com/article/50782238/how-to-combat-the-hidden-struggles-behind-military-transition-to-civilian-life
The National Guard is behind paying at least 9,000 soldiers the bonuses they were promised for signing up, according to a service component source with direct knowledge of the situation, with some soldiers and their families telling Military.com that payments have been missing for years.
The delays are so severe that Guard officials are tracking an additional 3,900 soldiers who completed their service and left the military without getting any bonus payment, though some may have lost eligibility.
"I was really relying on this money to help with moving into a new place with my wife," one soldier said, while explaining that the first half of his $20,000 enlistment bonus was a year overdue. "I did my end of things, and this is a really bad introduction to the Army, not taking care of people."
Read Next: Give Guardsmen and Reservists the Same Parental Leave as Active-Duty Troops, Lawmakers Tell Defense Bill Negotiators
The bonuses are a key part of the Army National Guard's pitch: Do part-time service and the occasional deployment in exchange for many of the benefits tied to serving in the military. Hefty enlistment bonuses, often as high as $20,000, are meant to sweeten the deal.
Soldiers are typically supposed to receive the first payment of their enlistment bonuses after completing initial service training. The National Guard considers payments late if more than 30 days have elapsed since training was completed and no payment has been made. But that 30-day goal is not codified in any policy, leaving soldiers with little recourse to raise complaints when payments are overdue. Bonuses are usually paid out in chunks, with the second half being disbursed halfway through soldiers' first contracts.
"While nearly 94% of our Soldiers eligible to receive an enlistment bonus have received it, we are working very hard to reconcile the remaining 6% because we hold ourselves to higher standards and believe one overdue payment to an otherwise eligible Soldier is one too many," Col. Danielle MacDonnell, division chief, Army National Guard G1 operations, told Military.com in a statement.
The average time for receiving the first payment for a bonus is six months, Guard officials tell Military.com, though soldiers and families have reported that it can take years.
The issue, according to officials, is the accumulated effect of undermanned, poorly trained or poorly performing full-time staff working with a payment-processing system that has faced multiple long-term catastrophic outages. That's meant staff members have had to repeatedly track and process payments manually.
The Army National Guard Incentive Management System, or GIMS, was first rolled out in 2012, allowing states to manage and monitor incentives. It was designed to streamline the process and mitigate fraud and abuse.
But the system crashed in late 2018 and was inoperable for about 10 months; another 10-month outage occurred in 2021. While the system was down, bonuses had to be filed through a complicated manual process, creating a backlog that states are still trying to fix.
"GIMS created some challenges for us," one Guard official said. "Over the last couple of years, we've gotten through many of those hurdles, but it has attributed [sic] to overdue bonus payments."
Two adjutants general, top commanders in their respective states, described discovering their staff tracking enlistment bonuses on dry-erase boards or through email traffic and handwritten notes. In some cases, top brass became aware of the problem through soldiers using the so-called open door policy -- skipping the chain of command to report issues. Some soldiers have escalated their issues through complaints to their representatives in Congress.
About a year ago, the National Guard Bureau stood up incentive oversight teams that try to fix some of the issues at the state level, though correcting the problems will likely take years.
The bulk of Guard soldiers are part-time, and in many cases do not have easy access to the staff who could help fix bonus problems. Those junior enlisted soldiers are also often unfamiliar with the bureaucracy of the National Guard and, therefore, unaware how to properly follow up on payment issues.
Full-time Guard staff are frequently mid-ranking soldiers, often required to perform a range of tasks unrelated to their original job. For example, an infantryman looking for a full-time job in the Guard might find themselves in an administrative role. But juggling the multiple clunky online systems that the Guard relies upon comes with a steep learning curve, and some states have struggled to track work by full-time staff.
Several soldiers told Military.com that these staff members performing administrative functions claimed the state was out of money, pointing to expensive training events like Combat Training Center rotations. However, the money for benefits is centralized and not impacted by any respective budgets on the state level.
"There is frankly a lot of misinformation on the [unit] level. It isn't their fault, and it's something I'm trying to fix," one state's adjutant general told Military.com on the condition of anonymity to avoid retaliation. "The soldiers are frustrated. Of course … why would they stick around? Sometimes people have been lazy too. The soldier shouldn't be coming to us … for their money. We should just pay our bills on time."
The National Guard has a rocky history with accurately administering enlistment bonuses. During the peak of the wars in Afghanistan and Iraq, the California National Guard sought recoupment of $195 million in enlistment bonuses issued in error from more than 17,000 troops, including some who were wounded in combat, marking one of the largest incentives-related scandals in the past decade.
A report from the Government Accountability Office found that California had been handing out bonuses higher than what was authorized in the budget. That misuse of funds is what spurred GIMS to be built.
The California National Guard's incentives manager, Master Sgt. Toni Jaffe, was sentenced to 30 months in prison in 2012 and ordered to pay $15 million. She admitted in court to routinely fudging information on Guard members to juice up bonuses because she said she felt pressure to fulfill recruiting quotas.
The years-long recoupment process drew the ire of congressional leadership, which scrambled for legislative solutions until the Pentagon eventually waived the debt and let those Guardsmen keep their bonuses and reimbursed those who had paid them back.
Soldiers who have been out of the Army National Guard for more than a year can submit a claim for unpaid bonuses at this link.
-- Steve Beynon can be reached at Steve.Beynon@military.com. Follow him on Twitter @StevenBeynon.
Related: Army Reserve Education Benefits Collapse Halts Fall Semester Enrollments
Sun, 29 Oct 2023 18:20:00 -0500
en
text/html
https://www.military.com/daily-news/2023/10/27/soldiers-unpaid-national-guard-hasnt-paid-out-thousands-of-enlistment-bonuses.html
No result found, try new keyword!Thousands of Southern California students have participated in in-person job fairs where soldiers talk about their careers and the benefit military service provides.
Tue, 24 Oct 2023 10:17:00 -0500
en-us
text/html
https://www.msn.com/
When it comes to hunting down military radar installations and associated hardware, we typically think of equipment that is firmly in the price bracket of nation states and their military forces. Whether it's early warning radar, those used for air defence, or for naval purposes, you'd think it was relatively difficult to intercept or track these emissions.
However, a new tool built by geocomputation lecturer Ollie Ballinger shows this isn't the case. In fact, openly-available data captured via satellite can be used to find all manner of military radar emitters. Let's explore how!
Open Data Reveals Surprising Things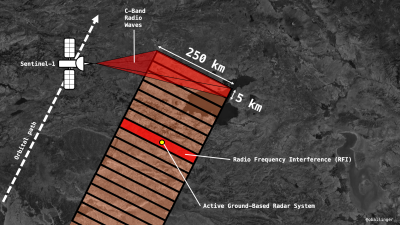 The discovery that openly-available satellite data could reveal the locations of military radars came from the work of Harel Dan, a geospatial engineer from Israel. Dan was looking at data captured by the synthetic aperture radar of the European Space Agency's Sentinel satellites. After accidentally maximising the display of noise and interference on the synthetic images, he noticed strange bands appearing in various spots in the Middle East, and investigation into the cause began.
The Sentinel-1A and Sentinel-1B satellites, operated by the European Space Agency (ESA), carry synthetic aperture radar (SAR) instruments operating in the C-band, the spectrum taking in frequencies from 4.0 to 8.0 GHz. The SAR essentially uses the motion of the spacecraft to create a large "synthetic" antenna aperture for capturing radar images of the ground. The technique allows the SAR to image the ground as if it had a much larger antenna than it actually does, thanks to the spacecraft's motion. It gives the SAR a far higher spatial resolution than is possible using a traditional scanning beam radar.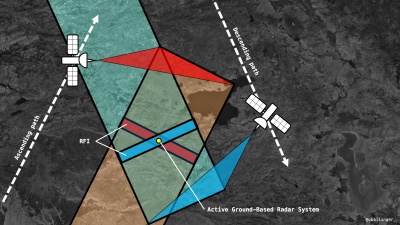 The SAR imaging systems on board the Sentinel satellites operate within the same frequency range as many military radars. As the satellites passed overhead, sending out radar signals to the ground and picking up the returns, they were also picking up emissions from military radar systems, which were showing up as bright blue and red bands on the SAR radar pictures.
As it turns out, Dan was seeing interference caused by MIM-104 Patriot PAC-2 aerial defence systems installed in various Middle Eastern states. Given that the ESA makes all data from the Sentinel satellites publicly available, this meant that anyone with a mind to delve into the data could see this interference as well.
The Sentinel satellites typically operate in a mode where they image strips of land 250 km long and 5 km wide with their radar apparatus. When a military radar system is in operation in one such swathe of land, it creates a bright streak across the entire 250 km x 5 km strip. When images from Sentinel-1A and Sentinel-1B are overlaid, it's possible to see a point where two stripes affected by interference cross each other. This can narrow down the area in which the radar system could be located – in the overlap between the two interference stripes.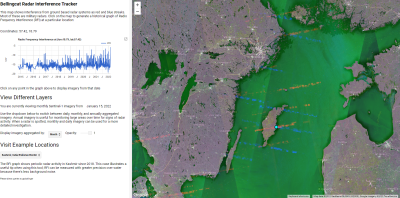 Armed with the knowledge of this phenomena, Ollie Ballinger set about building a tool to more easily allow researchers to look for radars using publicly-available data from the Sentinel-1 satellites – the Radar Interference Tracker (RIT). It can reveal interference picked up from a wide range of military radars, from US-built Patriot systems, to the Japanese FCS-3, Chinese Type-381, and even the Russian S-400 surface-to-air missile system. If these systems have their radar switched on when a Sentinel-1 satellite passes overhead, they should be visible on the RIT.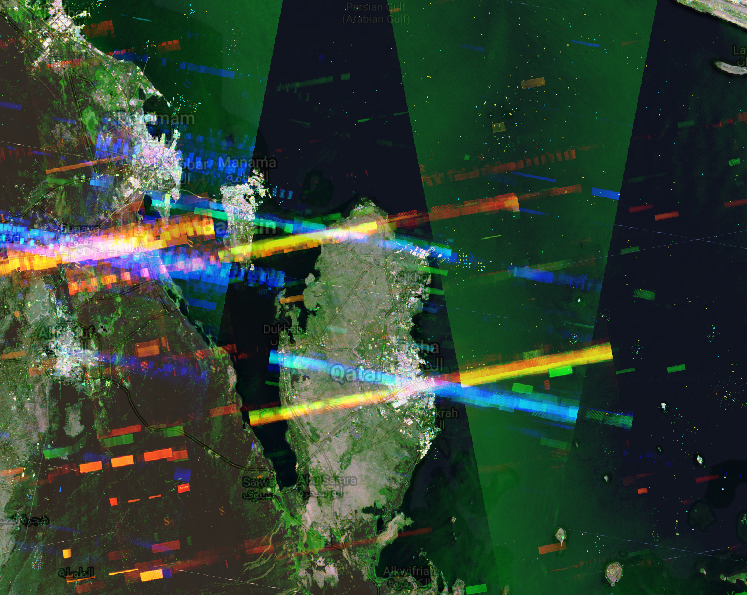 The tool lets users look at data from given points in time, helping researchers find out when and where military radar systems were switched on. Graphs of interference picked up by the satellites over time help find relevant time periods quickly.
It bears noting that the RIT is not a conclusive intelligence tool all on its own. Often, interference found on these images must be corroborated with other optical satellite imaging data or other intelligence reports to confirm movements of military hardware. A further issue is that the satellites take several days to revisit a given area; if a radar is turned on and back off in between satellite passes, it won't show up in the data. However, the RIT can still prove useful for quickly identifying areas of interest with regards to military radar hardware.
It's great to see the ESA sharing satellite data for anyone to use, and it's also wonderful to see open-source tools improving what can be done with said data. Those interested in the RIT can even dive into the code themselves on Github. It goes to show what can be done by the broader community when information is made available to all!
(Editor's Note: This article was conceived and written before Russia's invasion of Ukraine.)
Tue, 14 Nov 2023 10:00:00 -0600
Lewin Day
en-US
text/html
https://hackaday.com/2022/03/02/you-can-find-military-radars-on-publicly-available-satellite-data/