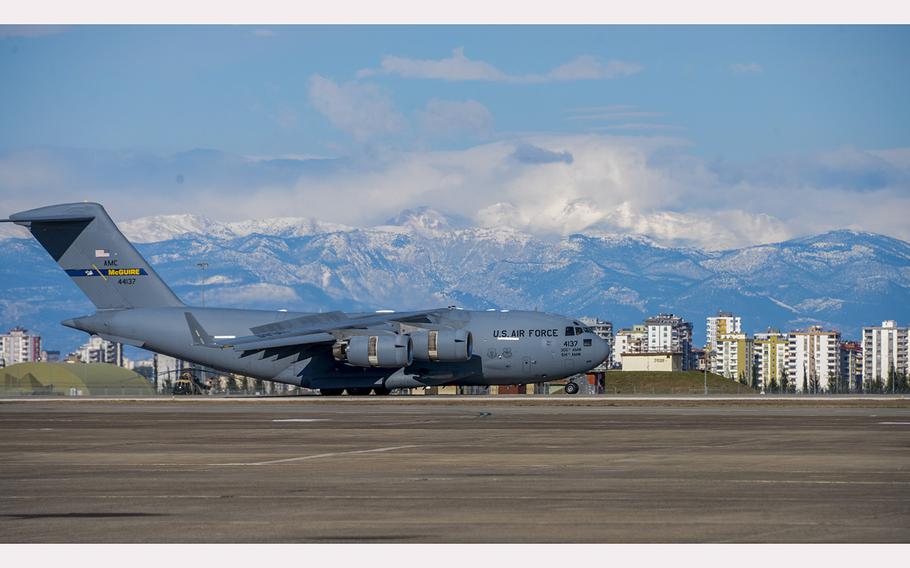 The U.S. military has begun deploying forces to assist with earthquake relief in Turkey, officials said Friday, with a Navy headquarters overseeing the mission and a Marine Corps general on the ground to assess the scope of support that's needed.
Brig. Gen. Andrew Priddy, the commander of a naval task force in Europe, arrived Thursday at Incirlik Air Base, a U.S. installation about 120 miles west of the earthquake's epicenter. He was joined by a team from U.S. European Command headquarters in Germany. Any aid provided by American troops will be coordinated through USAID, the government's humanitarian-assistance organization, at the request of the Turkey, officials said.
Gen. Christopher Cavoli, who leads European Command, said in a statement that U.S. forces already are helping with search-and-rescue efforts, and providing medical assistance and other aid. He called the earthquake an "incalculable disaster."
The military's expanding disaster-response mission, first reported by The Washington Post, was announced as the death toll climbed past 23,000 from Monday's 7.8-magnitude earthquake and its series of aftershocks. Scores of buildings in southern Turkey and northern Syria were leveled, leaving thousands more injured and homeless. Frigid winter weather has compounded the suffering.
The United Nations has dispatched aid teams to the region as well, but those efforts have been hampered by infrastructure damage and the ongoing conflict in Syria that has fractured the country.
It was not clear how the U.S. military also might assist in Syria, where the United States maintains a limited counterterrorism mission in the northeast. In a statement Wednesday, the top U.S. officer overseeing American military activity there, Gen. Michael "Erik" Kurilla, said his headquarters had established a team to "surge support" to people affected in both countries.
While Turkey and Syria border each other, European Command oversees U.S. military missions in Turkey and Central Command leads missions in Syria. Turkey, a NATO ally, has a much closer relationship with Washington, though it has been strained at times.
A spokesman for Kurilla, Col. Joe Buccino, said Friday that Central Command "is leaning as far forward as possible" in preparation to support people in Turkey or norther Syria. The general and his staff are in touch with European Command, USAID, and the Syrian Democratic Forces, the group in northern Syria that the United States has partnered with in the campaign against the Islamic State.
The Defense Department has not specified which American military units might be called upon to assist on the ground. One U.S. military official, speaking Friday on the condition of anonymity to discuss internal conversations, said there "has not been a huge ask for personnel" yet.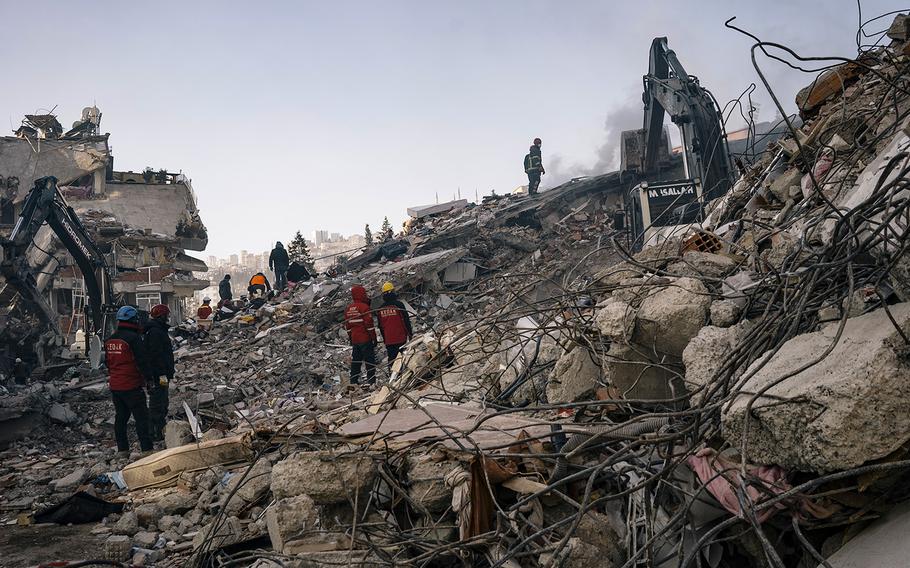 One option often deployed for humanitarian crises, a Marine Corps expeditionary unit, or MEU, is unavailable because senior commanders at the Pentagon left a gap between their typical rotations through the region, two other U.S. officials said. Those units deploy with about 2,200 Marines on board three Navy ships, but none has been in Europe for months as the U.S. military faces a shortage of vessels deemed ready to go, officials said.
"If there was a MEU there, it would be responding," one official said. "They're not there, and that's a problem."
A U.S. military spokesman, Lt. Cmdr. Daniel Day, said Friday that the aircraft carrier USS George H.W. Bush and its associated escort ships arrived in the eastern Mediterranean Sea within hours of being directed there on Tuesday, and is ready to provide logistics, medical and helicopter support.
Army helicopters also have begun flying missions out of Incirlik, including delivering first responders to locations most affected by the earthquake and shuttling injured civilians to medical care. Additional U.S. aircraft located in Europe are being sent to Incirlik to boost capacity, Day said.
U.S. Air Force personnel based at Incirlik are supporting Turkish military forces as they unload thousands of pounds of food and other aid flowing in from allies and partners, Day said. Air Force jets are flying in supplies and aid workers from the United States, including urban search-and-rescue teams.