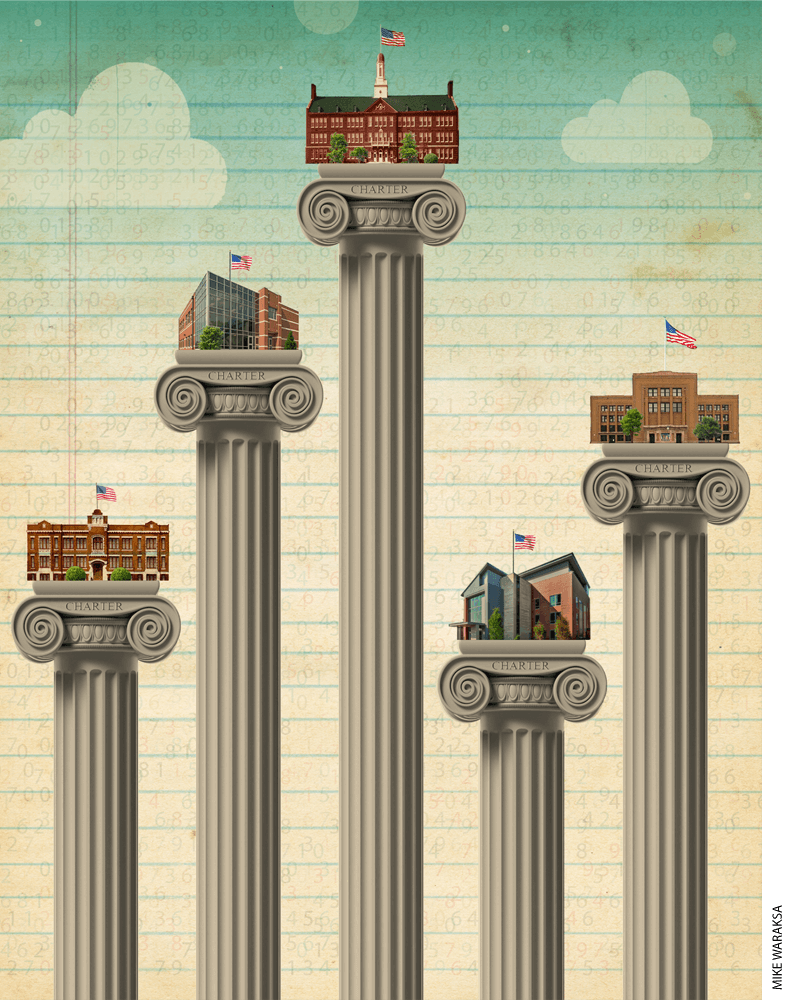 When Minnesota passed the nation's first charter-school law in 1991, its main purpose was to Improve education by allowing for new, autonomous public schools where teachers would have more freedom to innovate and meet students' needs. Freed from state regulations, district rules, and—in most cases—collective-bargaining constraints, charter schools could develop new models of school management and "serve as laboratories for new educational ideas," as analyst Brian Hassel observed in an early study of the innovation. In the words of Joe Nathan, a longtime school-choice advocate and former Minnesota teacher, "well-designed public school choice plans provide the freedom educators want and the opportunities students need while encouraging the dynamism our public education system requires."
Over the next two decades, 45 additional states and Washington, D.C., passed their own laws establishing charter schools. And by 2020–21, nearly 7,800 charter schools enrolled approximately 3.7 million students, or 7.5 percent of all public-school students nationwide. The most accurate charter law was passed in 2023 in Montana, though its implementation has so far been blocked by court order; today, only North Dakota, South Dakota, Nebraska, and Vermont have not passed charter legislation.
During those years, advocates have carefully tracked and analyzed state policies and enrollments to compare charter school growth, demand, and access across the United States. But to date, there have been no comparisons of charter school performance across states based on student achievement adjusting for background characteristics on a single set of nationally administered standardized tests. Instead, advocacy organizations routinely rank states based on one or more aspects of their charter school programs—factors such as the degree of autonomy charters are afforded, whether they receive equitable funding, and the share of a state's students they serve. These rankings are informative, but they do not provide direct information about how much students are learning, which is, ultimately, the general public's and policymakers' primary concern.
We provide that information here, based on student performance in studying and math on the National Assessment of Educational Progress, or NAEP, between 2009 and 2019. These rankings, created at the Program on Education Policy and Governance (PEPG) at Harvard University, are adjusted for the age of the charter school and for individual students' background characteristics. They are based on representative samples of charter-school students in grades 4 and 8 and cover 35 states and Washington, D.C. We also estimate the association between student achievement and various charter laws and characteristics.
Overall, the top-performing states are Alaska, Colorado, Massachusetts, New Hampshire, New York, Oklahoma, and New Jersey. The lowest-ranked charter performance is in Hawaii, followed by Tennessee, Michigan, Oregon, and Pennsylvania. Students in the South tend to perform above average, while students in midwestern Rust Belt states rank at the midpoint or below. We also find that students at schools run by charter networks outperform students at independent charters, on average, while students at schools run by for-profit organizations have lower scores on NAEP, on average. Students at charters authorized by state education agencies have higher scores than students at those authorized by local school districts, non-educational organizations, or universities.
We hope these rankings will spur charter-school improvement in much the same way that NAEP results have stimulated efforts to Improve student achievement more generally. Current debates include whether authorizers should regulate schools closely or allow many and diverse flowers to bloom, whether charters should stand alone or be incorporated into charter school networks, and whether for-profit charters should be permitted. A state ranking of charter student performances may not answer such questions, but it can stimulate conversations and foster future research that could.
Assessing State-Level Achievement
We create the PEPG rankings based on NAEP tests in studying and math. The tests, known as the Nation's Report Card, are administered every two years to representative samples of U.S. students in grades 4 and 8. To obtain a robust trial for each state, each survey wave includes more than 100,000 observations of public-school students in both district and charter schools. The number of tested charter-school students varies between 3,630 and 7,990 per test, depending on the subject, grade, and year.
Our analysis looks at the period between 2009 and 2019, when 24 tests were administered. This yielded 3,732,660 results in all, but we focus on the 145,730 results from charter-school students. We include results from Washington, D.C., and the 35 states with enough tested charter-school students to permit precise estimates. That excludes the five states that do not currently allow charter schools, as well as Alabama, Iowa, Kansas, Kentucky, Maine, Mississippi, Washington, Virginia, West Virginia, and Wyoming. Still, the results in our trial account for more than 99 percent of all charter-school student scores in NAEP.
We also look at anonymized demographic information about test-takers, which was provided by the U.S. Department of Education under a special license. The weighted composition of our trial is 32 percent white, 30 percent Black, 31 percent Hispanic, and 4 percent Asian and Pacific Islanders. Some 58 percent are from a low-income household. Fifty-six percent were tested at a charter school located in a city, 30 percent in a suburb, 5 percent in a small town, and 10 percent in a rural area. Among 8th graders, 45 percent indicate that at least one parent completed college. Another 37 percent report that their parent does not have a college degree, and information is missing for the remaining 18 percent.
In estimating charter performance by state, we place charter scores in each subject on a common scale, adjusting for year of testing, subject, grade level, and the year the charter school opened. NAEP weights test-score observations so they are representative of the true underlying student population. We also adjust scores to take into account the age of the test-taker, parents' education levels, gender, ethnicity, English proficiency, disability status, eligibility for free and reduced school lunch, student-reported access to books and computers at home, and location.
We then rank states based on the adjusted average scores for their charter students from 2009 to 2019 as compared to the average scores for all charter students nationwide over the same period. We report the size of these differences, whether positive or negative, as a percentage of one standard deviation in student test scores and note here that a full standard deviation is equivalent to roughly three-and-a-half years of learning for students in these grades. Several states have such similar scores they can be considered to be statistically tied, so undue weight should not be placed on any specific rank number. (See the unabridged version of this paper, published in the Journal of School Choice, for information that allows one to calculate whether any two states are statistically tied.)