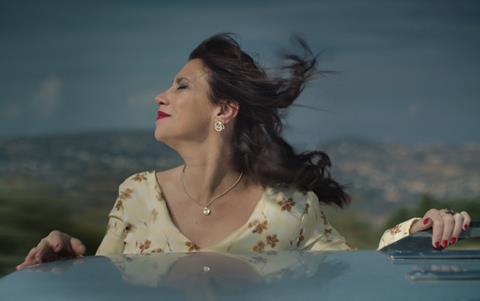 Dir. Bassem Breche. Lebanon, Qatar. 2022. 78 mins.
Bassem Breche's feature directorial debut, previously titled The Maiden's Pond, is ostensibly about a mother and daughter in a small Lebanese village and is a film which relies heavily on natural beauty, atmospherics and mood to carry a slim story through. (Even that description perhaps over-sells the narrative, as the daughter only arrives at the 40-minute mark, and very few words are exchanged throughout). A talented visualist, Breche has impressed with a series of short films – his first, Both, premiered at Cannes Critics Week in 2007 – and Riverbed is replete with imagery to treasure, apart from being a masterclass on how to turn a central venue from a haven into a prison and back again fusing space and light. However, it lacks the energy and connection to take it from short-film terrain into fully-fledged narrative that might be of wider appeal.
Breche's feature debut wants to speak to the audience in images
Premiering in Cairo in the Arab Competition, the introspective Riverbed will find fans in the more rarefied end of festival programming, and may well travel that circuit, although other exposure is less easy to predict. It's certainly an enigmatic piece from its very first moments, setting out its stall for what is to come with light filtering through the blinds of a bedroom in a villa, slowly making out the shape of the main character, Salma (Carole Abood) as she rises to face another day.
This is a film which uses mirrors, and the back of Salma's head, extensively — one key shot is a complicated double-reflection – and is careful with its placement of the horizon, frames, slats and diagonals. A rear shot watches her looking out to the terraces from her balcony, for example, but later exteriors will show this grand-looking house is a little less elegant than it originally appears. Salma seems to run some sort of business from her front room, but Breche isn't too concerned with explaining her life. She gets changed into a tracksuit to go for a walk, gets changed again and goes for a drive with her married lover Waheeb (Rabih El Zaher); although they don't talk much, she seems happy.
Time passes. She goes to a Tupperware party, and walks out. Masturbates. Net curtains float around her house, and two peculiar women seem to follow her around — perhaps looking for gossip about Waheeb. Someone who owes her money talks about a sniper, and there's the occasional sound of gunshot as Salma and Waheeb sit on rocks looking at a majestic waterfall. He says he doesn't want to cause a scandal. She tells him they shouldn't see each other any more. 
When he daughter Thuraya (Omaya Maleaeb) arrives, Riverbed's palette suddenly darkens. We see cracks on the walls of Salma's breeze block house. Thuraya doesn't talk to her mother very much, but we can ascertain that she has left her husband, is pregnant, and doesn't want the baby.
Credit goes to the technical team for the visual realisation, although editing by Rana Sabbagha seems to further obscure something which is already hard to penetrate. Breche's feature debut wants to speak to the audience in images, narrowing its scope as it goes along until nature is all that is left as this mother and daughter tentatively approach each other through trauma.
Production companies: The Attic Productions, Metaphora
International sales, wehbejana@yahoo.com
Producers: Jana Wehbe
Screenplay: Ghassan Salhab, Bassem Breche
Cinematography: Nadim Saoma
Production design: Wael Boutros
Editing: Rana Sabbagha
Music: Sharif Sehnaoui
Main cast: Carole Abood, Omaya Maleaeb, Rabih El Zaher